Hong Kong's iron ladies
It's a women's world in Hong Kong politics these days, with former politicians Anson Chan and Regina Ip forging comebacks -- this time in support of democracy for the territory
For weeks, the media spotlight has fixed on the high-profile comebacks of two former female officials in Hong Kong: former No. 2 leader Anson Chan (陳方安生) and Regina Ip (葉劉淑儀), who once served as security chief. Both are taking the local political scene by storm, and not just with a flourish of high heels and designer handbags.
The two women have surprised the territory by unexpectedly lending vocal support to the implementation of full democracy -- an unthinkable stance for either to have taken when in office. Communist leaders in Beijing are wary of drastic political changes, and civil servants rarely speak out against those policies.
But there's little doubt that Ip and Chan -- dubbed the "new democracy dames" -- are determined to take up the sensitive topic, and the duo have quickly emerged as leaders in the push for full democracy.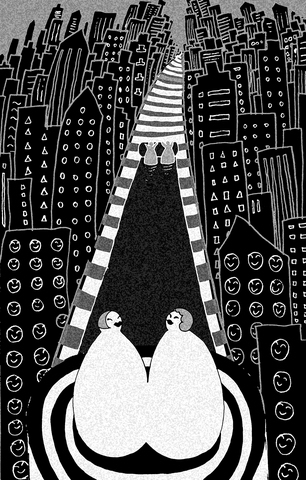 Their involvement in Hong Kong's flagging debate about when voters should be able to directly elect their leader and entire legislature has rekindled interest in a timetable for political reform, a topic that has taken a back seat amid strong economic growth.
"Ip or Chan's appearance shouldn't just be seen as a power struggle. They may create an interactive effect that will bring long-term influences for Hong Kong's democratic development," said Timothy Wong (王家英), a research professor at the Hong Kong Institute of Asia Pacific Studies.
"Both, especially Anson, are focusing on democratic demands. The democracy debate will surely stand out among other issues in the next few years, and this incessant discussion will mean the government can't avoid the topic any longer," Wong said.
Promises
Hong Kong was promised a wide degree of autonomy when it was returned to China in 1997, but Beijing has ruled out full democracy in the near future. Only half of the city's 60 legislators are elected. An 800-member panel loyal to Beijing chooses the territory's leader.
In less than a month, the city has seen Ip launching a think tank, hosting a television talk show, and challenging Chan, among others, to discuss the issue with her.
Meanwhile, Chan has urged Hong Kongers to take to the streets to demand full democracy, and she is also countering the government's studies on democratic reform by setting up her own "core group."
Both women were formidable, tough civil servants when they were in office, and analysts say both probably intend to pave their way for a future leadership run. Ip has declined to talk about her political ambitions, while Chan has not ruled out the possibility.
"I intend to play an active role, and you can expect to hear more from me on this issue," Chan -- who remains highly popular since retiring in 2001 -- said recently.
Chan, 66, was known as a champion of so-called "Western values" such as civil freedoms and human rights when in office. But critics say her passionate calls for a speedy change to full democracy are uncharacteristic of her, and the pro-Beijing camp has accused her of being an opportunist.
Ip's stance, meanwhile, is more intriguing. She was a respected ally of the pro-Beijing camp and widely regarded as a defender of the status quo. She was forced to step down in 2003 after sparking public outrage by standing firmly by a deeply unpopular anti-subversion bill, which many thought would curtail civil liberties. Her handling of the issue was attacked as authoritarian.
But recently, Ip said she was "cautiously optimistic" that Hong Kong could achieve full democracy by 2012 -- although she also stressed that direct elections are not a magic elixir to solve all problems.
Her political views appeared to be more in line with those of the administration. Like Ip, leader Donald Tsang (曾蔭權) has maintained that full democracy has not proved a universal success in some countries. Tsang also concurs with Ip that its implementation depends on a widespread consensus.
"When someone perceived to be a conservative comes out and talks about direct elections by a date as soon as 2012, it shows that the possibility of it happening is growing," Wong said.
But others are less optimistic that either Ip's group or Chan's could make a real difference.
"Their abilities are limited. Do you believe China will accept full democracy in 2012? Realistically, everyone knows that Tsang will surely win in the 2007 elections," said political professor Joseph Cheng (鄭宇碩), who teaches at the City University of Hong Kong.
Comments will be moderated. Keep comments relevant to the article. Remarks containing abusive and obscene language, personal attacks of any kind or promotion will be removed and the user banned. Final decision will be at the discretion of the Taipei Times.