Catch you on the flip-flop side
Dressing down to dress up is in, and an essential item of clothing in the most up-to-date wardrobe is a pair of flip-flops
It was only recently that Donald De Line, a leading Hollywood producer and a keen observer of local trends, noted the onslaught of nearly naked feet, and not just on women.
Suddenly, flip-flops -- those slabs of rubber with V-shaped slivers between the toes -- are ubiquitous in what were once dressed-up settings.
"I was meeting with a director and a writer on a project, and they both were wearing flip-flops," said De Line, parking his pristine Mustang at the premiere party for Superman Returns at a Westwood theater. "I noticed, because that is definitely a new level of casual."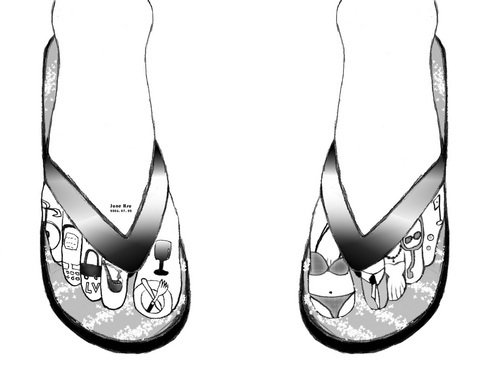 In a city that for decades has been leading America toward a more relaxed personal style, Los Angeles is once again resetting the standard for dressing down. No longer content to banish the necktie, untuck the shirttails and let the stubble grow wild, Angelenos this summer are enthusiastically adopting flip-flops -- also known as thongs or beachcombers -- to dinner, to meetings or even, last week, to a movie premiere.
"I've seen guys on the red carpet wearing flip-flops," said Vivian Turner, a celebrity stylist who has helped dress famous names like Sharon Stone, Lionel Richie and Geena Davis. "It's the first thing in the summertime: put on a great skinny suit with the shirt open and a pair of thongs. I totally approve. Thongs are cool."
Well, they are here, anyway. It may still be difficult to imagine a pair of flip-flops, even expensive ones, at a Wall Street investment house, or thwacking their way through a congressional hearing room. Last summer, the Northwestern University national championship women's lacrosse team caused a furor in the capital when team members were photographed wearing flip-flops on a White House visit. The trend seems to baffle, if not offend, some people from other parts of the country.
"Where I work, at a medical foundation, there's a dress code -- you couldn't wear them," said David Rothner, a shopper on the fourth floor of Neiman Marcus in Beverly Hills, as he looked over the sale table of men's shoes.
The Dolce & Gabbana flip-flops, with hard plastic soles and two small strips of white leather, were marked down to US$135. Rothner, visiting from Cleveland, said he couldn't see himself in a pair.
"They're sometimes sloppy, sometimes cool," he pronounced.
But Marv Lotz, a 61-year-old real estate developer from Los Angeles, was shopping nearby in blue jeans, a white T-shirt and a pair of Oakleys, flip-flops from a local surf shop.
"I have these in green," he said, picking up a pair of US$280 leather Prada thongs. "For me, it's weather-related. When it's hot, these are comfortable."
Last year, the Los Angeles Film Festival even had a flip-flop giveaway at its closing night party, a promotion for Target.
In a world where people bring work along to the beach and other leisure spots, perhaps it is only natural that they start bringing beachwear into the work environment. And in some sense, flip-flops are just a strap away from being a sandal, which women, at least, have always worn in summertime.
The most popular flip-flops in Los Angeles remain Havaianas, US$16 rubber shoes available at department stores and hip shopping spots like Fred Segal or Flight 001, a travel store. They look like the kind of shoes you might wear in the shower, and come in patterns like cherries and camouflage. They can be bought with a rhinestone between the toes for US$50.
Ricky Sancion, the manager at Flight 001, keeps selling out of his stock of Havaianas.
"They talk about flip-flops like it's part of our uniform here in Los Angeles," he said. "It's all everybody wears. There's a girl who works here who wears flip-flops for everything. She never wears shoes. Even if it's raining, she wears flip-flops."
The days when Lew Wasserman, the talent agent turned studio mogul, set the standard for his minions in a dark suit, crisp shirt and black tie, have long gone. When DreamWorks was founded in the mid-1990s, the principals made a point of eschewing not only titles, but also suits and ties. Instead, David Geffen and Jeffrey Katzenberg both adopted an outfit of T-shirts under cashmere sweaters, which they've maintained since selling the studio to Paramount.
Nowadays you can find producers and executives on the various studio lots who look more like they just rolled out of bed, not just rolled out a marketing plan.
"I do wear jeans every day," said Laura Kim, a senior executive at Warner Independent Pictures, on the Warner Brothers lot. "The ones I'm wearing today aren't ripped. But I'm wearing a long-john shirt."
She was also, she acknowledged, wearing flip-flops.
Sandy Stern, an independent producer who works in West Hollywood, prefers to leave his flip-flops at home -- he maintains that they're a driving hazard.
But he does have a formula for simplifying his life: "I bring my dog to work, and I shave on Wednesday. That gets me through the week."
The dog, a 23kg shepherd mix, is not only for personal comfort, but for judging his visitors.
"Right away you learn a lot about person if you walk in a room with a dog there," he said. "It's either an immediate icebreaker or it immediately sets off a flag -- and I don't want to be in business with that person."
Creative people in Hollywood -- screenwriters, actors and directors -- have always dressed more casually than agents and executives. And to some degree, the higher on the food chain you are in the entertainment hierarchy, the more casual you are able, or likely, to dress, even in an executive suite. Brad Weston, with the powerful job of co-president for production at Paramount Pictures, is a potent example of this.
On a recent visit to the lot by a reporter, the executive -- head shaved, face stubbled -- was wearing a rumpled T-shirt, jeans and beat-up black leather boots. Around his neck was a choker with a single bead, and in one ear was an earring.
Weston said he had always dressed more or less in this manner, even before he joined Paramount last year. But he draws the line at flip-flops.
"I have flip-flops in multiple colors, but I don't wear them to Paramount," he said.
Some people look askance at his office attire, but "people have been saying things my whole career," he said. "I don't dress like a slob."
Janet Hill, a spokeswoman for Paramount, observed: "Brad's our Zen guy. He can pull it off."
With nearly naked feet making their way into serious business meetings, the slide toward casual may be irreversible. Even at the talent agencies, a besieged bastion of suits and ties, the casual ethos is making inroads. At the Superman premiere, David Wirtschafter, the president of the William Morris Agency, was wearing sneakers with Velcro fastenings, jeans and a long-sleeved black T-shirt.
Coming straight from the office?
"Yes," he said. "This is dressed up, for me."
Comments will be moderated. Keep comments relevant to the article. Remarks containing abusive and obscene language, personal attacks of any kind or promotion will be removed and the user banned. Final decision will be at the discretion of the Taipei Times.