Aung San Suu Kyi's release from captivity refused, again
Last month, the world's most famous political prisoner, who has spent 11 of the past 18 years under house arrest, was on the verge of being freed, only to be refused by Myanmar's generals at the last minute. Yet she and her supporters refuse to give up hope
How many more devastating setbacks will she have to endure? Aung San Suu Kyi, the inspirational, graceful and, it seems, endlessly resilient leader of Myanmar's pro-democracy movement, has had her house arrest extended by the ruling military junta, undermining growing hopes that she would finally be freed. The blow will only add to the iconic status of Suu Kyi, past winner of the Nobel Peace Prize, and recently proclaimed the hero of our time in a poll by the UK political weekly New Statesman magazine.
So overwhelming was her victory in the poll that she gained three times as many votes as former South African president Nelson Mandela, placed second in the list.
Richard Eyre wrote of her that she had "endured grief, danger and loneliness with extraordinary courage, all the while inspiring resistance to the [corrupt Burmese] regime." At 60, she could seek refuge abroad -- she has close ties to Britain where she studied and married her late husband -- but chooses to stay in Myanmar, drawing adulation from across the world.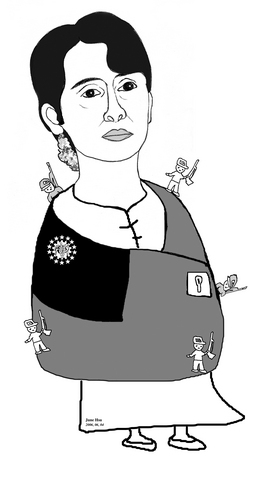 May 27 should have been a day of celebration. Sixteen years ago to the day, Suu Kyi and her National League for Democracy (NLD) party won a crushing 82 per cent of the vote in a general election, a majority that could not have sent a clearer message to the ruling military junta about what the nation thought of its 28-year dictatorship.
Instead, the NLD had a small gathering at its headquarters, but there was not even a squeak out of the leader to mark the event -- she remains isolated under house arrest in her home in Rangoon.
It sealed a roller-coaster of a week for Suu Kyi and her legions of supporters around the world. On May 20, she was allowed to meet Ibrahim Gambari, the UN' under-secretary-general for political affairs, during the first visit to Burma by a UN envoy in more than two years. That the junta allowed the meeting took the international community by surprise, prompting some diplomats to speculate that her current period of incarceration might be coming to an end.
Optimism mounted when Burma's police chief, Major General Khin Yi, said the democracy icon's support was waning and there would not be rallies or riots if she were released. Coming so soon after the meeting, Burmese military tea-leaf readers thought her release might be just be a matter of days away.
But the extension of house arrest on May 27 exposed the reality of life in Burma, making it clear what the woman known as both "Tara" and "the Lady" is up against and just what a charade the events of the last eight days have been.
"The generals do nothing; they give less than they have in the past and everyone congratulates them," said one activist who asked not to be named. "They go back 10 steps, then they go forward one step and everyone says the door might be open for some sort of dialogue. The generals are toying with Suu and the whole world."
It is by no means the first time the generals have toyed with Suu Kyi. In July 1995, she was released from six years of detention and house arrest as a sop to the outside world. In reality, it was a tactic to delay introducing meaningful democratic reform. During this period of detention, in addition to winning the Nobel Prize in 1991, she had also won the 1990 Rafto Human Rights Prize and the 1990 Sakharov Prize, the human rights award from the European parliament.
Initially, the generals' tactic worked because for the next five years, Senior General Than Shwe and his cohorts managed to dodge demands for change by allowing Suu Kyi to travel around the country reorganizing the NLD. Their problem was that she was too good at her job. After founding the party in 1988 at the height of pro-democracy protests -- and following the accompanying crackdown in which thousands of people were killed -- she was reappointed general secretary in 1995 despite military orders against her appointment.
By the late 90s, after attracting thousands of people to her rallies, she was banned from traveling outside Rangoon but continued to defy the ban. On one such trip in 2000, the daughter of independence hero Aung San, who was assassinated when she was only two, spent nine days on a bridge near Dala in a stand-off with the authorities before being forced to return to the then capital. Three weeks later, she was back under house arrest.
This "sojourn" lasted a mere 19 months, but again the junta played games with her. Its ruse this time was to engage her in secret talks, facilitated through UN special envoy Razali Ismail. All concerned, and the international community in general, genuinely believed the dialogue might lead somewhere, even more so when she was freed in May 2002. Once again, Suu Kyi started travelling the country, seeking to reinvigorate the party. And again it worked so well the junta felt compelled to put a stop to it.
This time, the tactics were far more brutal. On May 30, 2003, one of the junta's militias, backed by soldiers attacked Suu Kyi's motorcade near the northern town of Depayin, killing an estimated 70 NLD supporters in the process. Many more were arrested. The NLD leader was kept in secret detention for three months before being moved back to her home for another bout of house arrest.
Suu Kyi spent her first 15 years in Rangoon, before moving to Delhi when her mother, Khin Kyi, was appointed ambassador to India and Nepal. There, she studied politics at Delhi University before arriving at Oxford, where she studied politics, philosophy and economics at St Hugh's College. Fellow students remember her as being a tea-drinker and only willing to sleep hugging her pillow, despite the free-spirited wind of the mid-Sixties blowing through the nation.
Michael Aris, an academic replaced the pillow and the pair were married in 1972. Children Alexander and Kim were born in 1973 and 1977. She spent the mid-Eighties as an academic in Japan and India before returning to Myanmar in 1988 to nurse her dying mother as the student protests against the regime of General Ne Win were gathering pace. On Aug. 26, she addressed an estimated 500,000 people at a rally in front of the famous Shwedagon Pagoda in Rangoon during which she made one of her first calls for a democratic government.
The then-dictator, Ne Win, had stepped down the previous month, but his successor, Than Shwe, ignored the calls for change and replied with brutal force, killing thousands of pro-democracy protesters on the streets of Rangoon.
A similar crackdown is unlikely now, but that is partly because the junta has refined its tactics. In recent months, for example, dozens of NLD members have reportedly resigned. The generals say this is because they have lost patience with Suu Kyi and want to support the government. The reality is that they have been pressurized into leaving the party with threats such as their children being banned from school.
Party offices have been closed and all democratic political activity has been banned except for the government's sham of a constitutional convention which, they say, will result in a seven-stage road map to democracy. Critics justifiably say it is nothing more than another sop to the international community to give an impression of progress.
Detention in a two-storey villa overlooking a lush tropical garden and lake in central Rangoon might not sound too unbearable.
However, a more accurate description of Suu Kyi's circumstances would be home solitary confinement. For in contrast to previous periods of similar detention, visitors are banned. The widow whose dedication to her people and nation forced her to skip the funeral of her husband in Britain in 1999, out of fear that she would not be allowed to return to her homeland, only regularly sees her housekeeper, the housekeeper's daughter and a gardener-cum-errand boy. She has not seen her children for years. In the last few months, even her doctor's visits have been curtailed to once every couple of months.
The increasingly oppressed NLD leadership is kept well away, the bugged phone has long been disconnected and there are no other means to communicate with the outside world. Suu Kyi does, however, have a television to watch the junta's relentless propaganda barrage and, much more surprisingly, a radio through which she can pick up foreign news services, such as the BBC, Radio Free Asia and the Voice of America.
Life otherwise consists of meditation, reading, including well-thumbed detective novels, writing and playing her much-loved piano.
In such circumstances, is there any light in the dark for Suu Kyi? Perhaps. The generals' increasing paranoia and desperation, most notably exemplified by their decision to move her to a specially built fortress near Pyinmana in the jungle last year, suggests their rule might be fragile. But how long it will take to crumble, allowing Suu Kyi the chance to complete what began on that day in May so many years ago, remains an unknown.
Snapshot of Suu Kyi
Born: 19 June 1945, Rangoon (now Yangon). Father was independence hero Aung San, who was assassinated when she was two.
Family: Raised by her mother. Married British academic Michael Aris in 1972; he died in 1999. Has two children and one grandson.
Best of times: Leading the National League for Democracy party to a crushing election victory in 1990, a victory that was expected to end the military regime.
Worst of times: Having to miss her husband's funeral after he died of cancer because of the near certainty that the generals would never allow her to return.
What she says: "The struggle for democracy and human rights in Burma is a struggle for life and dignity."
What others say: From her Noble Peace Prize, granted in 1991: "Suu Kyi's struggle is one of the most extraordinary examples of civil courage in Asia in recent decades."
Comments will be moderated. Keep comments relevant to the article. Remarks containing abusive and obscene language, personal attacks of any kind or promotion will be removed and the user banned. Final decision will be at the discretion of the Taipei Times.