Economic nationalism threatens the European common market
The dream of EU economic integration is facing its toughest challenge since 1992, as protectionists in France and elsewhere try to protect their `national champion' firms
These are troubling times for the EU's top policymakers. Competition from China and India is on the rise, jobs remain in short supply and outrage in many Muslim countries over the publication of caricatures of the Prophet Mohammed has strained Europe's once warm relations with the Islamic world.
But as EU leaders prepared for summit talks in Brussels on Thursday and yesterday, EU officials focused on another priority: halting the wave of economic protectionism sweeping across many countries in the 25-nation bloc.
Few can deny that Europe's single market is under its most serious threat since 1992, when governments boldly moved to abolish national frontiers, allowing the free movement of people, goods and services across the bloc.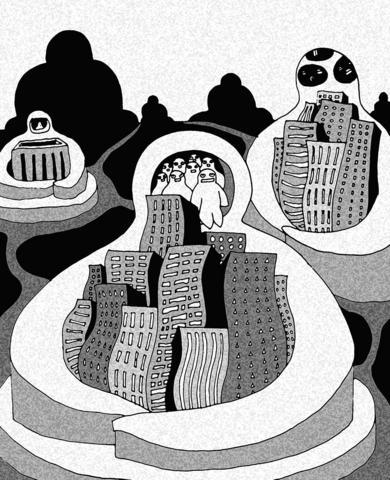 illustration: mountain people
Concerns about a resurgence of economic nationalism center on Italian claims that the French government engineered a merger between state-controlled Gaz de France (GDF) and utilities group Suez to thwart a rival bid for the latter from Italian energy group Enel.
Other recent deals have also triggered concern in Brussels.
Madrid is currently studying ways to keep German energy giant E.ON from buying Spanish group Endesa. France, Luxembourg and Spain are exploring ways of keeping Mittal Steel from acquiring rival Arcelor, a deal they deeply oppose.
And EU policymakers are also entangled in an acrimonious struggle with Warsaw over Polish government moves to block the merger of Pekao and BPH, two local affiliates of the Italian banking group UniCredit.
Ringing the anti-protection alarm bells loudest is ardent free-marketeer Jose Manuel Barroso whose job as head of the commission -- the EU's executive arm -- puts him at the center of the economic storm raging across the bloc.
Barroso is set to warn the upcoming EU summit that government meddling in corporate takeover battles is not just threatening the EU's single market but also jeopardizing Europe's ability to compete on the global stage.
"This is not the time for economic nationalism ... in a globalized world, no member state can go it alone," the commission chief warned recently.
"Defending national champions in the short-term usually ends up relegating them to the second division in the long-term," Barroso cautioned, adding: "More efficient companies that have been subjected to the full rigor of competition leave national champions behind as they move into international markets."
Barroso appears to have found an ally in German Chancellor Angela Merkel, who said in a recent interview: "Above all, I am against walling off and protectionism."
EU anti-trust regulators, led by the bloc's competition chief Neelie Kroes, say they are determined to vet each energy merger and acquisition and will take legal action against governments and companies accused of breaching EU single market rules.
Even more is at stake, according to other EU commissioners.
EU monetary affairs chief Joaquin Almunia told the bloc's finance ministers recently that the protectionist furor is putting the bloc's fragile economic recovery at risk.
Energy experts say mergers in the sector will help consolidate the bloc's fragmented energy market, thereby lowering energy costs and boosting EU energy security.
European trade commissioner Peter Mandelson, for his part, has warned that "simplistic solutions of economic nationalism" are threatening the EU's global reputation as a defender of free markets.
It's not just about the economy or global standing, however. The debate has also triggered a damaging political rift among EU governments.
While French politicians often rage against the commission's "ultra liberal" policies, free-market Nordic nations and many central and eastern European states -- excluding Poland -- say the EU executive must take a tougher stance against nationalist rhetoric and policies.
The concern is shared by many in the European Parliament. Graham Watson MEP, leader of the assembly's liberal democrats, says the bloc's governments are on a slippery slope which could end up destroying the single market.
"The commission must remain vigilant and act forcefully ... to prevent member states from rolling back the progress in European integration that has brought Europe so far together," Watson cautions.
Stopping the protectionist tide will not be easy however. But EU officials say they are confident that if political pressure does not produce results, lawsuits and court action certainly will.
Comments will be moderated. Keep comments relevant to the article. Remarks containing abusive and obscene language, personal attacks of any kind or promotion will be removed and the user banned. Final decision will be at the discretion of the Taipei Times.