Internet rules the news in South Korea
Newspapers, which up until 2000 were the main source of daily news for most South Koreans, are losing influence as the younger generation - and advertisers - increasing turn to the Internet
In South Korea, print newspapers used to be the "media king" that once held society together, but the rise of the Internet has undermined the role of the dailies as the major opinion leaders and is cutting into their ad revenue, industry sources say.
Up until 2000, almost six in every 10 adults started the day with reading a newspaper. Politically, the major papers had earned their stars as guardians of the country's pursuit of democracy in its fight against the military authoritarian regimes throughout the 1970s and 1980s.
Nowadays, however, the print media is no longer the muscleman it used to be, because of the Internet, where people can read news conveniently and for free, according to Oh Soo-jong, a researcher at Korea Press Foundation (KPF), a non-profit watchdog organization for press media.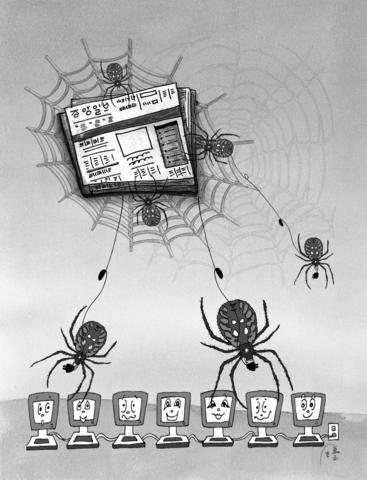 Readers, who once leafed through morning newspapers, now prefer to click on to major portals like www.naver.com, www.yahoo.co.kr or www.daum.net, where they can peruse articles from dozens of newspapers listed under these portal sites.
Naver, for instance, draws 13 million visitors a day in a country of 48 million, according to Kim Yeo-jong, Naver's spokeswoman.
"Up until in 2000, newspapers regarded Internet media as a `pet,' and newspapers would not mind that much even if they share some news articles with portals," said the KPF's researcher. "Today, the pet has grown up to be a tiger that eats up much of newspapers' power in both revenues and impact-wise," the researcher added.
During 1999 and 2000, major newspapers spun out their internal Internet media units as independent business units.
At that time, nascent portal sites approached these new Internet units, carrying content from their mother newspapers, with offers to pay them 1 million to 5 million won (US$1,000 to US$5,000) for permission to carry their content.
Most of these cash-laden newspapers' online media units snapped up the deal, which newspapers now regret.
Nowadays, newspapers are selling news articles to portals for a monthly flat fee that ranges from 2 million won to 15 million won a month, according to the KPF data.
In the process, the print media is no longer on the frontline of moulding the right sense for participant democracy, said Choi Young-jae, professor of Hallym University.
On the contrary, newspapers have become dependent on major portals to reach out to young readers who would not otherwise even try to read newspapers at all.
"Unlike their parents who used to read serious issues like economy or political news, young readers tend to prefer gossip, sports or entertainment news," KPF's researcher said.
Also, distributor portals have gained control over producer dailies: "Portals have gained a power over newspapers to control editing and classifying news articles in a way that appeals to young readers," she added.
One of the consequences of this development, which shows a slow but steady migration of both readers out of print into digital media, is that more and more money is going into online advertisement, at the expense of print media.
Newspapers have lost both subscription and advertising revenues.
Subscriptions fell from 57 percent of South Koreans aged between 15 to 60 during 2000 to 41 percent last year, according to a cyber newspaper Pressian.
The ads spent on the country's 140 newspapers fell 7.7 percent from 1.8890 trillion won in 2003 to 1.7456 trillion won last year, according to the country's largest ad agency Cheil Communications.
Meanwhile, Internet media is prospering.
The country's largest search Web site, Naver, has seen revenues surge almost 10-fold from 24.1 billion won in 2001 to 229.3 billion won last year.
Naver derives 37 percent of its revenue from search ads, where advertiser pay for each click, according to Naver's spokeswoman Kim.
In South Korea, Web giants Google or Yahoo Inc are trailing behind local portals like Empas, Daum or Naver. The total ad revenues for all portals have increased from 330 billion won last year to 424 billion won this year, according to Naver's spokeswoman.
Many of the ads are targeting Korean youngsters. The Internet has become a way of life for young Internet users, many of whom do not even bother to leaf through newspapers.
They chat at www.cyworld. com, which has a membership of 14 million. They do their shopping, study and conduct business through the Internet.
With their growing dependance on portals for revenues, newspapers are now losing control of their own content.
"The shift of the power from newspapers to Internet has created a trend of portals forcing newspapers to produce more gossip news articles so that they could please young readers. This often happens at the expense of health journalism, where newspapers used to try to appeal to serious grownup readers," said Oh Soo-jung of KPF.
Comments will be moderated. Keep comments relevant to the article. Remarks containing abusive and obscene language, personal attacks of any kind or promotion will be removed and the user banned. Final decision will be at the discretion of the Taipei Times.