Singapore activist vow to persist in campaign against death penalty
The execution of a father of two over 1kg of marijuana has emboldened the anti-death-penalty campaign in this notoriously tightly controlled city-state
THE EXECUTION OF A?ATHER OF TWO OVER 1KG OF MARIJUANA HAS EMBOLD
When family and friends paid a final visit to Shanmugam Murugesu on the eve of his execution last Friday, he urged them to press on with a rejuvenated campaign to end the death penalty in Singapore.
There were eight other convicts waiting to be hanged at Changi Prison and he did not want them to die in isolation, one of the visitors recalled him saying.
Murugesu, 38, a former soldier, jet ski champion and divorced father of two, was executed for trafficking 1,029.8g of marijuana, yet civil rights activists who had mounted the futile attempt to save him have vowed to fight on despite admitting it will be an uphill battle.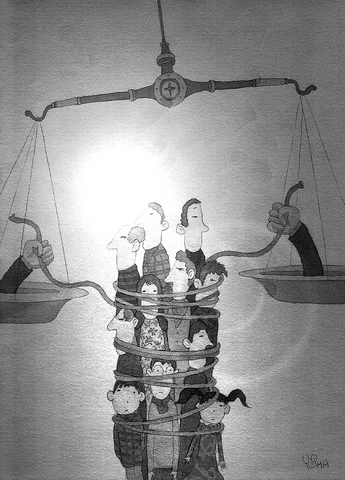 ILLUSTRATION: YU SHA
Interest stirred through unprecedented public efforts to save Murugesu by his family, friends and civil rights advocates has injected new life into the anti-death penalty campaign.
Emboldened by the fledgling support, the campaigners hope to further galvanize public opinion at a time when the government is opening up and allowing the public to speak out more on controversial issues.
A candlelit vigil for Murugesu held at a local hotel this month attracted about 100 people -- activists and opposition politicians as well as ordinary citizens, many of whom bought and wore T-shirts opposing the death penalty.
The participants listened to speeches, poems and music such as Bob Dylan's I Shall Be Released and Bruce Springsteen's Dead Man Walking, which was the soundtrack of a 1996 movie about efforts to save a death row convict in the US.
"I feel that tonight's event is a display of courage. I think we need the courage of a lot of people for things to change," said Iris Koh, a music teacher who volunteered to sing at the evening vigil.
"I feel that courage is the only thing that can overcome death. I was quite scared [at first]. However, I'm a teacher, so I also feel that the best example I can give is not through words but through deeds," she said.
Murugesu's lawyer, M. Ravi, said that fear in this tightly controlled city-state remained a concern preventing more people from openly supporting the campaign.
In an example of the extent authorities still monitor dissenters, an "open mike session" at the vigil in which the audience was invited to speak was abruptly ended just after the first speaker began to talk.
Organizers said that plainclothes police officers at the event stepped in and asked them to scrap that portion of the program.
Singapore, a bustling island-nation with some of the toughest laws in the world against drug trafficking, maintains that capital punishment is a crime deterrent contributing to the safety and security its residents now enjoy.
The death sentence is mandatory for trafficking more than 15g of heroin, 30g of cocaine and 500g of cannabis, as well as for other crimes such as murder, treason, kidnapping and certain firearm offences.
For drugs, a person caught in possession of illegal substances is assumed to be trafficking, thus putting the burden of proof on to the accused.
The death penalty "is part of a range of punishments which has helped keep crime rates and drug abuse rates in Singapore low," the Home Affairs Ministry said in an e-mailed statement.
"We weigh the right to life of the convicted against the rights of victims and the rights of the community to live and work in peace and security. As a result, Singapore is one of the safest places in the world to live and work in," it said.
The ministry added that Singapore has a "well-respected and independent judiciary" and its legal system had been consistently rated highly in global rankings.
But civil rights advocates argue there is still room for error and that first-time offenders such as Murugesu should be given a second chance.
Human rights watchdog Amnesty International said last year more than 400 people had been executed in Singapore between 1991 and 2003, which it described as a "shocking number" for a nation of just over 4 million people.
The Home Affairs Ministry said eight Singaporeans and foreigners were executed last year and 19 in 2003.
Amnesty has criticized Singapore for releasing scant information about death row convicts and their conditions.
Sinapan Samydorai, president of civil rights group the Think Center, said this was why Murugesu's cooperation in the anti-death penalty campaign was crucial.
It was from him that the center learned about the eight other people waiting to be hanged. One already public case is that of Nguyen Tuong Van, an Australian man of Vietnamese descent who was convicted of drug charges.
"In a way, Shanmugam Murugesu has challenged the death penalty to the end. He was in prison but he was giving information about others on death row," Samydorai said.
"He said these prisoners don't want to die in isolation. They want to share the message that they want to change ... this is motivating us to continue with the campaign," Samydorai said.
Samydorai said the Murugesu case was the first time in his experience that a death row convict and relatives had agreed to shed anonymity and be actively involved -- giving the campaign a human face.
Murugesu's 14-year-old twin sons -- Gopalan and Krishnan -- hit the streets handing out leaflets calling on the public to write to the government to save their father.
The families of death row convicts the Think Center had helped previously did not want to go public, Samydorai recalled.
He is encouraging relatives of those who are currently on death row to also become involved, and is heartened some had turned up in gatherings at the Murugesu home on the eve of his execution and for the funeral.
"There's a lot of stigma when a person gets into prison. We would not force it upon the families [to come out in the open], but their involvement would certainly help," Samydorai said.
Comments will be moderated. Keep comments relevant to the article. Remarks containing abusive and obscene language, personal attacks of any kind or promotion will be removed and the user banned. Final decision will be at the discretion of the Taipei Times.