Neo-Nazi attacks on the rise in Germany
Foreigners have become scapegoats for post-communist ills and social dislocation
Robert, a black asylum seeker from Cameroon, is so used to people calling him "Nigger" or making ape sounds at him that he no longer pays attention to it.
What still makes him angry, however, is being followed around shops or the local library by staff expecting him to steal something. Or seeing how guests in a cafe remove their coats from the hanger he has just put his jacket on.
"It's like hell here. Everywhere ... you are suspected all the time. They believe black men live through crime," said the 45-year-old auditor who has lived in an asylum-seekers' hostel in Potsdam, southwest of Berlin, for four years.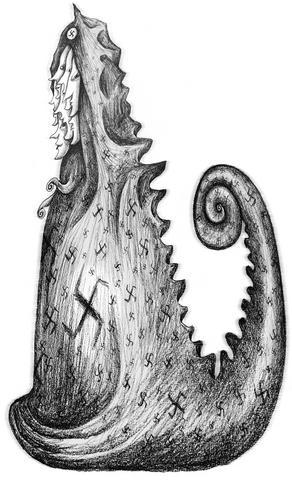 ILLUSTRATION: MOUNTAIN PEOPLE
He did not want his full name to be published.
Such overt racism is widespread in former Communist eastern Germany, where unification brought mass unemployment, and where people lived for decades without meeting foreigners, apart from Soviet soldiers and eastern European tourists.
In the early 1990s, when many of the thousands of asylum seekers who fled to Germany from war zones in the Balkans and elsewhere were sent to cities in the east, foreigners became scapegoats for post-communist ills and social dislocation.
The xenophobia has bred neo-Nazi groups and far-right violence, said Judith Porath, director of Opferperspektive, a state-funded agency that helps victims of attacks.
"A large part of the population has a racist, xenophobic attitude," she said.
Attacks motivated by racism and anti-Jewish sentiment aren't confined to the east, but are three times more frequent than in the west measured per capita, according to an intelligence report last year.
Robert was beaten up by two muggers last year in what he is sure was a racist attack. A friend from Sierra Leone had his arm broken when youths assaulted him by a taxi rank, he said. "None of the drivers got out to help him," said Robert.
The attacks, often by young skinheads, are so frequent they rarely make the pages of the national press.
Growing threat
But news in mid-September that police in Munich had foiled a bomb attack on the foundation stone laying ceremony of a Jewish community center has concentrated attention on far-right violence in the country that carried out the Holocaust.
It has also caused concern that the authorities were so busy hunting Islamic militants after the Sept. 11, 2001 attacks on the US that they have failed to stop an escalating threat from neo-Nazi groups.
"In recent months there has obviously been an escalation. Things have moved to a totally new level," said Bavarian state Interior Minister Guenther Beckstein.
Police seized explosives and pistols and arrested several people in Munich and the east, including a leader of one of Germany's 160 neo-Nazi organizations or Kameradshaften. Many of the members of such groups belong to gun clubs, police say.
Hajo Funke, political analyst at Berlin's Free University, who specializes in the far-right scene, said waning public pressure had helped it become deadlier.
"Right-wing terrorism has been in the air," he said. "People in the far-right scene had been getting frustrated just putting up placards. They have not been achieving anything politically."
No one in Germany expects the far right to pose a serious challenge to the state. Democracy is so well rooted that far-right parties get a negligible share in national elections, much less than in France, Austria and the Netherlands.
The main danger is to foreigners, and to Germany's reputation after decades spent atoning for the Holocaust.
Liberal laws on free speech and assembly -- a response to Nazi-era abuse -- allow right-wing groups to demonstrate.
But such groups are forbidden to deny that the Holocaust occurred and to display Nazi symbols such as the swastika. The government is also trying to ban the National Democratic Party (NPD), which it has compared to Hitler's embryonic Nazi party of the 1920s.
More potential attackers
More than 100 people have been killed in racist violence in Germany since unification in 1990. Most of the attacks are opportunistic -- skinheads picking on foreigners in the street.
Attacks on property also occur -- swastikas daubed on Jewish gravestones, bricks thrown at Turkish kebab shops and firebombs at asylum hostels. Most synagogues have 24-hour police guards.
Last year alone, the Bundesverfassungsschutz domestic intelligence service recorded 772 cases of violent crime "with right-wing political motivation," up from 709 in 2001.
Among them were 646 cases of physical assault resulting in injury, and eight attempted murders, but no actual murders.
The agency estimates Germany had 10,700 far-right extremists last year willing to use violence, up 30 percent from 1998.
Most of them are right-wing skinheads attracted by Nazi ideology, who listen to music with lyrics such as these from group Tonstoerung ("Sound Interruption"): "Sharpen your long knives on the pavements; drive them into Jewish bodies."
Some of them belong to neo-Nazi organizations, but authorities say there is no central force steering them.
Despite the Munich arrests, officials say the right wing lacks the level of organization to make it as deadly as the far-left "Red Army Faction" that terrorized Germany with assassinations, kidnappings and hostage takings in the 1970s.
The worst incidents of racist violence, including the 1992 firebombing of an asylum-seekers' hostel in the eastern port of Rostock, where onlookers clapped in delight as the inhabitants struggled to flee, or the 1993 arson attack on the home of a Turkish family, which killed five people in the western town of Solingen, were followed by public outrage.
Police clampdowns on far-right groups and publicity campaigns promoting tolerance ensued, and the pogrom-style attacks on foreigners have abated since the early 1990s.
The everyday violence has never stopped.
"This is a battleground," said Robert from Potsdam.
Comments will be moderated. Keep comments relevant to the article. Remarks containing abusive and obscene language, personal attacks of any kind or promotion will be removed and the user banned. Final decision will be at the discretion of the Taipei Times.