Electric cars struggle to spark enthusiasm amid bleak recession
With a curiously squashed, elongated body, the Tango electrically powered car is as narrow as a single passenger and as nippy as a motorbike. Billed as the world's fastest urban car, it can reach a speed of 200kph.
Satisfied customers include the actor George Clooney, and its inventor describes the bizarre vehicle as a "chick magnet."
Built by a US start-up called Commuter Cars, the Tango takes up only half a traffic lane. It can carry two people tandem-style in slightly cramped comfort. Without the need for gears, its battery-­powered engine can accelerate from zero to 100kph in four seconds and, with a racing car-style roll cage design, the Tango is supposedly as robust as a Volvo estate car.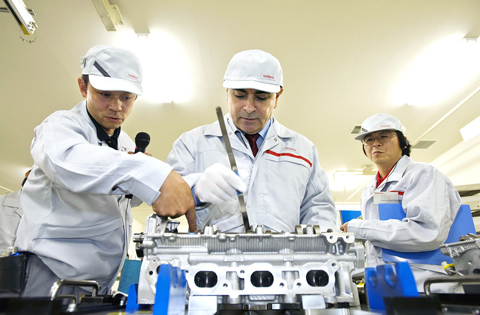 Carlos Ghosn, president and chief executive officer of Nissan Motor Co, center, is given a tour of the automaker's engine assembly plant in Yokohama, Japan, on Monday. Ghosn, 55, is placing the auto industry's biggest bet yet on electric vehicles.
PHOTO: BLOOMBERG
"It's unequivocally the fastest car you can buy for an urban environment," said Commuter Cars' president, Rick Woodbury, who has sold 11 of the vehicles so far, at a hefty price of US$150,000 each. "I drove through Times Square and had girls throwing their arms around me."
The Tango is among the quirkier exhibits on Electric Avenue, a corner of the Detroit motor show devoted to electrically powered vehicles. Visitors this week included Speaker of the US House of Representatives Nancy Pelosi and Michigan Governor Jennifer Granholm. Every manufacturer of any note, from General Motors (GM) to Toyota, Mitsubishi and Hyundai, has a plug-in car or, at the very least, a petrol-electric hybrid on display, usually involving the letter "e," as in the BMW ActiveE prototype and the Audi e-tron sports car.
The future of motoring, political and environmental enthusiasts say, is electric. But this mantra has been repeated, in different forms, for almost a decade and many industry experts feel that it is hard to find a true groundswell of enthusiasm among consumers.
Twelve years ago, the Toyota Prius broke new ground as the first mass-market hybrid car. Hybrid technology, combining electric batteries with a petrol-driven back-up engine, is well established. But barely 1 percent of industry sales last year were hybrid or electrically powered vehicles. PricewaterhouseCoopers' automotive institute expects to see a small rise to 4 percent by 2015.
"What's holding them back?" asks Anthony Pratt, a PricewaterhouseCoopers analyst. "Cost."
Typically, buying an environmentally friendly car involves a price premium and the recession has not helped.
"When people begin to look to do more with less, they became less concerned with the environment and more worried about trying to balance the budget," Pratt said.
Toyota this week showcased a smaller, cheaper version of the Prius called the FT-CH concept. Its Japanese rival, Nissan, displayed a pure electric plug-in car called the Leaf, which is already on the market in Japan and will hit US showrooms this year. It has a socket in its bonnet and needs to be recharged every 160km. At a turbo-powered quick charging station, re-energizing the batteries takes 26 minutes; a home charging station will take eight hours.
Mitsubishi has a similar model, the MiEV prototype (short for Mitsubishi Innovative Electric Vehicle). With their relatively short range, these vehicles are aimed at commuters and are suitable for commercial use in towns — by, for example, postal services and restaurants delivering food. Until somebody builds a network of electric charging stations, however, they are awkward for longer trips.
That, said Jim Hall, an automotive expert at 2953 Analytics, a Detroit-based research company, is a major sticking point.
"The average American sees a car as a tool that must be able to do everything. Our cars are viewed as Swiss army knives," he said.
Another reason, Hall believes, for the slow take-up of electric vehicles is that consumers most concerned about the environment also tend to be "late adopters" who are suspicious of impenetrable technology: "They'll be concerned about the nickel in the batteries — the fact that nickel must be mined and that nickel is toxic."
Other ideas are being tested. Hyundai showed off a prototype called the Blue-Will this week, with roof-mounted solar cells to help recharge its lithium batteries.
Tesla Motors, a small Silicon Valley company, has come up with a way to extend the range of a battery-powered car. Its test drivers recently managed to go 500km through the Australian Outback on a single charge.
But the most keenly awaited mainstream "green" launch will be GM's Chevrolet Volt, a hybrid that can go 64km on a single electric charge, but then harness power from its internal combustion engine to generate more electricity on the go, extending its range to hundreds of kilometers from one tank of gasoline. The Volt, which will cost about US$40,000, will go on sale in the US late this year.
Comments will be moderated. Keep comments relevant to the article. Remarks containing abusive and obscene language, personal attacks of any kind or promotion will be removed and the user banned. Final decision will be at the discretion of the Taipei Times.