Kashmir saffron industry withers
Kashmir used to be famous for saffron, the world's most expensive spice, but poor rainfall and corruption have sent production slumping
Saffron spice cultivation should be a growth industry for Indian Kashmir as it begins to recover from decades of unrest, but drought, pollution and corruption are threatening its future.
Kashmir is famous for its crocus flowers and their fragrant reddish-orange stamens which are plucked, then dried, before being used in cooking the world over to add taste and color. It's a niche industry with potentially high returns: The spice is the world's most expensive by weight and sells for more than US$5,000 dollars a kilogram in India alone.
All is not well, however, with local farmers struggling to make ends meet at a time when violence is subsiding and companies are re-opening amid signs of stability after a deadly 20-year anti-India insurgency.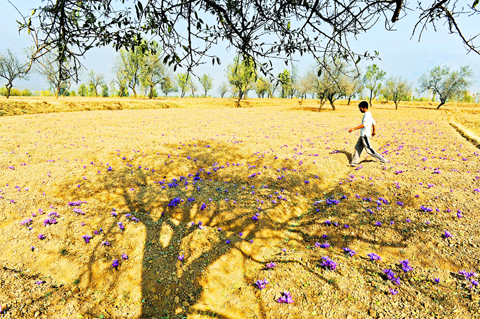 A man walks through a saffron field in Pampore, India, on Oct. 27.
PHOTO: AFP
Production of the labor intensive crop totaled 40 tonnes a year in the early 1990s, but now has slumped to just 6 tonnes annually from the 226 villages that grow the crop, a government agriculture department said.
Former farmer Mehraj-u-Din, 44, is part of the trend. He turned his back on the industry and now makes a living by brokering sales between saffron land owners and prospective buyers.
"This area used to be blanketed by saffron flowers, but now we have houses everywhere," he said, surveying a piece of land in Acha Nambal area, a 20-minute drive from the state summer capital Srinagar.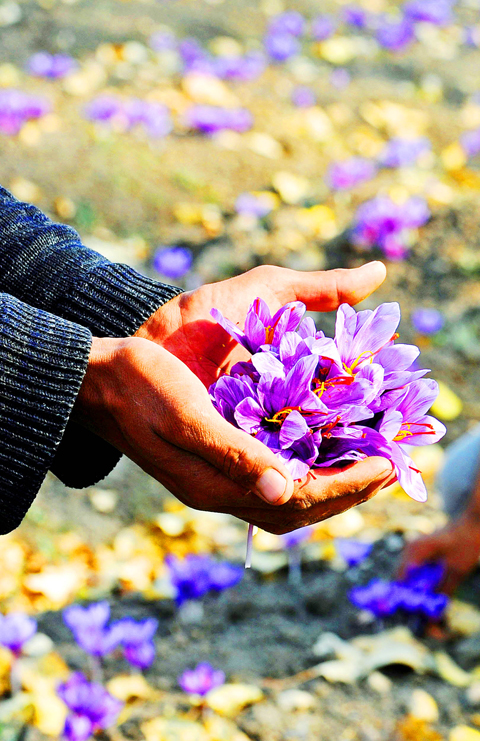 A Kashmiri shows off a saffron in a field at Pampore, south of Srinagar, in India on Oct. 27.
PHOTO: AFP
Huge buildings have mushroomed in the area, once a prime location for saffron cultivation, despite a government ban.
"Officials who are supposed to protect this land are demanding huge bribes to allow construction," Din said.
Many former farmers say that falling production prompted them to sell up and walk away from a tradition that dates back at least 1,000 years.
"I sold off my land as I got good price at a time when production had gone down considerably," said Mohammed Ramzan of Pampore, a 15-minute drive from Srinagar and known as the saffron capital.
"I had to feed my family and marry off my daughter. Selling the land was the only option," he said.
A TRUANT MONSOON
Elsewhere, the picture is the same in the Indian part of this divided territory, twice the trigger for a war between India and Pakistan. An ancient industry with huge export potential is withering on the stalk. Poor rainfall over several years is blamed by some on climate change, while others lament the lack of irrigation and years of official inaction in the face of the problems.
"There has been almost no rain over the past three years, and this year too rains have eluded us," farmer Altaf Bhat said as his mother and sister tend their roadside farm in Lethpora village, about 30km south of Srinagar.
The fields are divided into small rectangular flower beds which, when in full bloom, resemble a huge tawny blanket with spots of purple and green. The crocus is an autumn plant raised from a bulb. It remains dormant until the middle of October, when green leaves shoot up followed by bright, strongly scented purple flowers. The flowers carpet the fields but then die off after several weeks. The final stage is a period of furious activity for thousands of Kashmiri families who spend their days collecting the flowers, then painstakingly snipping off the stigmas, which are dried before being sold.
Firdos Nehvi, Indian Kashmir's leading saffron scientist and an associate professor in the state's main agriculture university, said that declining rainfall in the mountainous region is a serious problem.
"Less rains have led to a decline in saffron productivity," said the scientist, who has been tasked with rejuvenating saffron growing and has toured foreign countries looking at the best practices.
After years of studying how to help the farmers, the local government has finally formulated a policy to provide tube wells to the farmers — but with a major drawback.
"The farmers will have to create the facility themselves and then claim the money back," said Nehvi, who acknowledged the response had been underwhelming so far.
Growers say that because of the drought-like conditions of the last few years, they lack the money needed to invest in the wells, which cost between 50,000 and 60,000 rupees (US$1,070-US$1,300).
Other ways of irrigating the highland fields, including taking water from rivers and streams, have not materialized owing to a lack of financial support from the government, Nehvi said.
INNOVATE OR FAIL
One of the consequences is that Indian Kashmir has been eclipsed by growers in Iran, who use irrigated land. Saffron is also grown in the Mediterranean region.
Iranian saffron undercuts Kashmiri produce even in India where it sells for 250,000 rupees (US$5,102 dollars) a kilogram, compared with 300,000 rupees for the Kashmiri version.
In a bid to catch up, Nehvi and his fellow scientists are trying to promote irrigation and other new technologies to replace old methods, such as open-air drying of the stamens.
"We are encouraging farmers to go for drying under controlled conditions. It retains the flavor and color of the spice," Nehvi said, adding that the government would help farmers to acquire solar or electric dryers.
Nehvi and his fellow scientists are also helping villagers to increase their production by swapping animal-drawn plows for power tillers at subsidized rates, which help to prepare the seedbeds for higher density sowing.
"We will have to sow 50 plants per square meter, instead of 15 to 20 as we are seeing currently," Nehvi said.
"If we do this our output will increase three times," he said.
Despite these efforts to introduce modernity in this conservative Muslim region, there are many other problems, both manmade and natural.
Over the past two years the crop has been hit by a disease called saffron corm-rot, caused by a pathogen that spread when apples and saffron were grown in the same fields, Nehvi said.
Economic development in the region, where 400,000 educated youths are unemployed, is also a threat to farmers.
"The dust and pollutants emanating from the factories is damaging the crop and nothing is being done," agriculture scientist Nazir Ahmed said, referring to south Kashmir's Wuyan, Khrew and Khonmoh areas where huge factories have been set up.
Comments will be moderated. Keep comments relevant to the article. Remarks containing abusive and obscene language, personal attacks of any kind or promotion will be removed and the user banned. Final decision will be at the discretion of the Taipei Times.