Micro loans help Bedouin women break the mold
The Sawa program offers traditionally cloistered Bedouin women a rare chance to turn their hand to small-time capitalism
Huda al-Sakh never imagined the constraints of Bedouin Israeli society would allow her to become her own boss, but now she runs a fast food joint employing her husband as kitchen skivvy.
With a light headscarf covering her forehead, Huda stands behind a stainless steel counter in a rickety shed, filling pita bread with sizzling falafel in Israel's desert town of Segev Shalom.
Her husband Imad works beside her.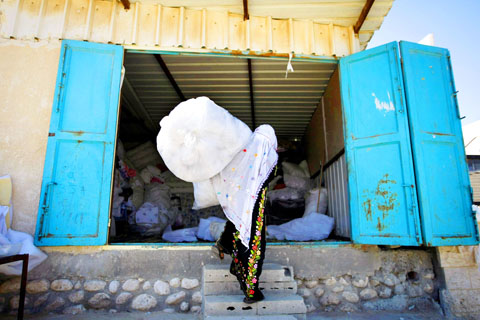 Bedouin shop owner Farawna Nasra Abu Adjin, 50, carries a bag of cotton into her pillow-making workshop in Rahat, Israel on Aug. 6. Abu Adjin started the business with a microfinance loan from the Sawa Group two years ago and is the only member of her family working, enabling her to support her husband and 12 children.
PHOTO: AFP
Two years ago, the mother of six never believed she would have the money or the social acceptance to run her own business.
But one small loan from a community project allowed the 46-year-old to beat the poverty trap and start to remodel ancient Bedouin traditions by opening a shop in this sandy, run-down town in southern Israel.
"The tent and tea are still part of our lives but we are moving forward," Imad conceded.
"You learn things in life and that is good. The wife has to help make ends meet. She can no longer stay buried at home and has to work and leave the house just like men," he said.
The 160,000 Bedouins who live mostly in the Negev desert are probably the most under-privileged sector in Israeli society, enduring pervasive poverty, unemployment, bleak housing and miserable health conditions.
In recent decades, their society has undergone major transformation — albeit often forced by the government — in which many have abandoned the traditional semi-nomadic way of life for towns like Segev Shalom.
The changes have shaken the foundations of a patriarchal and religious Muslim society, forcing men and women to adapt.
But change is gradual. The business may be hers, but Huda defers to Imad, saying she is reluctant to speak to reporters.
Based on principles of microfinance and group-lending programs applied around the world, the Sawa program offers traditionally cloistered Bedouin women a rare chance to turn their hand to small-time capitalism.
Sawa, the Arabic word for together, is operated by Israel's Koret fund in partnership with the Olive Stone trust and additional contributors.
Today it involves more than 900 Bedouin women from seven communities across the Negev desert.
"We choose the poorest of the poorest women in the Bedouin communities," said Nuzha al-Huzael, manager of the project.
Guided and supported by a social worker, five women decide together what business each one can start with a loan of up to 5,000 shekels (US$1,400).
Most women set up grocery stores, sell traditional jewelry and fabrics, or produce homemade dairy products to sell in Bedouin and Jewish towns.
Each group member acts as a guarantor for the repayment of the others' loans by installments, usually over a year. More than 80 percent of investments have been successful so far, Huzael said.
Farawna Nasra decided two years ago to launch a pillow-making business in the northern Negev town of Rahat. With her husband and most of her 12 children living off social welfare, the 50-year-old says she had little choice.
Today her pillows and mattresses attract customers from across the country, from blushing Bedouin brides with dowries to Israeli Jews furnishing flats.
"I always sewed pillows at home as a child. This is an old Bedouin tradition and, praise God, things are going well," Nasra said, sitting in her little bare-brick store among the many piles of crimson pillows and polyester sheets.
Her dark, weathered hands stuff the pillows and thread them closed with a large needle. With a few more deft flourishes, she sews the colorful pillow case and tosses the finished product onto a pile behind her.
"I took a loan from Sawa and bought raw materials from factories in Beersheba," she said, referring to the nearby Israeli city. "Today I even employ other women who sew at home."
Although most Bedouin women maintain their traditional role as homemakers, bare necessity forces a growing number to seek jobs that supplement or even replace their husband's income.
Some enterprises have failed because of social constraints. Some villages have turned away Sawa representatives, but Huzael said Bedouin society as a whole is accepting the project.
"We feared that the project would be criticized because people can think that we are trying to get the women out of the home and away from tradition," she said.
"But there are many men who are very happy with the program simply because the family's income is increasing. Today we feel support and even active support, from men."
The focus is women for the simple reason that Bedouin women are easier to work with than men, Huzael said.
"We might include men in the project in the future, but similar programs across the world have been more successful among women."
Comments will be moderated. Keep comments relevant to the article. Remarks containing abusive and obscene language, personal attacks of any kind or promotion will be removed and the user banned. Final decision will be at the discretion of the Taipei Times.