Taiwanese business in Vietnam: How to get gold out of swampland in a decade
At the APEC CEO summit in Hanoi last November, Phu My Hung Corp (富美興) chairman Arthur Ting (丁廣鋐), in his early 30s, lectured to business leaders from 21 member countries on doing business in Vietnam.
The honor is usually reserved for tycoons like Steve Jobs or Bill Gates. What made this rarer was the fact that Ting, as a Taiwanese, was given a chance to enhance Taiwan's profile in the international event, something that is ordinarily blocked by China.
But Ting seems to carry a weight comparable to Jobs and Gates in Vietnam, where Phu My Hung is a household name with its own "urban legend."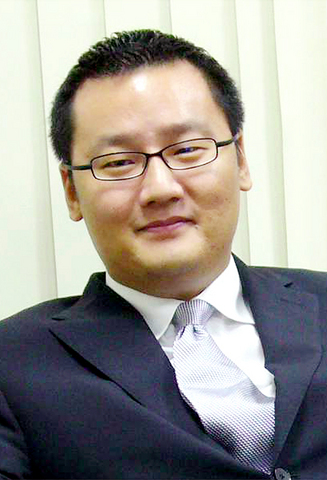 PHOTO: JESSIE HO, TAIPEI TIMES
Founded in 1993, Phu My Hung is 70 percent owned by the Taiwan-based Central Trading and Development Group (中央貿易開發關連企業) and 30 percent by the Tan Thuan Industrial Park Development Co that represents the Ho Chi Minh City People's Committee.
Led by Lawrence Ting (丁善理), then chairman of Phu My Hung and Arthur's father, the company started to develop infrastructure and residential and commercial buildings on 3,300 hectares south of downtown Ho Chi Minh City.
But at the time, most of the area was swampland where communist guerillas hid during the Vietnam War.
"When we started the development plan, local people sneered at us and called us crazy," Phu My Hung president Frances Ba (巴大文) said.
The company completed the first batch of Western-style villas in 1998, but plagued by the war-zone stigma, it took a whole year to sell all 14 units priced at US$17,000 each, Ba said.
With the completion of a main road and offering quality living at 30 percent of the price of the main part of the city, Phu My Hung sold out 2,000 apartments in 2000 -- the time when the legend of Phu My Hung turning swamp into gold began to spread.
Now, the Phu My Hung urban area has five zones: new city center, university place, high-tech center and two merchandise centers. Prices of residential apartments have skyrocketed to between US$800 and US$1,200 per square meter, three times more expensive than downtown.
The self-sufficient community has been praised as an urban residential model for Vietnam, and the Central Trading and Development Group became one of the largest and most successful foreign investors in the country.
Phu My Hung's investment totaled US$700 million, and includes the Tan Thuan export processing zone that has attracted 108 companies with trade volume of US$1.3 billion per year, and the Hiep Phuoc power plant that supplies electricity to the area.
The legend will not stop here.
"We will continue to develop the area to accommodate a population of 1 million in the next 10 years," Arthur Ting said.
Targeting Vietnam's business potential after joining the WTO, Phu My Hung is now building an international-scale exhibition hall, which is expected to bring in huge business and the status of a new world trade center, Ting said.
Comments will be moderated. Keep comments relevant to the article. Remarks containing abusive and obscene language, personal attacks of any kind or promotion will be removed and the user banned. Final decision will be at the discretion of the Taipei Times.