Recycling electronic waste presents major challenges
What do you do with that Mac Classic gathering dust in the basement? Finding options other than landfill is not easy
It was as if a floodgate of memory, electronic memory, suddenly burst open. From out of closets, and from deep corners of basements, emerged the digital equivalent of a thousand Proust-like madeleine moments: old Commodore 64s with cracker crumbs in the keys, original IBMs with floppy disks but no hard drives, perfectly good but long dormant things called word processors.
Even some Pong games have come mixed in among the 455 monitors, 300 central processing units, 205 printers and 55 laptops that have spilled onto the floor at the town dump here since the cutting-edge recycling program for electronics began in April.
"This stuff has been in the basement for about eight years," Brad Hantverk, a Roslyn Heights dentist, said as he hauled from his trunk two monitors, a CPU, three VCRs, a scanner, two keyboards and a printer. "I've been waiting and waiting."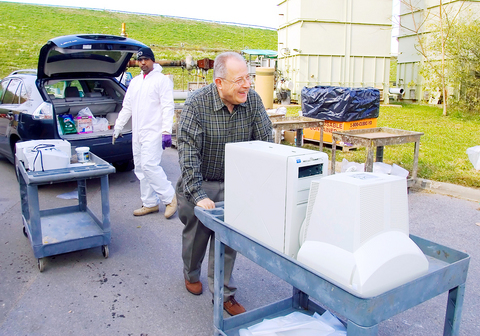 David Michael, right, of Port Washington, New York, takes an old computer to the local dump on Tuesday.
PHOTO: NY TIMES NEWS SERVICE
The Environmental Protection Agency estimates that individuals threw away 2.5 million tonnes of electronic equipment, known as e-waste, last year, about 10 percent of which was recycled. While federal law regulates the disposal of electronics by businesses and government agencies, it does not affect individual consumers, who account for more than half the e-waste produced annually, according to the federal agency.
Every old computer monitor contains about four pounds of lead, and other parts are filled with heavy metals like mercury, arsenic, cadmium and chromium. They have toxins that hover in the air after incineration or leach into the water supply when buried in landfills. Researchers at Carnegie Mellon University in Pittsburgh say that dumps around the nation's major cities, including New York, hold more than 60 million computers.
Now, a consensus is emerging among environmentalists and public officials that protections need to be put in place against a dam-bursting amount of obsolete computer equipment and televisions sitting in US closets and basements that could soon hit the waste stream.
Six states have passed laws, most in the last two years, requiring individuals to recycle electronic trash; the New York State Legislature is expected to consider such a bill next year, having passed a narrower measure mandating recycling of cellphones that takes effect in January.
Aside from environmental concerns or instinctive hoarding, many consumers retain computers long after their life cycles out of fear that personal information on their hard drives could be stolen. In fact, such data can easily be erased by computer experts before tossing equipment into the trash. It is destroyed during the recycling process, anyway.
The new recycling surge comes amid a flood not only of old equipment but also of newer-model computers, televisions, laptops, cellphones, BlackBerries, iPods and everything else electronic.
"The rate at which tech-savvy consumers are buying new electronics -- the thinner laptop, the next generation iPod, the newest of the new everything -- is fairly unprecedented," said Alex Fidis, a staff lawyer for the US Public Interest Research Group, which is pushing for environmental protection against e-waste.
Matthew Hale, director of the Environmental Protection Agency's office of solid waste, said the federal government was increasingly concerned about a coming tidal wave of electronic trash.
"People have been buying electronics for a long time, and they tend to keep electronics for a long time," he said in a telephone interview. "But it's a maturing industry, and we're beginning to see significant waste streams."
Recycling a computer usually means taking the valuable metals out of it and selling them. Michael Lodick, president of Electronics Recycling Technologies, in Buffalo, which handles e-waste for a number of public and private customers including North Hempstead, said some computers were refurbished and sold to schools. But most end up disassembled, sorted, crushed and melted down to elemental parts.
The six states that now require recycling of electronics -- have each taken slightly different tacks, but the conflicts their lawmakers confronted were almost always the same, said Lynn Rubinstein, executive director of the Vermont-based Northeast Recycling Council, which lobbied for some of the bills. Who would collect the stuff? Who would recycle it?
And most of all, who would pay? The question of financing, she said, was always a core issue.
Similar issues are in play in negotiations over drafts of a New York law expected to be introduced when the Legislature reconvenes next year by State Senator Carl Marcellino, a Long Island Republican who recently headed a 10-state task force on e-waste.
"Is it fair to charge people buying something today for recycling other people's equipment that is 5 or 10 years old?" asked Debbie Peck Kelleher, an assistant to Senator Marcellino.
Comments will be moderated. Keep comments relevant to the article. Remarks containing abusive and obscene language, personal attacks of any kind or promotion will be removed and the user banned. Final decision will be at the discretion of the Taipei Times.