Revamped `Star Wars' game leaves old players grieving
For two-and-a-half years, Emily LaBeff, chairwoman of the sociology department at Midwestern State University in Wichita Falls, Texas, spent 30 hours or more each week playing the online computer game Star Wars Galaxies. Not for research, but for fun.
Logging on to the game on weekends and many nights after class, LaBeff directed Athena Wavingrider, a powerful Jedi she created, through the far corners of the Star Wars universe, fighting on behalf of the Rebel Alliance against the tyranny of the Galactic Empire.
Like millions of other online gamers, LaBeff, 54, discovered a camaraderie and friendship with other players that were far more important than the play itself -- relationships that can be hard to replicate in "real life."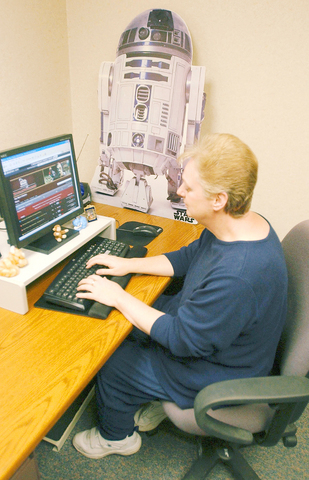 An Almond, Wisconsin resident, Carolyn Hocke, 46, searches the ``Star Wars Galaxies'' Forum Web site on Friday for comments on the new game that has many hard-core gamers upset.
PHOTO: NEW YORK TIMES
"It's replaced my television time, and I don't go to the movies anymore," she said, chuckling. "I don't keep my car as clean as I used to. But it's not because of the game itself. It's because of the people."
"We all had this wonderful second life together," she added.
And now it's all gone, at least in any form that LaBeff and thousands of other veterans of the game would recognize.
Last month, LucasArts and Sony's online game division, which have jointly run Star Wars Galaxies since its introduction in 2003, suddenly turned the game upside down, making the most sweeping changes ever made to a persistent online game. ("Persistent" means that the game world is constantly running, and players may log in and out as they please.)
Unsatisfied with the product's merely moderate success, the two radically revamped the game in an attempt to appeal to a younger, more trigger-happy audience.
Previously, the game was unabashedly complicated, appealing to mature, reflex-challenged gamers with its strategic combat style and deep skill system, which allowed players to carve out profitable, powerful niches as entertainers, architects and politicians. Now the game has become self-consciously simple, with a basic point-and-click combat system that is meant to evoke the frenetic firefights of the Star Wars films.
To Sony and LucasArts, the changes are a necessary step to help the game appeal to a broader audience. (The companies do not release subscriber figures, but many gaming experts believe that before the changes, Star Wars Galaxies had about 200,000 subscribers, each paying about US$15 a month.)
But to thousands of players, the shifts have meant the destruction of online communities that they might have spent hundreds or even thousands of hours constructing.
Now many Galaxies players are canceling their accounts and migrating to other online games. They are swapping tales on "refugee" Web sites with names like Imperial Crackdown (imperialcrackdown.com).
LaBeff, for instance, said that she had canceled all three of her Galaxies accounts and had joined a new guild in World of Warcraft, another game, with her old Star Wars friends.
"Someone might wonder, well, it's just a game, what's the big deal?" said Robert Kruck, 54, an engineer for Motorola who lives in Schaumburg, Illinois, who said he had canceled seven of his eight Galaxies accounts.
"But for many people it is much more than a game," he said. "It is a part of their lives where they have invested huge amounts of time building a community. And that community has been based on a sophisticated, mature game. So now, for them to take an adult-level combat and economics simulation and turn it into a mindless game for 10-year-olds is a violation of that community."
For Sony and LucasArts, the idea has been to make the game more Star Wars-like, tying it more explicitly to the films.
"We really just needed to make the game a lot more accessible to a much broader player base," said Nancy MacIntyre, the game's senior director at LucasArts.
"There was [were] lots of reading, much too much, in the game. There was a lot of wandering around learning about different abilities. We really needed to give people the experience of being Han Solo or Luke Skywalker rather than being Uncle Owen, the moisture farmer. We wanted more instant gratification: kill, get treasure, repeat. We needed to give people more of an opportunity to be a part of what they have seen in the movies rather than something they had created themselves," she said.
MacIntyre said Galaxies had lost "significantly more" than the 3 percent to 5 percent of players who typically leave any online game every month. She said she expected the game to return to its previous subscriber levels in six months, a process she hoped would be accelerated by the introduction of a new television infomercial hawking Galaxies later this month.
"We knew we were taking a significant risk with our existing player base, but we felt so strongly that we needed to make these changes for the sake of the game's long-term future that we all held hands, LucasArts and Sony, and went forward," she said.
It may, however, be a rocky path, because the revamped game is receiving mostly horrible reviews from players.
On Gamespot.com, a leading game Web site, about half of the more than 600 players evaluating the game have rated it "abysmal." Some 14 percent have called it "terrible," and 6 percent have described it as merely "bad." The game is described as "perfect" by about 12 percent and "other" by 18 percent.
"We just feel violated," said Carolyn Hocke, 46, a marketing Web technician for Ministry Medical Group in Stevens Point, Wisconsin. Hocke said she once had as many as 10 separate Galaxies accounts but has canceled all but one in the last two weeks.
"For them to just come along and destroy our community has prompted a lot of death-in-the-family-type grieving," she said.
"They went through the astonishment and denial, then they went to the anger part of it, and now they are going through the sad and helpless part of grieving. I work in the health-care industry, and it's very similar," she said.
Comments will be moderated. Keep comments relevant to the article. Remarks containing abusive and obscene language, personal attacks of any kind or promotion will be removed and the user banned. Final decision will be at the discretion of the Taipei Times.