In China, height counts -- and so does breast symmetry
Height and weight requirements seem innocent compared to some of the job requirements to be found in China
When this northern Chinese city recruited legal affairs officials recently, Chen Hongping figured that they were looking for people like her. \nChen, 35, is a prim and confident member of the Chinese Communist Party. She scored high on the entrance exam, impressed her interviewer and made the short list of 80 finalists, whittled down from more than 600. \nShe knew her application was in trouble, though, when she was called in for a second physical checkup. Soon she got the bad news: She could not get the job, she was told, because she is 2cm too short. \nChen is one of many Chinese who are denied government jobs because they do not meet an often unwritten code of fitness -- height, looks and robust good health -- that many say has nothing to do with their ability to perform the task in question. \nSince China joined the WTO in 2001 and began interacting more with the outside world, it has worked to project a positive global image. Government departments are being told to raise their stature and put their best face forward. Some have been following the instructions literally. \n"They are trying to attract the tallest or the prettiest people, because it makes them look good," said Chen, who at 1.56m is just below average for adult women in China. "But it is completely random and unfair to everyone else." \nThe standards are a sign of how far China has drifted from the Communist Party's stated socialist values. Officials are no longer selected based on the basis of ideological fervor or working-class background, but rather in ways that seem more reminiscent of China's imperial history. \nNow as then, Chinese officials reject popular elections as unsuitable. Instead, they intimate that they are naturally selected to lead. They try to recruit the best, the brightest and, sometimes with surprising frankness, the most beautiful people to hold public positions. \nChina's 33-million-member public sector is more meritocratic than it was in Mao's time, with rigorous exams required for many positions. But the notion of merit includes some traits that are basically genetic and others that seem highly subjective. \nIn Hunan province in central China, for example, women seeking any government jobs had to demonstrate that they had symmetrically shaped breasts. The requirement was dropped only in March, but only after a public outcry by women who had been denied jobs on those grounds. \nWhen the government-run Nanchang Institute of Aeronautical Technology vets candidates for jobs as flight attendants for the national airlines, applicants are asked to parade on stage in swimwear. School officials said the bikini test was part of a comprehensive examination that also focused on general aptitude and proficiency in English. \nOne broad form of discrimination affects people who have hepatitis B, a liver disease that afflicts as many as 120 million Chinese, almost 10 percent of the population. While the disease is not highly contagious and is often not debilitating, many official agencies use blood tests to ferret out applicants who carry the virus. \nRigorous requirements for height and physique have been used for years to screen people who want to work in China's most internationally visible jobs, like Foreign Ministry posts. The ceremonial guard of the People's Liberation Army, which performs for state visitors, for example, has long been noted for the uniform height and build of its soldiers. \nBut now the idea is catching on even in some out-of-the-way cities, with standards that vary from place to place. \nPeople who applied for jobs in agencies as varied as the tax bureau in the southern city of Shenzhen and the central bank branch office of Chengdu, the capital of Sichuan Province, say they were denied positions because they fell short of local height requirements. \n"The government is giving a really bad example to the rest of society by discriminating in this way," said Zhou Wei, a lawyer in Sichuan who has fought in local courts to have height requirements overturned. "The only way to stop this kind of outdated thinking is to outlaw it entirely." \nThe central government has regulations that ban discrimination on the basis of sex, race and religion. Beijing has considered a similar prohibition on screening people on the basis of height, looks or non-debilitating illness, said an official of the Ministry of Personnel Examination and Recruitment Section, which regulates hiring in the civil service. But so far it has taken no action. \nEven if new laws or regulations do prohibit discrimination, it is not clear that the practice will disappear. \nZhang Xianzhu sued the personnel office of the city of Wuhu, in Anhui province, after it rejected his application to become a public servant on the grounds that he carried the hepatitis B virus. In April, the court ruled that the personnel department did not have grounds to exclude Zhang. \nBut the court also rejected his application for a remedy, and he was not hired. The court decided that it had no power to intervene in the civil service selection process, his lawyer said. \nFifty-five years of Communist rule never eliminated the idea that mandarins are supposed to act like an aristocracy, and look the part. Zhou Enlai, the longtime prime minister, has remained an iconic figure nearly 30 years after his death in part because his good looks inspired rapture in women and men alike, including foreign visitors. \nWith unusually round eyes, a nose that had just the right lift and a hairline that held fast into old age, he met the standard of "wuguan duanzheng," or five perfect features. He stood 1.7m. \nExceptions are made. The father of China's economic reforms, Deng Xiaoping, was only 1.49m tall. Today he would not qualify for a job in the army or bureaucracy he once commanded. \n"Even Franklin Roosevelt could never have a government job in China today," said Chen of Changzhi. "He was a great president, but he was a cripple. So he could play no role in our country." \nChen was denied the job in a provincial procurator's office, similar to an attorney general's office. She said the problem might be hard to overcome. China has an enormous surplus of labor, and everyone wants the protection of a government job with its implicit offer of lifetime tenure. \n"The government has the choice of so many millions of people, so officials think they can be as picky as they want," she said. "There is no concept of rights and fairness for the applicant." \nAfter achieving a top score on her exam, she felt certain that she would get a legal job. \nIt was only after she was called in for the repeat physical that she discovered the unpublicized height restriction of 1.58m. She then found 19 other people who were finalists for the job but were excluded for height reasons. So far she has persuaded five of them to join her in suing the local government. \n"I don't know if we have much hope," she said. "But this will only change if people force the change."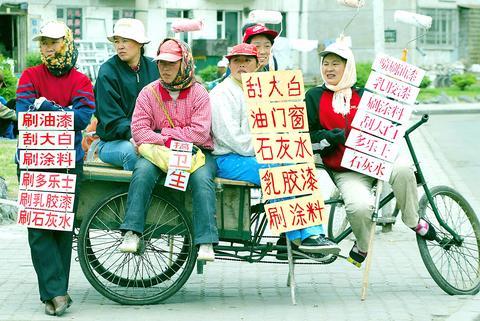 A group of odd jobs women wait for employment on the streets of Harbin, China yesterday The Chinese government is seeking to rejuvenate its old industrial bases in the northeast in order to provide jobs for the millions who became unemployed as state companies closed or restructured. The placards advise their skills such as painting, cementing and so on.
PHOTO: AP
Comments will be moderated. Keep comments relevant to the article. Remarks containing abusive and obscene language, personal attacks of any kind or promotion will be removed and the user banned. Final decision will be at the discretion of the Taipei Times.