General Motors bridges cultural gap
THE REAL ASSET A former missionary, armed with fluency and a knowledge of Korean culture, helped the US auto giant through three years of negotiations
Alan Perriton first came to Korea as a missionary. More than 30 years later, he is still bridging cultures as the executive in charge of General Motors Corp's purchase of Daewoo Motor Co assets. \nPerriton's fluent Korean and experience in the country made him the US automaker's choice to lead a team of negotiators through three years of bargaining. \n"Alan has a broad knowledge of Korean culture and the Korean language, which has certainly helped us in dealing with GM," said Daewoo Motor Chairman Lee Jong Dae in an interview. \nGeneral Motors and its partners agreed yesterday to buy three Daewoo Motor auto plants and nine overseas sales units for US$1.17 billion in cash and assumed debt. Counterparts at Daewoo say Perriton, who heads General Motors' Asia-Pacific alliances and partnerships, was key to successfully resolving marathon talks to salvage bankrupt Daewoo Motor. \nHis job isn't over. The venture needs approval from courts and regulators, a process he says will take as long as 90 days. \n"Our first priority is to stabilize the company and to get it on a solid financial platform that will allow for it to be successful," Perriton, 56, who has shuttled between Seoul and his home in Japan, said in an interview. He called the negotiations the toughest three years of his career. \nGeneral Motors had initially wanted to sign a final accord by the end of this year, about three months after reaching a memorandum of understanding with Daewoo creditors. \n"There isn't a hard part," Perriton said, declining to identify any specific sticking point. "There were many challenges." Difficulties in reaching an accord with unions that initially rejected any sale of Daewoo assets to a foreign buyer posed a challenge, officials said. As creditors pushed ahead with plans to fire a third of employees, worker protests escalated, with Molotov cocktails hurled into General Motors' offices in Seoul last March. \nSeeking neutral ground, Perriton and Korean counterparts shifted meetings between Seoul and Hong Kong. A month ago, with talks in the final stage, Perriton stopped commuting home to Japan and holed up in Seoul's Hilton Hotel. \nThe hotel site was to have been the location for yesterday's signing ceremony until disgruntled union staff stormed the venue, forcing organizers to shift the event to offices of the Korea Development Bank, Daewoo's main creditor. \nThe signing chaos will probably be looked on as a minor event in talks that started in 1998. That was six years after General Motors pulled out of a 50-50 joint venture because it disagreed with Daewoo Group's hunger to expand. \nIt was the right call: Daewoo's parent collapsed under US$80 billion of debt in 1999 because of its hasty expansion. \nTalks with General Motors resumed, only to falter as the Korean group came undone through 1998 before gathering steam in February 1999. That was a month after Perriton was named to manage General Motors' alliances in the region. \nPerriton brought to the negotiating table years of experience expanding General Motors' reach in Asia, the world's fastest- growing auto market. He was involved in the automaker's purchases of stakes in Japanese automakers Fuji Heavy Industries Ltd and Suzuki Motor Co. \nThe latter accords involved more prosperous companies and so were "significantly less complex in terms of the nature of the transactions" than the one involving bankrupt Daewoo, he said. \nDaewoo, with its annual sales reaching as much as US$5 billion, will be the "linchpin" to General Motors' efforts to grab more of the market, said Frederick Henderson, president of GM Asia-Pacific.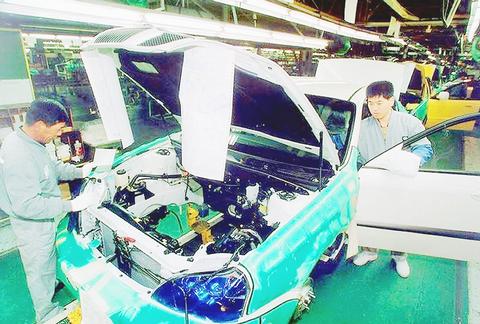 This undated handout shows South Korean workers assembling car parts at the Daewoo Motor Co factory in Bupyong, west of Seoul. US auto giant General Motors Corp acquired the key assets of debt-ridden South Korean firm in a deal finalized, Tuesday.
PHOTO: AFP
Comments will be moderated. Keep comments relevant to the article. Remarks containing abusive and obscene language, personal attacks of any kind or promotion will be removed and the user banned. Final decision will be at the discretion of the Taipei Times.