OpenAI CEO's ouster followed debates over AI safety
OpenAI's firing of CEO Sam Altman followed wide-ranging disagreements between Altman and his board — in particular Ilya Sutskever, an OpenAI cofounder and the company's chief scientist — a person familiar with the matter said.
The debates included differences of opinion on artificial intelligence (AI) safety, the speed of development of the technology and the commercialization of the company, said the person, who asked not to be identified as they were discussing private information.
Altman's ambitions might have also played a role in the divorce. Altman has been looking to raise tens of billions of dollars from Middle Eastern sovereign wealth funds to create an AI chip start-up to compete with processors made by Nvidia Corp, a person with knowledge of the investment proposal said.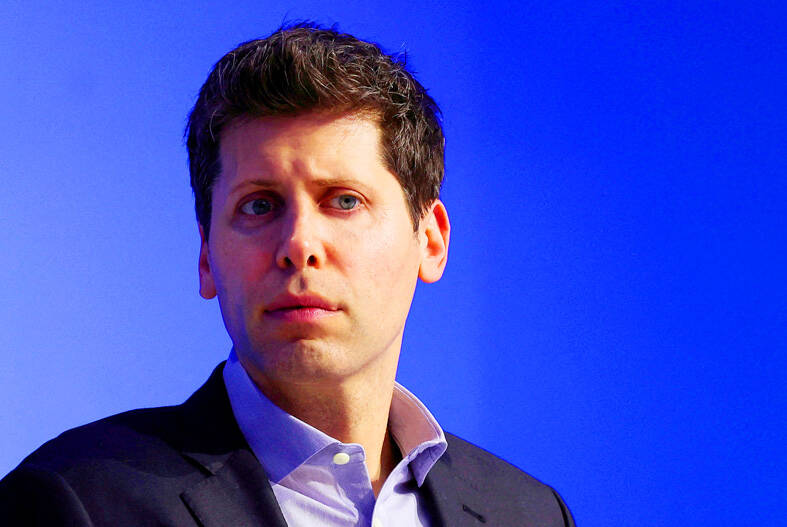 Then-OpenAI CEO Sam Altman attends the APEC summit in San Francisco on Thursday.
Photo: Reuters
Altman was also courting SoftBank Group Corp chairman Masayoshi Son for a multibillion-dollar investment in a new company to make AI-oriented hardware in partnership with former Apple Inc designer Jony Ive.
Sutskever and his allies on the OpenAI board might have been put off by Altman raising funds off of OpenAI's name and these new companies not sharing the same governance model as OpenAI, the person said.
In a statement late on Friday, former OpenAI president Greg Brockman said that he and Altman were surprised by the company's decision.
"Sam and I are shocked and saddened by what the board did today," Brockman wrote on X, formerly Twitter. "We too are still trying to figure out exactly what happened."
Brockman said that the board spoke to Altman on a Google Meet, where Sutskever delivered the news.
"Ilya told Sam he was being fired and that the news was going out very soon," he said.
"I love you all," Altman wrote on X. "Today was a weird experience in many ways. But one unexpected one is that it has been sorta like reading your own eulogy while you're still alive. The outpouring of love is awesome."
The OpenAI board disputes over safety echo longstanding rifts within OpenAI over the responsible development of powerful AI tools — issues that have plagued the company since its inception. Similar disagreements over safety and commercialization are why Elon Musk broke ties with OpenAI in 2018, and why a group of employees departed in 2020 and started rival Anthropic.
In July, Sutskever formed a new team at the company to bring "super intelligent" future AI systems under control. Before joining OpenAI, the Israeli-Canadian computer scientist worked at Google Brain and was a researcher at Stanford University.
A month ago, Sutskever's responsibilities at the company were reduced, reflecting friction between him and Altman and Brockman. Sutskever later appealed to the board, winning over some members, including Helen Toner, the director of strategy at Georgetown's Center for Security and Emerging Technology.
Brockman resigned on Friday following Altman's firing.
Altman's ouster came as a shock to him and to Brockman.
In the post on X, Brockman said that Mira Murati, who is now the company's interim CEO, found out on Thursday night.
The rest of the OpenAI leadership learned shortly before the public announcement, Brockman said.
The news blindsided leading investors and start-ups throughout Silicon Valley, and threw tech's most promising industry into a state of uncertainty.
Companies firing their founders is part of the recurring foundational lore of Silicon Valley. Apple fired Steve Jobs in 1985; Twitter dismissed cofounder Jack Dorsey in 2008. Both executives famously returned to their companies years later, but Altman's exit could have a larger impact on the industry he came to represent.
In the chaotic hours after the company's announcement on Friday, investors at prominent venture firms had no idea why the OpenAI chief had been suddenly fired, representatives at multiple firms said.
Even Microsoft Corp, the start-up's biggest backer, did not learn of Altman's ouster until minutes before the announcement became public, people familiar with the mater said.
The tech world's immediate reaction was a mix of surprise, dismay and wild speculation. Industry group chats lit up, and investors and tech leaders traded theories on social media about what caused the OpenAI board to fire its famous CEO. With a dearth of information from the company, prediction wager platform Manifold Markets started taking bets about the cause.
As of late morning on Friday, Altman had still been sending regular e-mails to employees as CEO. He even appeared at multiple events on Thursday, representing OpenAI in a talk at the APEC summit in San Francisco and attending an evening event related to the Burning Man festival, where he spoke on the future of AI art.
Earlier this month, the company had its first developer conference, known as DevDay, stoking excitement about its products.
"I think the developer community really loves to follow audacious visionaries and DevDay happened, I was there, and the excitement was just off the charts," Octane AI CEO Matt Schlicht said. "And that was like a week ago."
Altman had an outsize presence in the tech world, backing and participating in a range of start-ups. He was also a leading ambassador for AI, and his departure could undercut broader faith in the technology, but as with past scandals, some predict the industry will take the news in stride.
"I don't think it will shake anyone's confidence in tech," said Cory Klippsten, CEO of Swan, a bitcoin financial services firm. "I think it'll make people take a really close look at what are the biases and rules or protocols that exist in the structure of OpenAI."
Comments will be moderated. Keep comments relevant to the article. Remarks containing abusive and obscene language, personal attacks of any kind or promotion will be removed and the user banned. Final decision will be at the discretion of the Taipei Times.