TIER data show decline in manufacturers' sentiment
Business sentiment in the local manufacturing sector last month fell for the first time in six months amid weakening global end-user demand, the Taiwan Institute of Economic Research (TIER, 台經院) said.
Data compiled by TIER, one of Taiwan's leading economic think tanks, showed that the composite index gauging business sentiment in the local manufacturing sector last month fell 2.06 points from a month earlier to 91.08.
The decline broke a five-month streak of rising business sentiment, TIER said.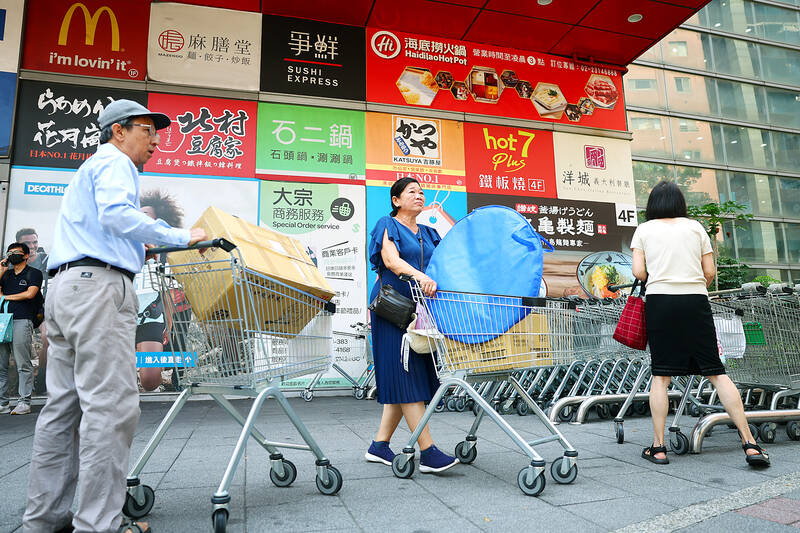 People push shopping carts at a mall in Taipei's Zhongzheng District yesterday.
Photo: CNA
Last month, global demand from end-users remained weak, as demand from China in the post COVID-19 era failed to meet the market's previous expectations, TIER said, adding that under such circumstances, export-oriented Taiwanese manufacturers continued to face inventory adjustments and turned cautious about their operations.
Taiwan's exports and export orders fell for the eighth month in a row, slumping 13.3 percent and 18.1 percent respectively from the same month last year.
Gordon Sun (孫明德), director of TIER's Economic Forecasting Center, said that business sentiment among local manufacturers is a leading indicator of economic health.
The preceding five months of increased optimism signaled a positive sign for the near future, with last month's turnaround representing turbulence on the way toward stabilization of Taiwan's manufacturing sector, Sun said.
In addition to falling global demand, the decline in Taiwan's outbound sales and export orders in the past several months also reflected a relatively high comparison base over the same period last year, but the worst could end over the next one to two months, he said.
TIER said a survey showed that only 9.8 percent of respondents in the local manufacturing sector thought their operations improved in the previous month, down sharply from 30.7 percent when asked a month earlier, while 46.4 percent agreed that their business deteriorated last month, up from 21.6 percent in March.
This month's survey showed that 27.3 percent believed business would improve over the next six months, compared with 21.2 percent in the poll conducted last month, while 24.5 percent thought that their operations would deteriorate over the next six months, compared with 24.3 percent last month, TIER said.
TIER president Chang Chien-yi (張建一) said that while many exporters in Taiwan believed their inventory levels were declining, they remained worried that high global inflation would continue to hurt demand.
TIER's composite index assessing business sentiment in the local service sector last month fell 0.54 from a month earlier to 98.56.
Many retailers remained optimistic about their business in the wake of rising consumption in the post-COVID-19 pandemic era, the institute said.
The fall in the service sector's composite index was minor, Chang added.
The government was keen to push for public work projects to boost domestic demand, but Taiwan's economy remained at the mercy of external factors, such as global demand, he said.
Chang said that the nation would have to "work very hard" to push its GDP growth to 2 percent this year.
Comments will be moderated. Keep comments relevant to the article. Remarks containing abusive and obscene language, personal attacks of any kind or promotion will be removed and the user banned. Final decision will be at the discretion of the Taipei Times.