Unused EV chargers in China a sign of challenges
To support its transition from gas guzzlers to electric vehicles (EVs), China has rolled out more public charging facilities than the rest of the world combined. The problem is that many are barely being used.
Research from the Oxford Institute for Energy Studies found that public charging posts in China are used about once a day, with some connectors along highway routes averaging 1 percent utilization.
The low usage shows that investments other countries are making to support EV adoption could take time to pay off.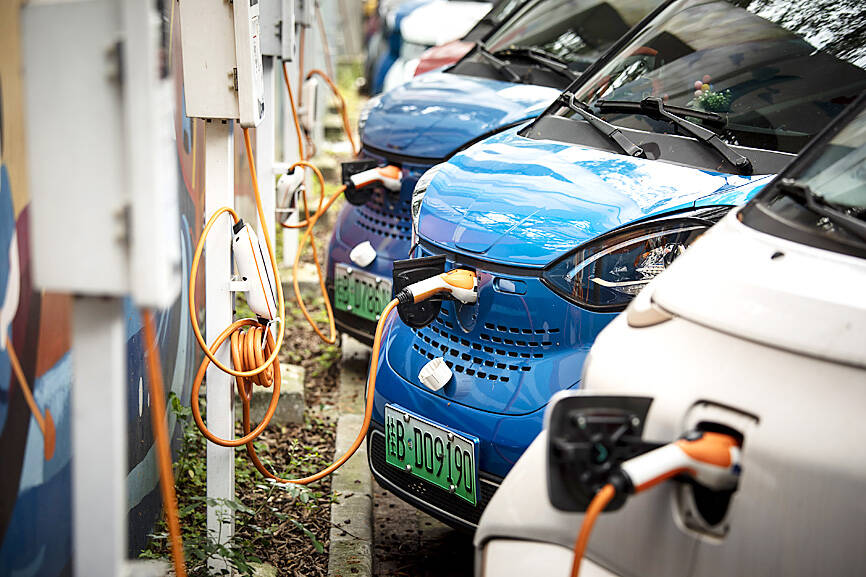 Electric vehicles charge at a roadside station in Liuzhou, China, on May 17, 2021.
Photo: Bloomberg
"Utilization of chargers is fairly low, so you're not going to necessarily make a lot of money by having a charging business," Oxford researcher Anders Hove said.
There needs to be "government regulation to make sure the quality is kept up," he said.
As China is home to the largest EV market, it is a test case for the global vehicle transition.
China installed more than 1.8 million public chargers as of last year. The rest of the world combined has fewer than 1 million, with the vast majority in Europe.
All those chargers in China delivered about 0.25 percent of the country's total electricity consumption last year, Hove said, citing data from the China Electric Vehicle Charging Promotion Alliance.
Although utilization is low, China's chargers delivered enough power in December last year to move each EV in the country about 1,000km, suggesting that many drivers are using public facilities regularly, Hove said.
Two of China's largest installers are state-owned utilities to whom public good can be as important as profit margins. The nation also has ubiquitous and easy-to-use mobile payment systems that make transactions hassle-free.
However, Hove, who frequently takes EV road trips in China, has often encountered public chargers that are under maintenance or no longer working.
In Beijing, he found two chargers were installed on a pedestrian-only street, an indication of how little attention some companies have paid to how the equipment is used.
At least half of EV buyers in China can access a private charger, the Oxford Institute report said.
"China has built out this huge charging network, and it's not clear that it's even needed," Hove said.
Comments will be moderated. Keep comments relevant to the article. Remarks containing abusive and obscene language, personal attacks of any kind or promotion will be removed and the user banned. Final decision will be at the discretion of the Taipei Times.