European Central Bank sets template for rate hike in a time of instability
After a week of tension in financial markets the European Central Bank (ECB) became the first mover in a global test of how concerns about a potential banking crisis might influence monetary policy — and kept its focus at least for now on fighting inflation with a half-point rate increase.
Foreshadowing a risk-management decision the US Federal Reserve is to face next week, the ECB's policy statement on Thursday led with what has become a common refrain among central bankers — "inflation is projected to remain too high for too long" — while insisting it can ensure financial stability even as interest rates keep rising.
"We are not waning on our commitment to fight inflation... The determination is intact," ECB President Christine Lagarde said in remarks after the policy decision. "There is no tradeoff between price stability and financial stability... We are addressing the price stability issue by raising the interest rate by 50 basis points."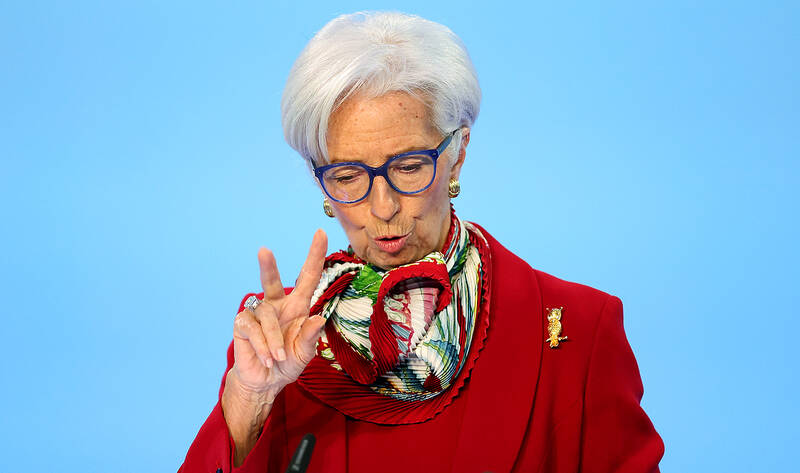 European Central Bank (ECB) President Christine Lagarde addresses a news conference following a meeting of the bank's Governing Council in Frankfurt, Germany, on Thursday.
Photo: EPA-EFE
"Separate from that, we are also monitoring market tensions" and would be prepared to provide additional support for financial institutions if necessary, she added.
Lagarde's firewall between two complex problems is something Fed officials are also likely to embrace, and hope it proves effective as they decide how to balance their own unfinished inflation battle against concerns their aggressive rate hikes over the past year are beginning to bite harder on the economy.
Lagarde said her outlook was conditioned on a "baseline" projection set before the failure of Silicon Valley Bank in the US last week, the announcement by the Fed of a new liquidity program as a result and new uncertainty closer to home in the troubles faced by Credit Suisse, an institution domiciled outside the eurozone, but deeply connected.
US policymakers will have had more time to digest market developments before their meeting on Tuesday and Wednesday next week, and build that into their rate decision, as well as into longer-term projections for where the economy and monetary policy are heading in the coming months and years.
Recent US economic data have given the Fed little reason to declare victory over inflation, with consumer prices still rising at a 6 percent annual rate, and only initial indications of a significant easing in hiring and wage growth — something US policymakers feel will be needed for inflation to cool.
Jobless claims fell below 200,000 for the week ending Saturday last week, while housing starts last month surged, unexpected strength from one of the sectors of the economy considered most sensitive to rising interest rates.
After volatile moves in bond and rate futures markets this week, traders in securities tied to Fed policy expected — at least as of midday Thursday — that the US central bank would move ahead with another quarter-point rate increase.
Comments will be moderated. Keep comments relevant to the article. Remarks containing abusive and obscene language, personal attacks of any kind or promotion will be removed and the user banned. Final decision will be at the discretion of the Taipei Times.