Worries persist, despite bank rescues
CONTAGION RISK? While a cash injection into First Republic prevented its collapse, disclosures about banks seeking emergency liquidity from the Fed rattled confidence
A US$30 billion lifeline for First Republic Bank on Thursday hosed down market fears about an imminent banking collapse, but a late tumble in the troubled US lender's shares showed investors were still worried about cracks in the sector.
Large US banks injected the funds into the San Francisco-based bank, swooping in to rescue the lender caught up in a widening crisis triggered by the collapse of two other mid-sized US lenders over the past week.
The deal was put together by top power brokers, including US Secretary of the Treasury Janet Yellen, US Federal Reserve Chair Jerome Powell and JPMorgan Chase chief executive officer Jamie Dimon, who had discussed the package this week, a source familiar with the situation said.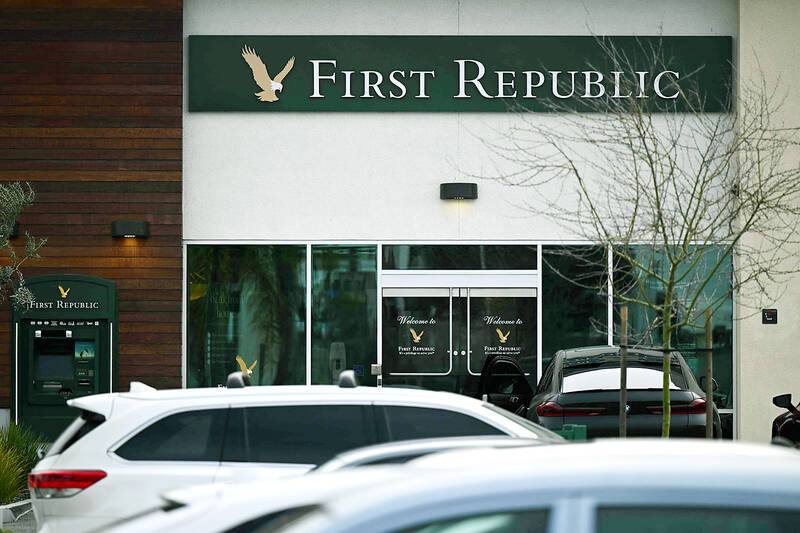 A branch of First Republic Bank in Manhattan Beach, California, is pictured on Monday.
Photo: AFP
The package came less than a day after Swiss bank Credit Suisse clinched an emergency central bank loan of up to US$54 billion to shore up its liquidity.
Those deals helped restore calm to global markets on Thursday and yesterday, following a torrid week for banking stocks.
However, while First Republic's stock closed up 10 percent on news of the rescue, its shares fell 18 percent in after-market trading after the bank said it would suspend its dividend, and disclosed its cash position and just how much emergency liquidity it needed.
Analysts say authorities appear eager to quickly deal with systemic risks, but worry the potential for a banking crisis is far from over.
"They will keep the money in First Republic to keep it alive for self-interest ... to stop the run on banks. Then they will take it away gradually and the bank will play out a slow death," said Mathan Somasundaram, founder of research firm Deep Data Analytics in Sydney.
"Yellen was clear overnight that all bank deposits were protected, but the bank might not be there," he said.
Some of the biggest US banking names — including JPMorgan Chase & Co, Citigroup Inc, Bank of America Corp, Wells Fargo & Co, Goldman Sachs and Morgan Stanley — were involved in the rescue, a statement from the banks said.
While the support has prevented an imminent collapse, investors were startled by late disclosures about First Republic's cash position, even after the injection, and just how much it and others leaned on the Fed this month for support.
Data on Thursday showed banks in the US sought record amounts of emergency liquidity from the Fed in recent days, driving up the size of the central bank's balance sheet after months of contraction.
More broadly, worries about contagion risks persist.
"I don't think we are in the crux of a global financial crisis. Balance sheets are much better than they were in 2008, banks are better regulated," said Karen Jorritsma, head of Australian equities at RBC Capital Markets. "But people are concerned that the contagion risk is real, and that rattles confidence."
For now, authorities are confident the banking system is resilient and have tried to emphasize that the current turmoil is different to the global financial crisis 15 years ago, as banks are better capitalized and funds more easily available.
On Thursday, the European Central Bank pressed forward with a 50-basis-point rate hike, saying that eurozone banks were in good shape and that, if anything, the move to higher rates should bolster their margins.
Focus now swings to the Fed's policy decision next week and whether it would stick with its aggressive interest rate hikes as it seeks to get inflation under control.
In Asia, Singapore, Australia and New Zealand said they were monitoring financial markets, but were confident their local banks were well capitalized and able to withstand major shocks.
Comments will be moderated. Keep comments relevant to the article. Remarks containing abusive and obscene language, personal attacks of any kind or promotion will be removed and the user banned. Final decision will be at the discretion of the Taipei Times.