Brent tumbles as swelling supplies outweigh jobs data
Oil on Friday fell to the lowest levels since early last month as long-term headwinds overwhelmed the positive sentiment from a strong US jobs report.
Brent crude for March delivery dropped below US$80 a barrel, falling 2.71 percent to US$79.94, while West Texas Intermediate for February delivery fell 3.28 percent to US$73.39.
Brent dropped 7.75 percent from last week's US$86.66, while West Texas Intermediate fell 7.89 percent from the previous week's US$79.68.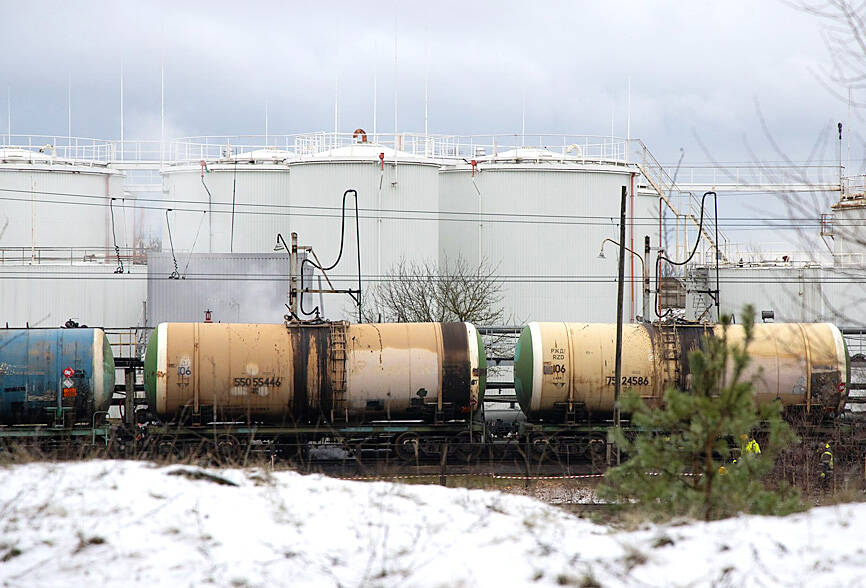 Freight cars carrying oil and fuel are parked at a petroleum products terminal in Riga, Latvia, on Thursday.
Photo: Bloomberg
Futures for both grades climbed earlier in the session as record-low US unemployment figures spurred optimism that demand would hold up.
However, those gains evaporated as concerns about swelling US stockpiles and weaker-than-expected China demand dominated the trading narrative.
"The commodity fundamentals aren't really improving or tightening up a lot," TD Securities commodity trading strategy head Bart Melek said. "There's a view out there that global supplies are certainly withstanding the Russian sanctions, and of course we continue to worry about headwinds from China."
Meanwhile, G7 nations and the EU on Friday said they would impose a cap of US$100 per barrel on sales of Russian diesel to third countries as part of an effort to limit Moscow's revenues.
The price cap mechanism is tied to an EU ban on seaborne imports of Russian refined fuels that starts today.
The G7 said that it and the EU agreed to a US$100 per barrel level for petroleum products that trade at a premium to crude oil, including diesel, and also backed a cap of US$45 for those that sell at a discount, such as fuel oil and some types of naphtha.
The coalition also agreed to delay a review of a US$60 price cap for Russian crude oil until next month.
It would then begin regular two-month reviews of all the cap levels, said people familiar with the discussions, who asked not to be identified.
Setting the prices requires unanimous agreement among the EU, as well as signoff from the G7.
Additional reporting by staff writer
Comments will be moderated. Keep comments relevant to the article. Remarks containing abusive and obscene language, personal attacks of any kind or promotion will be removed and the user banned. Final decision will be at the discretion of the Taipei Times.