Qualcomm new businesses pick up
Qualcomm Inc, the largest maker of smartphone processors, reported quarterly earnings that showed signs of success for the chipmaker's push into new businesses like computers and vehicles, an effort that helped mitigate the impact of a prolonged slump in mobile-handset sales.
In fiscal first quarter, which ended on Dec. 25, Qualcomm said revenue fell 12 percent to US$9.46 billion, missing analysts' average projection. While handset-
related sales slumped 18 percent to US$5.75 billion, that was higher than some analysts had predicted and topped an average estimate of US$5.25 billion.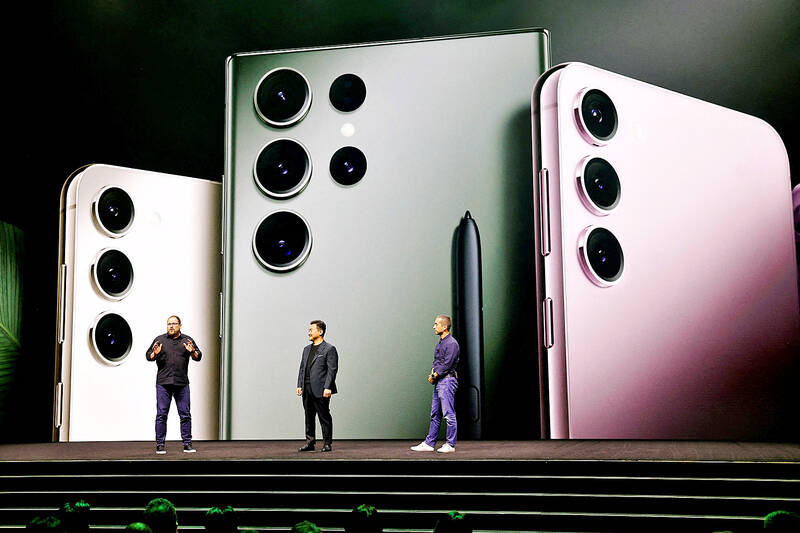 From left, TM Roh, president and head of mobile experience business at Samsung Electronics, Qualcomm president and CEO Cristiano Amon and Hiroshi Lockheimer, Google senior vice president for platforms and ecosystems, speak on stage as Samsung unveils its latest flagship smartphones in San Francisco on Wednesday.
Photo: Reuters
Automotive sales jumped 58 percent from a year earlier to US$456 million. Connected devices revenue rose 7 percent to US$1.68 billion.
Under CEO Cristiano Amon, the company has accelerated its effort to sell chips for different industries, trying to lessen its dependence on the smartphone market. Still, Qualcomm's sales decline and a disappointing outlook for the current period indicate that demand for mobile phones remains hamstrung by sluggish consumer spending on big-ticket items in an unsteady economy.
Qualcomm expects customers, who have accumulated large stockpiles of unused components, to wrap up their inventory reduction efforts around the middle of the year, returning to more predictable order patterns in the second half.
China's lifting of COVID-19-
related restrictions on its population should begin to help consumer demand in the world's biggest market for phones, executives said on a conference call with analysts.
"There is optimism that the second half could be better," Amon said. "Beyond 2023 for Qualcomm we see many of our growth initiatives gaining scale."
San Diego-based Qualcomm's main product is the processor that runs many of the world's best-known handsets. It also sells the modem chips that connect the iPhone to high-speed data networks. A chunk of Qualcomm's profit also comes from licensing the fundamental technology that underpins all modern mobile networks — fees that phone makers pay whether they use Qualcomm-branded chips or not.
The semiconductor maker has avoided some of the worst of the recent slowdown by winning more business at Samsung Electronics Co, which is using Qualcomm's Snapdragon processors more in its Galaxy phones. Apple has also continued to buy from Qualcomm longer than projected, as it continues to work on developing its own replacement chips.
The company posted adjusted profit for the first quarter of US$2.37 a share. Analysts on average were looking for US$2.35.
Revenue would be US$8.7 billion to US$9.5 billion in the fiscal second quarter, Qualcomm said in a statement on Thursday, compared with analysts' estimates of US$9.58 billion. Excluding certain items, profit in the current period will be as low as US$2.05 a share, while the average projection was for per-share profit of US$2.29.
Comments will be moderated. Keep comments relevant to the article. Remarks containing abusive and obscene language, personal attacks of any kind or promotion will be removed and the user banned. Final decision will be at the discretion of the Taipei Times.