Gasoline prices to rise by NT$0.5, diesel by NT$0.4
Gasoline and diesel prices are to rise this week, CPC Corp, Taiwan (CPC, 台灣中油) and Formosa Petrochemical Corp (台塑石化) said yesterday, after keeping fuel prices unchanged for two weeks during the Lunar New Year holiday.
Gasoline prices are to increase by NT$0.5 per liter and diesel prices by NT$0.4 per liter, effective today, the companies said.
Prices at CPC and Formosa stations are to rise to NT$29.6, NT$31.1 and NT$33.1 per liter for 92, 95 and 98-octane unleaded gasoline respectively, while the prices of premium diesel fuel are to increase to NT$28.2 per liter at CPC pumps, and NT$28.0 at Formosa stations, the companies said in separate statements.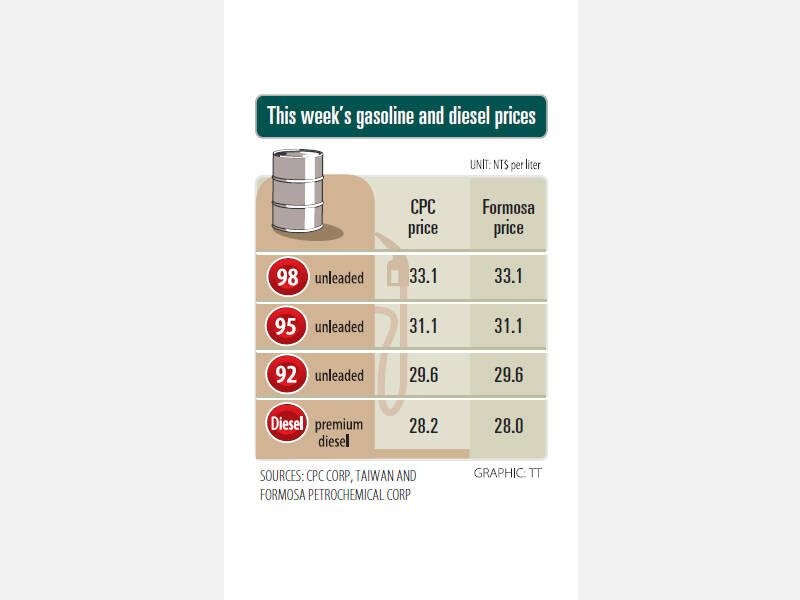 Global crude oil prices rose last week, as market sentiment was boosted by expectations of higher oil demand resulting from China's easing of its COVID-19 restrictions, CPC said in a statement.
Sentiment in the oil market was also buoyed by news of stronger-than-expected US GDP data released last week, Formosa said in its statement.
Based on CPC's floating oil price formula, the cost of crude oil last week increased 1.22 percent from a week earlier, it said.
The company calculates its weekly fuel prices based on a weighted oil price formula made up of 70 percent Dubai crude and 30 percent Brent crude, it said.
CPC said it gasoline prices this week could have risen by NT$1.5 per liter and diesel prices by NT$1.7 per liter, but were kept in adherence to a government policy to keep consumer prices stable and fuel prices in Taiwan lower than in neighboring markets.
CPC said it would absorb part of the increases by implementing a price stabilization mechanism.
Despite heavy losses, the company last year absorbed NT$45.5 billion (US$1.5 million) in increases in the cost of crude oil, it added.
Comments will be moderated. Keep comments relevant to the article. Remarks containing abusive and obscene language, personal attacks of any kind or promotion will be removed and the user banned. Final decision will be at the discretion of the Taipei Times.