US sues Google over 'unlawful' advertising business
The US Department of Justice (DOJ) on Tuesday accused Alphabet Inc's Google of abusing its dominance in digital advertising, threatening to dismantle a key business at the heart of one of Silicon Valley's most successful Internet firms.
The US government said Google should be forced to sell its ad manager suite, tackling a business that generated about 12 percent of Google's revenues in 2021, but also plays a vital role in the search engine and cloud company's overall sales.
"Google has used anticompetitive, exclusionary, and unlawful means to eliminate or severely diminish any threat to its dominance over digital advertising technologies," the antitrust complaint said.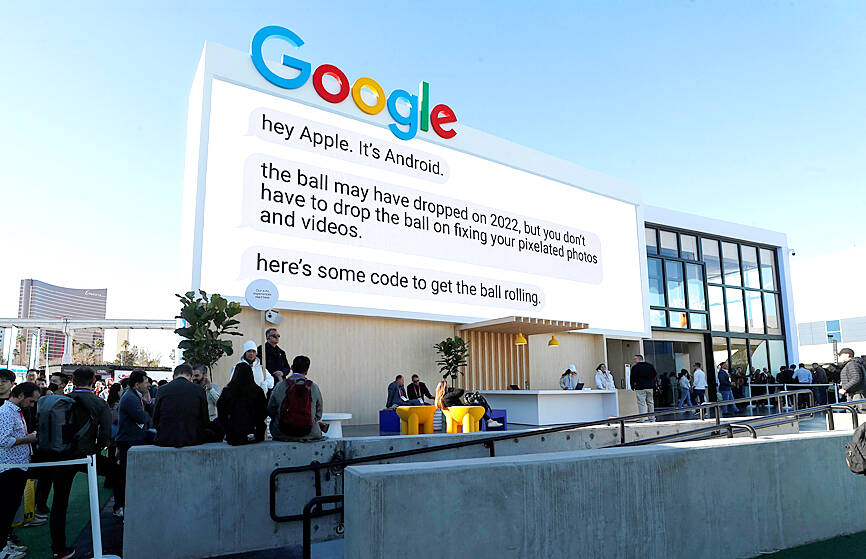 People line up to enter the Google House at the CES trade show in Las Vegas on Jan. 6.
Photo: REUTERS
Google, whose advertising business accounts for about 80 percent of its revenue, said the government was "doubling down on a flawed argument that would slow innovation, raise advertising fees, and make it harder for thousands of small businesses and publishers to grow."
The government has said its big tech investigations and lawsuits are aimed at leveling the playing field for smaller rivals to a group of powerful companies that includes Amazon.com Inc, Facebook owner Meta Platforms Inc and Apple Inc.
"By suing Google for monopolizing advertising technology, the DOJ today aims at the heart of the Internet giant's power," said Charlotte Slaiman, competition policy director at the Public Knowledge interest group. "The complaint lays out the many anticompetitive strategies from Google that have held our Internet ecosystem back."
The lawsuit by US President Joe Biden's administration follows a 2020 antitrust lawsuit brought against Google by the administration of then-US president Donald Trump.
The 2020 lawsuit alleged contraventions of antitrust laws in how the company acquires or maintains its dominance with its monopoly in online search and is scheduled to go to trial in September.
Eight US states joined Tuesday's lawsuit, including Google's home state of California.
California Attorney General Rob Bonta said that Google's practices have "stifled creativity in a space where innovation is crucial."
Colorado Attorney General Phil Weiser said that Google's dominance had led to higher fees for advertisers and less money for publishers with ad space to offer.
"We are taking action by filing this lawsuit to unwind Google's monopoly and restore competition to the digital advertising business," he said in a statement.
In addition to its well-known search, which is free, Google makes revenue through its interlocking ad tech businesses.
The government asked for the divestiture of the Google Ad Manager suite, including Google's ad exchange, AdX.
Google Ad Manager is a suite of tools, including one that enables Web sites to offer advertising space for sale and an exchange that serves a marketplace that automatically matches advertisers with those publishers.
Advertisers and Web site publishers have said that Google has not been transparent about where ad fees go, specifically how much goes to publishers and how much to Google.
The lawsuit raises concerns about certain products in the ad tech stack, where publishers and advertisers use Google's tools to buy and sell ad space on other Web sites.
That business was about US$31.7 billion in 2021, or 12.3 percent of Google's total revenue.
About 70 percent of that revenue went to publishers.
Comments will be moderated. Keep comments relevant to the article. Remarks containing abusive and obscene language, personal attacks of any kind or promotion will be removed and the user banned. Final decision will be at the discretion of the Taipei Times.