Spotify plans job cuts to cut costs: sources
SOFTENING: For the first time since 2020, more respondents expect falling rather than increased employment at their firms in the next three months, a NABE survey showed
Spotify Technology SA is planning layoffs as soon as this week, according to people familiar with the plans, joining a slew of technology companies from Amazon.com Inc to Meta Platforms Inc in announcing job cuts to lower costs.
The number of positions to be eliminated was not specified by the people. Spotify laid off 38 staff from its Gimlet Media and Parcast podcast studios in October last year. The music streaming giant has about 9,800 employees, according to its third-quarter earnings report.
Tech companies added to their headcounts during the pandemic, but were forced to make reductions in response to reduced advertising revenue and a shaky economic outlook. Amazon.com, Meta and Microsoft Corp were among the biggest companies to announce staff reductions recently, while Google parent Alphabet Inc said on Friday that it will cut about 12,000 jobs, more than 6 percent of its global workforce.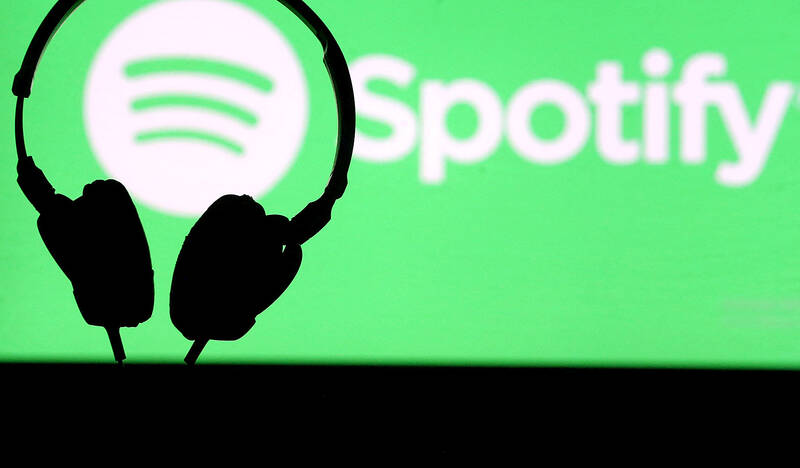 A headset is seen in front of a screen projection of Spotify logo in this illustration pictured on April 1, 2018.
Photo: Reuters
A Spotify spokesperson declined to comment on the upcoming cuts.
The company made a massive commitment to podcasting beginning in 2019. It spent over US$1 billion on acquiring podcast networks, creation software, a hosting service and the rights to popular shows like The Joe Rogan Experience and Armchair Expert.
Still, the investments have tested investors' patience. Shares tumbled 66 percent last year as investors questioned when they would begin seeing returns.
Spotify executives said in June its podcast business would become profitable in the next one to two years.
A new survey of business economists suggests US job market conditions are beginning to soften, with firms indicating an easing of labor shortages and a pullback in hiring expectations.
A National Association for Business Economics (NABE) survey showed about a third of respondents say their firms are not facing any labor shortages, and nearly 20 percent expect employment at their company to fall in the coming months.
"For the first time since 2020, more respondents expect falling rather than increased employment at their firms in the next three months," NABE president Julia Coronado, founder and president of MacroPolicy Perspectives LLC, said in a statement. "Fewer respondents than in recent years expect their firms' capital spending to increase in the same period."
Only 12 percent of those surveyed think headcount will rise in the next three months — less than half the share that said their companies had increased employment over the past three months.
The figures highlight concerns that more companies will begin to shed workers as the impact of higher interest rates work their way through the broader economy.
The survey of 60 NABE members was conducted from Jan. 4 to 11.
Comments will be moderated. Keep comments relevant to the article. Remarks containing abusive and obscene language, personal attacks of any kind or promotion will be removed and the user banned. Final decision will be at the discretion of the Taipei Times.