Apple targets 25% India production share: minister
'SUCCESS STORY': Apple has bet big on India since it began iPhone assembly in the country in 2017 via Taiwan's Wistron Corp and later Foxconn Technology
Apple Inc wants India to account for up to 25 percent of its production from about 5 to 7 percent now, Indian Minister of Commerce and Industry Piyush Goyal told a conference yesterday, as the iPhone maker continues to move its manufacturing away from China.
"Apple, another success story," Goyal said, pitching India as a competitive manufacturing destination. "They are already at about 5-7 percent of their manufacturing in India. If I am not mistaken, they are targeting to go up to 25 percent of their manufacturing. They launched the most recent models from India, manufactured in India."
Goyal did not say when Apple wants to meet the target. Apple did not immediately respond to a request for comment.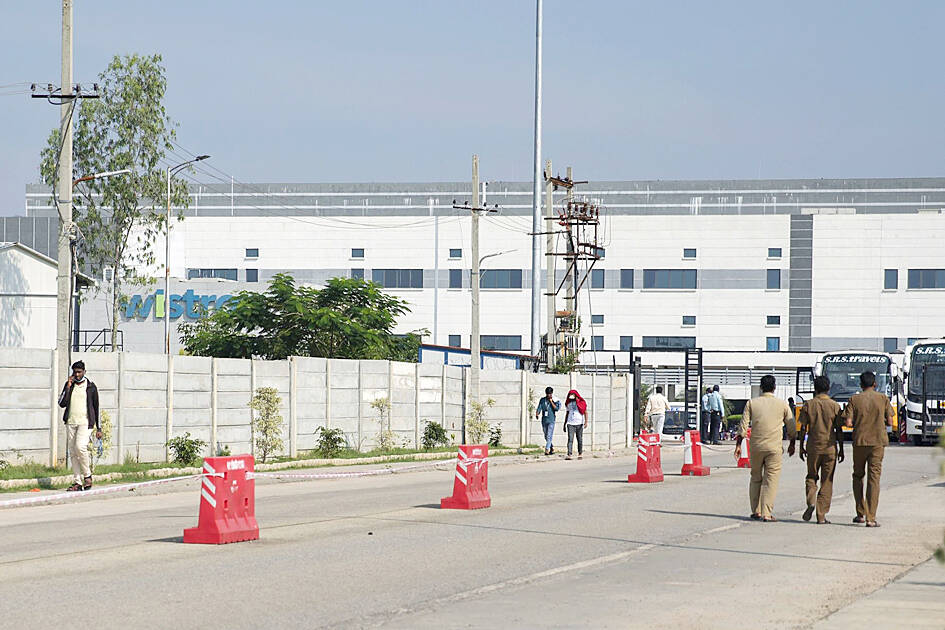 Workers walk in and out of the gate at the manufacturing center of Wistron Infocomm Manufacturing India Pvt in Kolar, Karnakata, India, on Dec. 19, 2022.
Photo: Bloomberg
Cupertino, California-based Apple has bet big on India since it began iPhone assembly in the country in 2017 via Wistron Corp (緯創) and later with Hon Hai Precision Industry Co (鴻海精密), known as Foxconn Technology Group (富士康科技集團) internationally, in line with the Indian government's push for local manufacturing. Foxconn plans to quadruple the workforce at its iPhone factory in India over two years, sources said late last year.
Indian Minister of Railways, Communications and Electronics and Information Technology Ashwini Vaishnaw tweeted yesterday that Apple's exports from India had hit US$1 billion last month.
China's COVID-related lockdowns and restrictions, and rising trade and geopolitical tensions between Beijing and Washington, have influenced Apple's plans to shift production elsewhere.
JPMorgan Chase & Co analysts estimated last year that a quarter of all Apple products would be made outside China by 2025, from 5 percent currently.
Meanwhile, India is to roll out end-to-end 4G and 5G stacks on 50,000 to 70,000 telecom towers this year and offer the technology for exports next year, Vaishnaw said at a conference yesterday.
Comments will be moderated. Keep comments relevant to the article. Remarks containing abusive and obscene language, personal attacks of any kind or promotion will be removed and the user banned. Final decision will be at the discretion of the Taipei Times.