Bullish calls on the rise as Asian stocks brighten
STRONG START: Amid recession worries in the developed world, Chinese domestic prospects have made Asian assets in general more attractive
From trading desks to Wall Street analysts, positive calls are growing over Asian stocks this year as the outlook for earnings, valuations and flows all point upward.
The rally since end-October has pushed the MSCI Asia-Pacific Index up by almost 23 percent, outperforming the US benchmark by the most since 1993 while also beating its European peer. The predominant driver has been China's reopening, with a weakening US dollar giving an added fillip as investors look for recession-proof markets.
Heading for the best start to a year since 2012, the MSCI Asia gauge has climbed 7.2 percent this month. The rally has many more months to run, according to a survey of fund managers by Bank of America Corp. China's growth outlook is getting rapidly upgraded in a boon for the region's economies, while earnings estimates are also rising in contrast to downgrades seen in Europe and the US.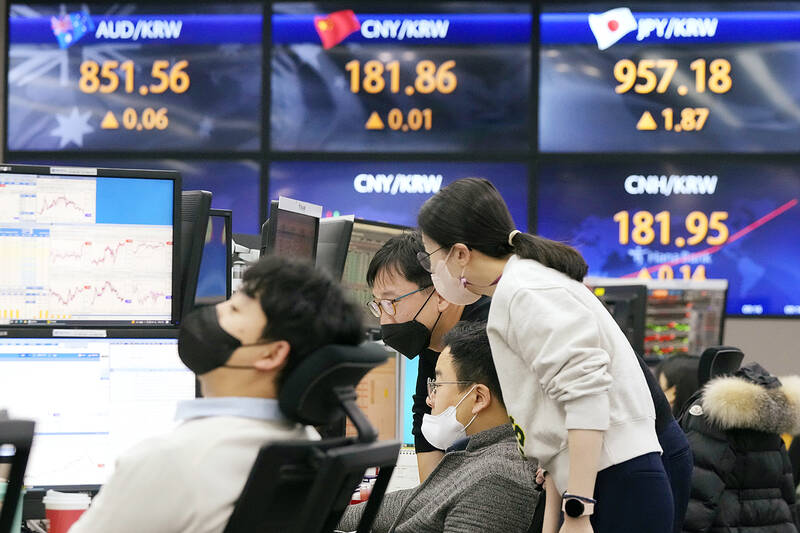 Traders watch monitors in the foreign exchange dealing room of KEB Hana Bank's headquarters in Seoul on Friday. Asian stock markets rose on Friday after Wall Street losses deepened as worries grow that the US economy is headed for recession.
Photo: AP
With recession worries in the developed world, "the prospect of the Chinese authorities supporting their domestic growth has made both Chinese and broad Asian assets more attractive to global investors," said Gary Dugan, chief executive officer of the Global CIO Office, an asset manager and financial advisory firm. "We have increased our weightings in Asia and see this could have many months of payoff."
China has received most of the spotlight in Asia's rally, with the MSCI China Index surging more than 50 percent since the end of October, but optimism is also spilling over. Benchmarks in the Philippines and Vietnam have entered bull markets this month while Taiwan is nearing the milestone.
Bank of America's Asia Fund Manager Survey found 95 percent of investors expect stocks in Asia-Pacific excluding Japan to rise in the next 12 months, and about half of them anticipate double-digit gains. Most of the fund managers are "unabashedly bullish on China," it added.
Flows are reflecting the seismic view change. Foreigners have purchased US$16.5 billion worth of Chinese stocks this month alone, set to be the largest monthly inflow on record.
They have also poured US$4.5 billion into Taiwan and US$3.3 billion into South Korea.
Even with the rally, Asia's valuations do not look stretched. The region's MSCI benchmark is trading at 12.9 times forward earnings estimates, in line with its five-year median.
To be sure, an economic slump in the developed world may sap some of the newfound optimism toward Asia, especially for export-dependent markets such as South Korea. And as China's economy gets back into full swing, there is a risk of inflationary pressures getting stoked, which could keep central banks hawkish for longer.
Meanwhile, earnings paint a promising picture. Twelve-month forward profit estimates for the MSCI Asia benchmark have risen about 6 percent since the end of October, compared with a drop of at least 1 percent each for gauges representing the US and Europe, according to Bloomberg data.
"There isn't any economy within Asia which has a recession risk," Sanford C. Bernstein Ltd strategists led by Sarah McCarthy wrote earlier this month. "On a 12-month forward basis we expect Asian equities to end 2023 on a positive note."
Comments will be moderated. Keep comments relevant to the article. Remarks containing abusive and obscene language, personal attacks of any kind or promotion will be removed and the user banned. Final decision will be at the discretion of the Taipei Times.