N Korea calls to normalize economy after 'upheaval'
North Korea has outlined plans to normalize industrial production and meet its economic goals this year, despite the "worst-ever upheaval" last year amid the COVID-19 pandemic, state media said yesterday.
The North Korean Supreme People's Assembly held meetings on Tuesday and Wednesday to discuss the government budget, economic policy and personnel changes, the country's official KCNA news agency said.
North Korea's economy shrank in 2021 for a second straight year after suffering its biggest contraction in more than two decades the year before, hit by COVID-19 lockdowns and international sanctions over its weapons programs, the South Korean central bank said.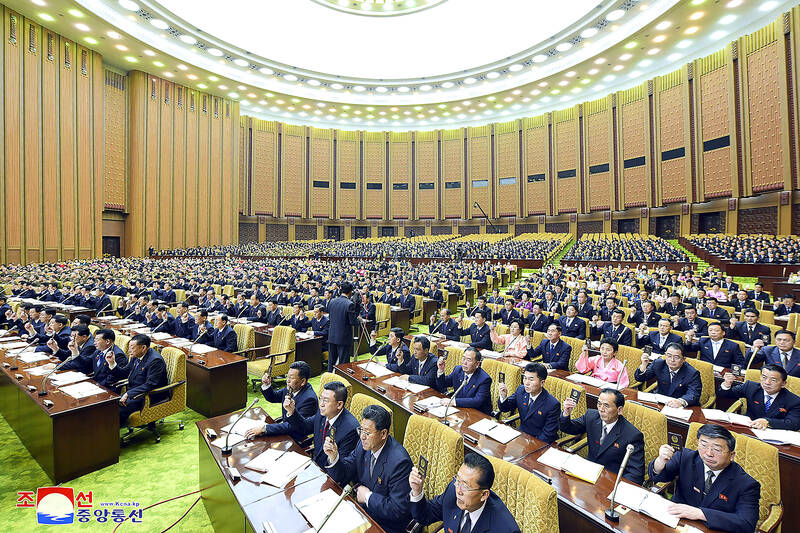 The North Korean Supreme People's Assembly meets in Pyongyang on Dec. 31 last year.
Photo: AP
North Korean leader Kim Jong-un did not join the meeting, but Cabinet Premier Kim Tok-hun reviewed last year's work and laid out tasks this year for key industries.
The premier lauded the country for "successfully tackling the worst-ever upheaval since the founding of the country" amid the COVID-19 outbreak, despite "shortcomings" in implementing last year's plans.
The Cabinet aims to expedite the production of overall sectors and make this year "a year of great turn and change in the course of development" marking the 75th anniversary of the country's foundation, he said.
"It will make sure that the economic indices and 12 major goals to be attained by all the sectors of the national economy are carried out without fail," Kim Tok-hun said, according to KCNA.
He called for normalizing the production of metal factories and reinforcing iron mines and steel plants, and for operating chemical plants "at full capacity" to accelerate construction projects.
The country is also take "strong measures" to supply equipment, materials, and funds to boost coal production, the premier said.
In another KCNA dispatch on budget deliberations, North Korean Minister of Finance Ko Jong-bom said this year's overall spending is expected to rise by 101.7 percent from last year.
About 45 percent of the total expenditure is to be directed toward promoting the economy and people's livelihoods, while defense spending is to consist of 15.9 percent, about the same as last year, Ko said.
The budget should support defense, developing the economy and improving the people's standard of living," Ko told the assembly.
Comments will be moderated. Keep comments relevant to the article. Remarks containing abusive and obscene language, personal attacks of any kind or promotion will be removed and the user banned. Final decision will be at the discretion of the Taipei Times.