US dollar tumbles after US jobs report shows growth, but service sector shrank
The US dollar on Friday fell after US jobs data showed a strong, but not blockbuster employment picture for last month, while a separate report showed that US services industry activity contracted for the first time in more than two-and-a-half years in that month.
Employers added 223,000 jobs last month, more than economists' forecasts of 200,000. Wages also grew 0.3 percent last month, less than the 0.4 percent in November and below forecasts of 0.4 percent.
That lowered the year-on-year increase in wages to 4.6 percent from 4.8 percent in November.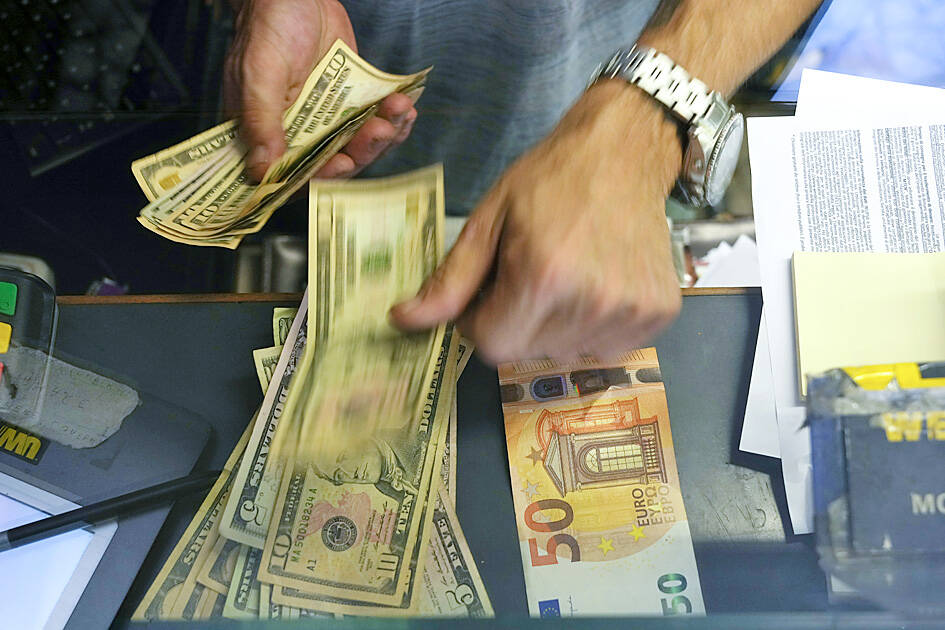 A cashier exchanges a euro banknote for US dollars at an exchange counter in Rome, Italy, on July 13 last year.
Photo: AP
"There was a bit of a fear that this could be quite a blockbuster print in terms of job growth," which was a risk due to seasonal adjustments that are common in December, said Mazen Issa, senior foreign exchange strategist at TD Securities in New York.
The easing wage growth was also "encouraging," Issa added, although he noted hawkish elements in the data.
"You had the unemployment rate dropping, which was not expected, and an increase in the participation rate," he said. "This number doesn't do anybody any favors in determining whether the Fed needs to do 25 or 50 at its next meeting."
The dollar fell 1.17 percent on the day against a basket of currencies to 103.88, after reaching 105.63, the highest since Dec. 7.
The New Taiwan dollar yesterday rose against the US dollar, gaining NT$0.017 to close at NT$30.695, up 0.42 percent from NT$30.708 a week earlier.
The euro on Friday gained 1.19 percent to US$1.0645 and was on track for the biggest percentage daily increase since Nov. 11.
The greenback fell 1.03 percent against the yen to ¥132.07.
The dollar extended losses after the Institute for Supply Management said its nonmanufacturing purchasing managers' index (PMI) dropped to 49.6 last month from 56.5 in November.
It was the first time since May 2020 that the services PMI fell below the 50 threshold, which indicates contraction in the sector that accounts for more than two-thirds of US economic activity.
The US Department of Commerce on Friday also said that factory orders fell 1.8 percent in November, after gaining 0.4 percent in October.
Economists polled by Reuters had forecast orders falling 0.8 percent.
Additional reporting by staff writer, with CNA
Comments will be moderated. Keep comments relevant to the article. Remarks containing abusive and obscene language, personal attacks of any kind or promotion will be removed and the user banned. Final decision will be at the discretion of the Taipei Times.