DGBAS expects investment rate to hit 27-year high
The nation's investment rate is expected to hit a 27-year high this year, as local companies expand production and upgrade technologies, the Directorate-General of Budget, Accounting and Statistics (DGBAS) said last week.
The investment rate — the ratio of capital formation to GDP — is forecast to rise to 27.82 percent this year from 26.96 percent last year, the agency said.
The estimated figure for this year is the highest since 1995, when the ratio reached 28 percent, with the semiconductor industry, led by Taiwan Semiconductor Manufacturing Co (TSMC, 台積電), driving the growth in local investments.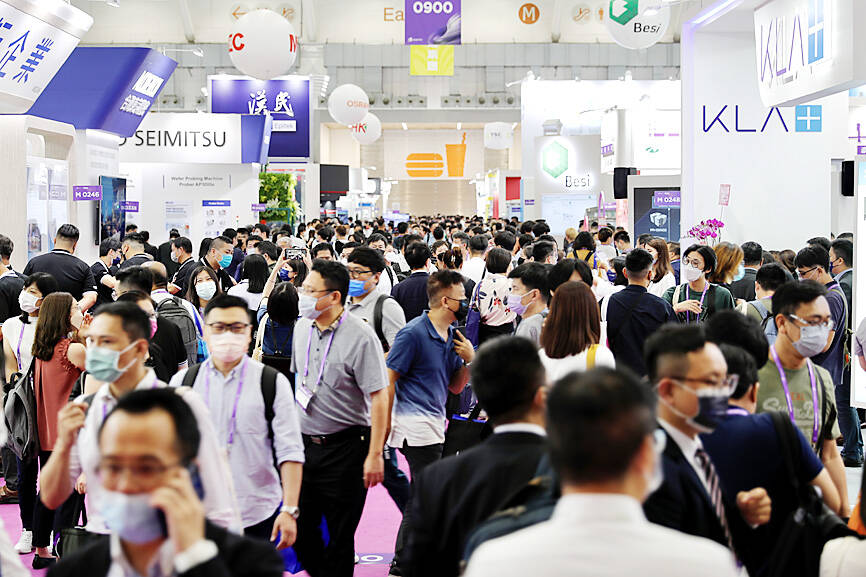 Visitors are pictured at the SEMICON Taiwan exhibition in Taipei on Sept. 15.
Photo: Ritchie B. Tongo, EPA-EFE
Semiconductor firms have sought to maintain their lead over overseas competitors in high-end technology development, a move that has prompted many downstream manufacturers in the supply chain to invest in Taiwan, the DGBAS said.
The investment growth has also been driven by investors moving operations from China to Taiwan, attracted by government subsidies and concerns over escalating trade tensions between Washington and Beijing, it said.
In addition, the government has aggressively pushed for the development of renewable energy, such as solar energy and offshore wind power, to attract capital investment, it said.
Tallies compiled by the Investment Commission showed that foreign direct investment (FDI) approved by the government for the first 10 months of this year soared 119.36 percent from a year earlier to US$11.56 percent.
Most FDIs were made up of foreign renewable energy developers, including Denmark's Orsted Wind Power TW Holding A/S, Netherlands-based NP Hai Long Holdings BV and the Denmark-based CI II Changfang K/S, pouring funds into offshore wind development, the commission said.
After the high growth in investments this year, the investment rate for next year is predicted to fall slightly to 27.68 percent, as global demand weakens and the manufacturing sector undergoes inventory adjustments, the DGBAS said.
However, next year's ratio would reach its second-highest level since 1995, behind only this year's estimated 27.82 percent, the agency said.
Inventory adjustments faced by the export-oriented manufacturing sector, which began in the second half of this year, are expected to continue into next year, it said.
As a result, the agency has lowered its private investment growth forecast for the fourth quarter of this year by 1.53 percentage points to 4.45 percent and cut its forecast for the whole of next year by 0.39 percentage points to 3.04 percent.
Comments will be moderated. Keep comments relevant to the article. Remarks containing abusive and obscene language, personal attacks of any kind or promotion will be removed and the user banned. Final decision will be at the discretion of the Taipei Times.