Hotai increases Toyota, Lexus prices by 2 percent
Cost hikes: Increases in personnel, components and logistics costs have contributed to inflationary pressure, causing the seller to increase vehicle prices
Hotai Motor Co (和泰汽車), which distributes Toyota and Lexus vehicles in Taiwan, yesterday announced plans to hike prices across product lines by an average of 2 percent to reflect rising costs in raw materials, components and personnel.
The Taipei-based company said the price adjustments would start next month, after the Japanese vehicle brands indicated they could no longer absorb drastic manufacturing cost hikes.
Raw materials used in making vehicles such as steel, chips and batteries picked up significantly this year, it said, adding that the spikes in personnel, as well as transportation and logistics costs, contributed to inflationary pressure.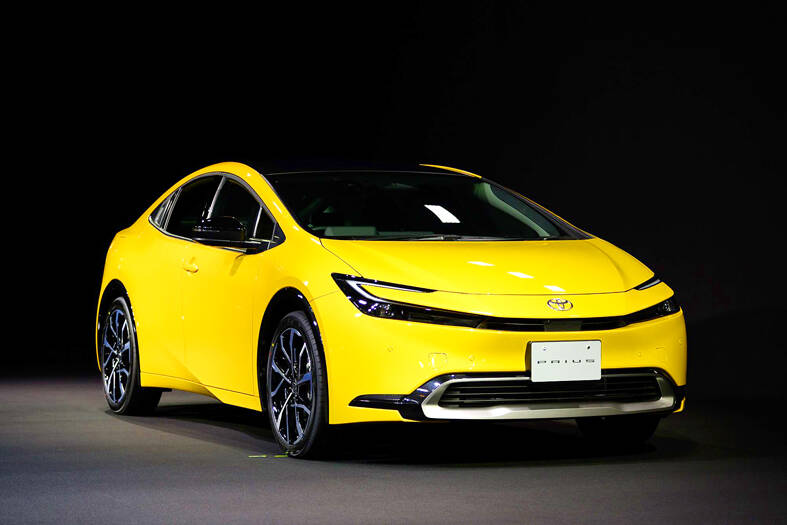 A Toyota Prius plug-in hybrid electric vehicle is displayed during its world premiere in Tokyo on Nov. 6.
Photo: Bloomberg
The company raised prices for Toyota Corolla Altis models by 1.7 percent to 2.1 percent to NT$730,000 (US$23,852) to NT$945,000, the nation's largest vehicle distributor said in a statement.
People considering buying Corolla Altis Hybrid models would have to pay 1.7 percent to 1.9 percent more, or NT$865,000 to NT$945,000 per car, it said.
Selling prices for Toyota Corolla Cross models would grow to NT$850,000 to NT$920,000, up 1.7 percent to 1.8 percent from current prices, it said.
Corolla Cross Hybrid models would cost 1.5 percent to 1.8 percent more, or NT$895,000 to NT$1.01 million, it said.
Hotai said it sought to minimize adjustments in light of an ongoing economic slowdown. The hikes appear steeper for imported vehicles.
Selling prices for popular imported models such as the Toyota RAV4 would increase in price by 3.1 percent to 3.4 percent to NT$1.01 million to NT$1.25 million, it said.
Toyota GR Supra vehicles would cost an additional 4 percent, or NT$2.69 million, it said.
Comments will be moderated. Keep comments relevant to the article. Remarks containing abusive and obscene language, personal attacks of any kind or promotion will be removed and the user banned. Final decision will be at the discretion of the Taipei Times.