Truckers' strike cost US$1.2bn in lost shipments
A strike by South Korean truckers is estimated to have cost 1.6 trillion won (US$1.23 billion) in lost shipments, the South Korean Ministry of Trade, Industry and Energy said yesterday, as a lengthy strike becomes more likely with the government and union far from a compromise.
Disruptions to the nation's supply chain expanded yesterday, the eighth day of the nationwide strike by more than 20,000 truckers, as the government prepares to order more of them back to work.
The cement, steel, auto and oil refining industries have seen 1.6 trillion won in lost shipments in seven days since the strike began last week, the ministry said in a statement.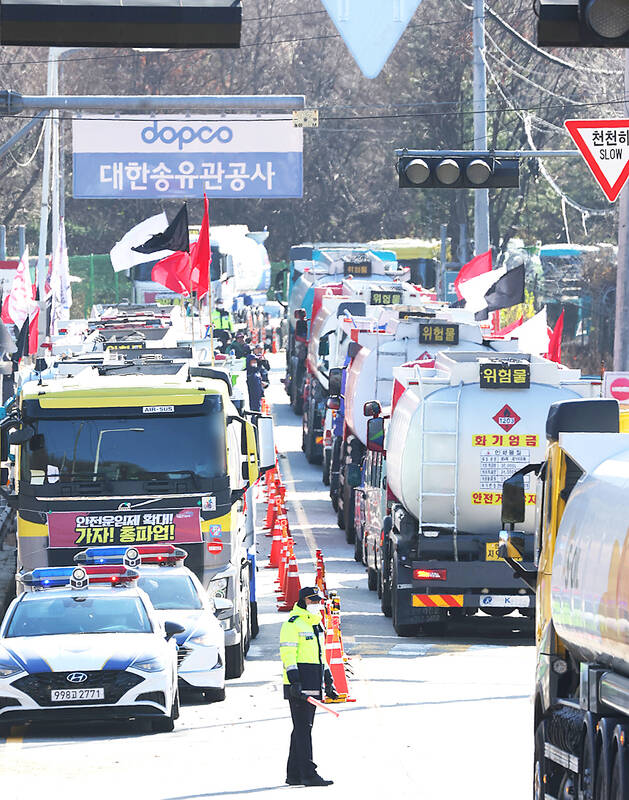 Tankers driven by nonunion drivers, right, pass by tankers halted by striking drivers, left, under police protection in front of the Daehan Oil Pipeline Corp's Seoul branch on Wednesday.
Photo: EPA-EFE
This includes 562,600 tonnes of steel worth 731.3 billion won, 6,707 vehicles worth 319.2 billion won and 259,238 kiloliters of oil products valued at 442.6 billion won stuck in transit, it said.
No date has been set yet for the next round of negotiations.
Two people at the meeting on Wednesday said shouting erupted during the meeting between the government and strike organizer Cargo Truckers Solidarity Union.
The government has said it would not expand a minimum pay system for truckers beyond a further three years, which the union says should be permanent and wider in scope.
Kumho Tire Co Inc, South Korea's No. 2 tire maker, which makes 65 percent of its sales from exports, said it is cutting 15 to 40 percent of output at its two factories until Tuesday next week because the strike has disrupted shipments.
The Korea International Trade Association said in a statement that fresh produce such as fish and kimchi had been scrapped because industrial hubs are blocked, without citing exact figures.
Exports at Samsung Electronics Co's Gwangju plant, which mainly produces refrigerators and air conditioners, have been halted, although raw materials and other shipments were moving normally, Yonhap news agency reported, citing a plant official.
The government is preparing to potentially order oil industry truckers back to their jobs, the ministry said yesterday, after it issued an unprecedented order to force 2,500 cement industry truckers back to work this week.
As of Wednesday, 350 of those drivers had been served those orders. Refusing to get back on the road after a "start work" order can be punished by a fine or jail time, and cost drivers their licenses.
The ministry partly blamed the strike for the deterioration in exports, which last month fell the most in two-and-a-half years.
Total shipments fell 14 percent from a year earlier in the first double-digit drop since the middle of 2020, the ministry said in a separate statement.
Imports advanced 2.7 percent, resulting in a trade deficit of US$7 billion.
Exports of semiconductors plunged 29.8 percent and shipments to China declined 25.5 percent, the data showed.
Automobile shipments gained 31 percent, while exports of oil products rose 26 percent, the ministry said.
Additional reporting by Bloomberg
Comments will be moderated. Keep comments relevant to the article. Remarks containing abusive and obscene language, personal attacks of any kind or promotion will be removed and the user banned. Final decision will be at the discretion of the Taipei Times.