Hon Hai unit signs quantum MOU
COMPUTING RESEARCH: The accord shows Canada's commitment to the Indo-Pacific region, the country's trade minister said about Hon Hai's deal with Mitacs
Hon Hai Precision Industry Co's (鴻海精密) research arm has signed a memorandum of understanding (MOU) with a Canadian nonprofit group to develop quantum technologies, the iPhone assembler said yesterday.
Hon Hai Research Institute CEO Lee Wei-bin (李維斌) signed the accord with Mitacs CEO John Hepburn, Hon Hai said in a statement.
Under the agreement, Mitacs is to draw on a vast network of leading research institutions in Canada to provide advice on funding and talent development to Hon Hai's research arm for the company's quantum technology development, it said.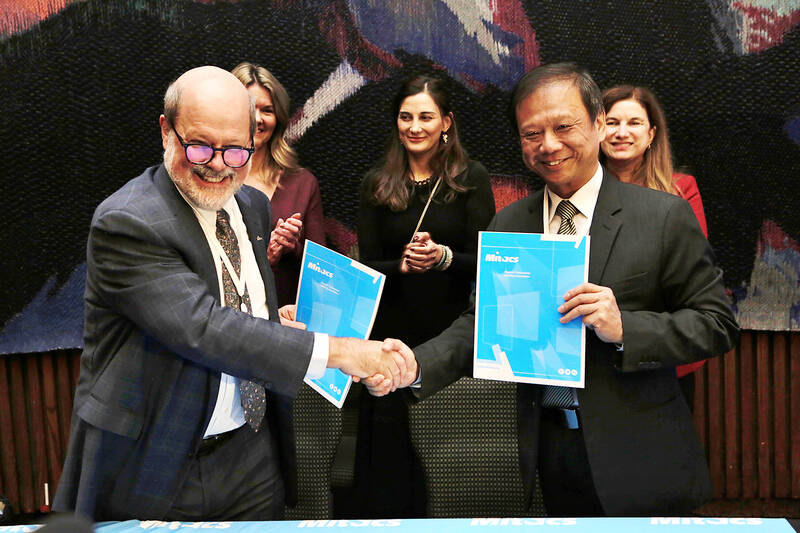 Hon Hai Research Institute CEO Lee Wei-bin, right, yesterday shakes hands with Mitacs CEO John Hepburn after they signed a memorandum of understanding to develop quantum technologies.
Photo courtesy of Hon Hai Precision Industry Co
The study of quantum technologies focuses on atom-scale phenomena and seeks to apply their principles to complex issues that are beyond the capabilities of supercomputers.
Hon Hai, which is diversifying its business from a pure contract manufacturer to the field of software-hardware integration, is working on quantum technologies as it seeks to extend its reach to next-generation semiconductors, it said.
Hon Hai said the cooperation agreement has the full support of the Canadian Trade Office in Taipei.
Hon Hai cited Canadian Minister of International Trade, Export Promotion, Small Business and Economic Development Mary Ng (伍鳳儀) as saying that the agreement demonstrated Canada's commitment to bolstering its trade and investment relations with partners in the Indo-Pacific region, including Taiwan.
Hon Hai has its own expectations for the agreement.
"Through this new partnership, we hope to connect the institute with Canadian professionals and experts with the goal of jointly investing in cutting-edge technology research, beginning in the field of quantum technologies," Lee said in the statement.
"Through Mitacs, we hope to fund quantum computation research projects in Canada and hire five to 10 research interns in the first year," Lee said.
Hon Hai said that the partnership with Mitacs is the first step in its efforts to develop research-and-development capabilities in Canada, as it intends to set up research and design facilities there.
The company is also planning to launch a "Software Research & Development Center" in Canada, which it said would initially focus on software development related to electric vehicles, human-machine interface design and usability engineering, it said.
In the first phase, the center would hire more than 100 design and engineering specialists, it said.
The projects are part of Hon Hai's "3 plus 3" initiative that focuses on three emerging industries — electric vehicles, robots and digital healthcare — which it seeks to develop through a three-pronged approach involving artificial intelligence, semiconductors and communication technologies.
Comments will be moderated. Keep comments relevant to the article. Remarks containing abusive and obscene language, personal attacks of any kind or promotion will be removed and the user banned. Final decision will be at the discretion of the Taipei Times.