Asian stocks surge on US inflation data
Asian stock markets on Friday surged after US inflation eased more than expected, spurring hopes that the US Federal Reserve might scale down plans for more interest rate hikes.
Hong Kong's market benchmark jumped 5.7 percent and Seoul rose 3.3 percent, while Shanghai, Tokyo and Sydney advanced.
The lower US inflation data "drove a 'more dovish' calibration of interest rate expectations," IG Asia Pte market strategist Yeap Jun Rong (葉俊榮) said in a report.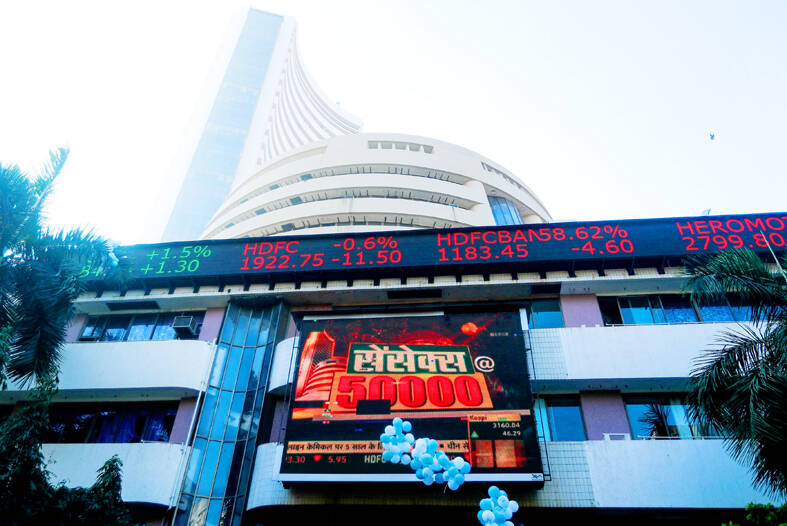 Stock prices are displayed outside the Bombay Stock Exchange in Mumbai, India, on Jan. 21, last year.
Photo: REUTERS
The Fed, as well as central banks in Europe and Asia, are raising rates to cool inflation, which is at multi-decade highs. Investors worry that might tip the global economy into recession. They hope lower inflation might prompt the Fed to ease off plans for more increases.
However, forecasters on Thursday said it was too early to be certain prices are under control.
Fed officials have said rates might have to stay elevated for some time.
In Taipei, the TAIEX closed at 14,007.56 points on Friday, after soaring 503.8 points, or 3.73 percent, during the session. The index gained 980.85 points, or 7.53 percent, over the past week.
Market capitalization on the main board surged almost 7.5 percent over the past week to top NT$43 trillion (US$1.37 trillion).
Hong Kong's Hang Seng index soared 7.74 percent to 16,994.66, up 7.21 percent from a week earlier.
The Nikkei 225 in Tokyo gained 2.9 percent to 28,229.68, up 3.91 percent on the week, while the broader TOPIX rose 2.12 percent to 1,977.76, posting a 3.26 percent weekly gain.
The Shanghai Composite Index added 1.4 percent to 3,078.42, up 0.54 percent from a week earlier.
In South Korea, the KOSPI rose 3.37 percent to 2,481.50, posting a 5.74 percent weekly gain.
India's SENSEX rose 1.6 percent to 61,579.12, gaining 1.39 percent from a week earlier.
In Australia, the S&P/ASX gained 2.79 percent to 7,158.0, up 3.85 percent from a week earlier.
Additional reporting by staff writer
Comments will be moderated. Keep comments relevant to the article. Remarks containing abusive and obscene language, personal attacks of any kind or promotion will be removed and the user banned. Final decision will be at the discretion of the Taipei Times.