CAL reports plunge in net profit in the third quarter
China Airlines Ltd (CAL, 中華航空) on Wednesday reported that third-quarter net profit plunged 95.6 percent from a year earlier to NT$125.9 million (US$3.95 million) due to higher fuel costs and losses from its foreign-currency hedging operations, although revenue increased 9.4 percent to NT$37.69 billion on the back of improving passenger business.
The airline's operating costs expanded 28.5 percent to NT$36 billion as aviation fuel prices have risen markedly from last year, while its forex hedging operations posted losses of NT$2.87 billion, 14 times as much as a year earlier, as the US Federal Reserve's aggressive interest rate hikes drove the US dollar higher against other currencies, CAL said.
Earnings per share (EPS) were NT$0.02 last quarter, down from NT$0.51 in the same period last year, the airline said.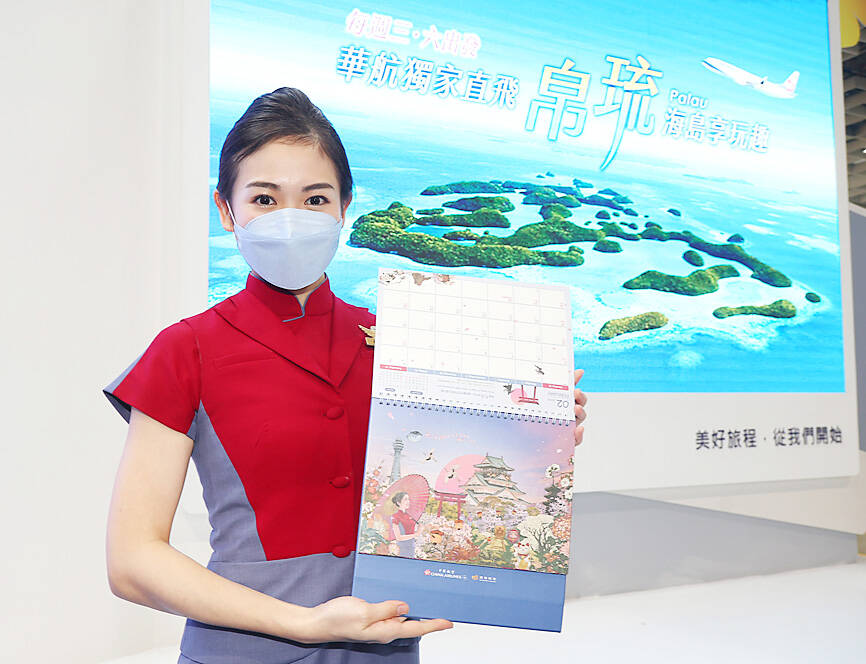 A China Airlines Ltd flight attendant holds a company calendar at the Taipei International Travel Fair at the Taipei Nangang Exhibition Center on Nov. 4.
Photo: CNA
It reported a mixed performance for its passenger and cargo operations last quarter, with sales from its passenger business growing 497 percent annually to the highest in three years, while cargo revenue fell 9.2 percent from a year earlier as rising inflation, interest rate hikes and recession concerns dampened demand for air transportation.
In the first three quarters of this year, net profit totaled NT$3.62 billion, up 132 percent from the same period last year, or EPS of NT$0.59, the airline said.
CAL said it plans to increase flights by 50 percent this quarter to boost passenger revenue, with a special focus on the Southeast Asian business passenger and tourism markets.
Air cargo rates are expected to fall this quarter as airlines would offer more flights, increasing air cargo capacity, it said.
CAL would strengthen the transportation of special goods such as precision machines, e-commerce goods and cold-chain products, it said, adding that it would also take advantage of its freighter fleet to vie for charter flights.
Comments will be moderated. Keep comments relevant to the article. Remarks containing abusive and obscene language, personal attacks of any kind or promotion will be removed and the user banned. Final decision will be at the discretion of the Taipei Times.