Chinese shopping holiday to spur TV panel prices
SUPPLY AND DEMAND: The prices of flat panels are set to rise after companies cut back production amid an earlier slump in demand, TrendForce said in a report
The prices of some TV panels are to pick up this month, as vendors build up inventory ahead of the annual Double 11 Singles' Day shopping event in China, reversing a downtrend over the past five quarters, market researcher TrendForce Corp (集邦科技) said in a report yesterday.
The price rebound is primarily driven by a reduction in panel supply rather than by an improvement in demand, after flat-panel makers reduced factory utilization amid an industry slump, TrendForce said.
The prices of TV panels smaller than 72 inches (183cm) are to stabilize this month as prices have fallen to near the manufacturing costs, leaving little room for further decline, while panel makers are keeping a tight rein on factory utilization to control supply, the Taipei-based market researcher said.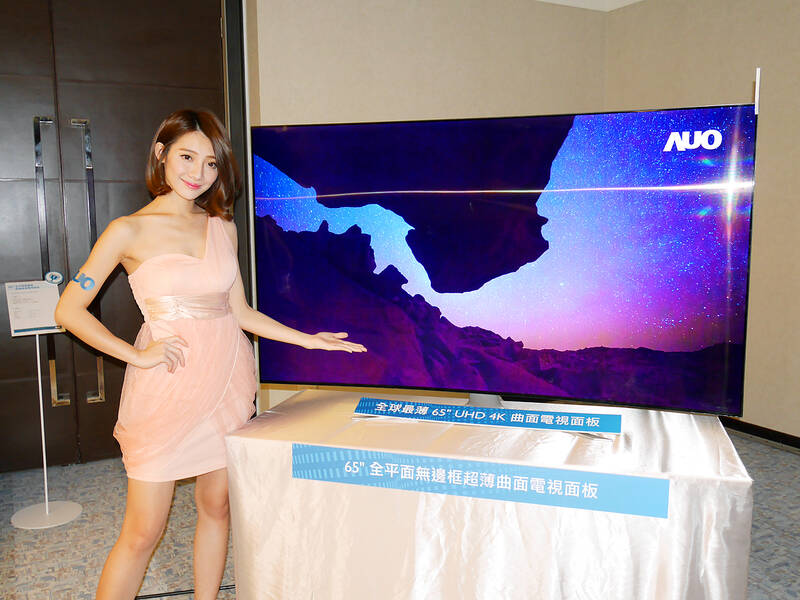 A model poses next to a 65-inch 4K dispaly from AUO Corp in Taipei in an undated photograph.
Photo: Chen Mei-ying, Taipei Times
As AUO Corp (友達) reduced its factory utilization to 70 percent in the second quarter and Innolux Corp (群創) expected its factory utilization to go down to as low as 50 percent last quarter, prices for 32-inch TV panels have climbed US$1 per unit, TrendForce said.
The prices of other sizes of TV panels are to see hikes between US$3 and US$5 per unit, it said.
In addition, the prices of panels used in monitors are also showing signs of stabilizing, with the prices of 21.5-inch monitor panels and those smaller than 21.5 inches likely to be flat this month, TrendForce said.
The mainstream 23.8-inch and 27-inch panels are to see smaller declines of US$1.5 per unit, it said.
However, demand for panels used in notebook computers continues to stagnate due to excessive inventory, with the prices of higher-resolution 14-inch and 15.6-inch panels likely to fall by between US$1 and US$1.2 per unit, representing a monthly decline of 2.4 percent, compared with a 1.8 percent fall last month, it said.
Meanwhile, prices of 27-inch LED monitor panels and 14-inch LED panels for notebook computers edged lower by 0.5 percent and 0.4 percent to US$63.7 and US$23.6 per unit respectively, compared with the prices in the second half of last month, TrendForce said.
Comments will be moderated. Keep comments relevant to the article. Remarks containing abusive and obscene language, personal attacks of any kind or promotion will be removed and the user banned. Final decision will be at the discretion of the Taipei Times.