US dollar rises against euro, as it falls for week
The US dollar on Friday rose against the euro, but pared gains late in a session that was muddied by quarter-end trading, while riskier commodity-led currencies fell sharply after European inflation hit a record high and US consumer spending increased faster than expected.
Although the dollar index was showing its biggest quarterly gain since the first quarter 2015, but was registered its first weekly decline in three weeks.
Sterling rose against the dollar after falling earlier in the day. The pound last showed four straight sessions of gains followed by wild declines on concerns about Britain's plan to slash taxes and pay for it with more borrowing.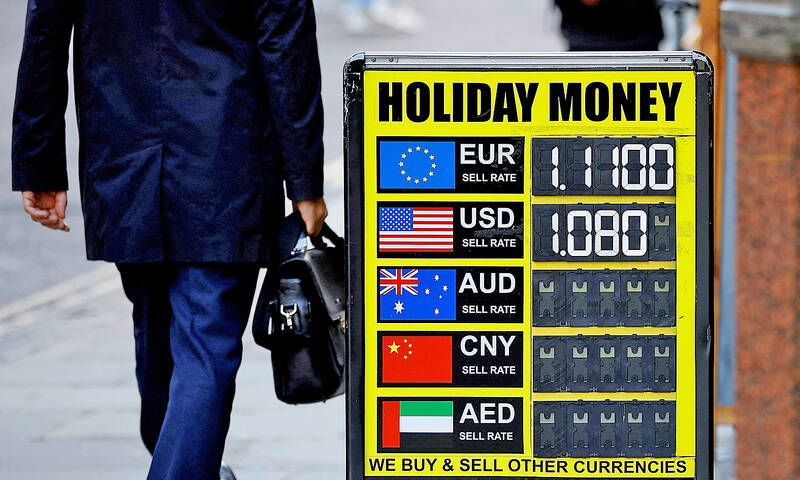 A person walks past a board advertising exchange rates outside a currency exchange office in London on Thursday.
Photo: Reuters
After hitting a record low on Monday, the British currency was on track for a weekly gain after the Bank of England bought British government bonds, known as gilts, on Wednesday, Thursday and Friday.
Data on Friday showed euro zone inflation zoomed past forecasts to reach 10 percent for last month, reinforcing expectations for another jumbo European Central Bank rate hike next month.
The US Department of Commerce said the personal consumption expenditures price index, which the US Federal Reserve targets at 2 percent, rose 6.2 percent year-on-year in August. This gave the Fed less reason to slow down its rate hiking cycle after raising US borrowing costs faster this year than any time since the 1980s.
"Today's trading is distorted by quarter-end and month-end order flows," as investors focused on rebalancing portfolios rather than on data said Paresh Upadhyaya, director of fixed income and currency strategy at Amundi U.S. in Boston.
The strategist said he expects to see the dollar continue its upward direction as investors revert to trading on fundamentals.
"At this point you can't fight the strong bullish dollar trend since its underpinned by counter cyclical factors such as concerns about global growth, geopolitical risk and rising U.S. interest rates," Upadhyaya said.
In Taipei, the New Taiwan dollar on Friday fell against the greenback, losing NT$0.104 to close at NT$31.743, falling 0.25 percent for the week.
Meanwhile, trading in currencies from countries that are heavily dependent on commodities reacted strongly to the hot inflation data on Friday due to concerns about demand and global economic growth, Upadhyaya said.
The US dollar was up 1.04 percent against the Canadian dollar, while New Zealand's dollar was down 2.24 percent and the Australian dollar was down 1.62.
The pound, after touching US$1.1235, was last up 0.28 percent on the day at US$1.11500.
The euro was down 0.10 percent at US$0.98055.
The dollar index, which measures the greenback against a basket of major currencies, fell 0.07 percent, but was up 6.69 percent the quarter. On a weekly basis the index was down 0.9 percent, its first decline in three weeks.
Additional reporting by staff writer, with CNA
Comments will be moderated. Keep comments relevant to the article. Remarks containing abusive and obscene language, personal attacks of any kind or promotion will be removed and the user banned. Final decision will be at the discretion of the Taipei Times.