Officials float FX, short-sale control if outflows worsen
Taiwanese officials raised the prospect of foreign-exchange controls and a ban on stock short sales if capital outflows worsen significantly, underscoring growing concern among global policymakers over the destabilizing effects of tighter monetary policy.
Taiwan will closely monitor foreign outflows before considering control measures in case of significant foreign outflows due to US rate hikes or cross-strait tensions, central bank Governor Yang Chin-long (楊金龍) said in response to a question from lawmakers.
Outflows are so far under control, he said.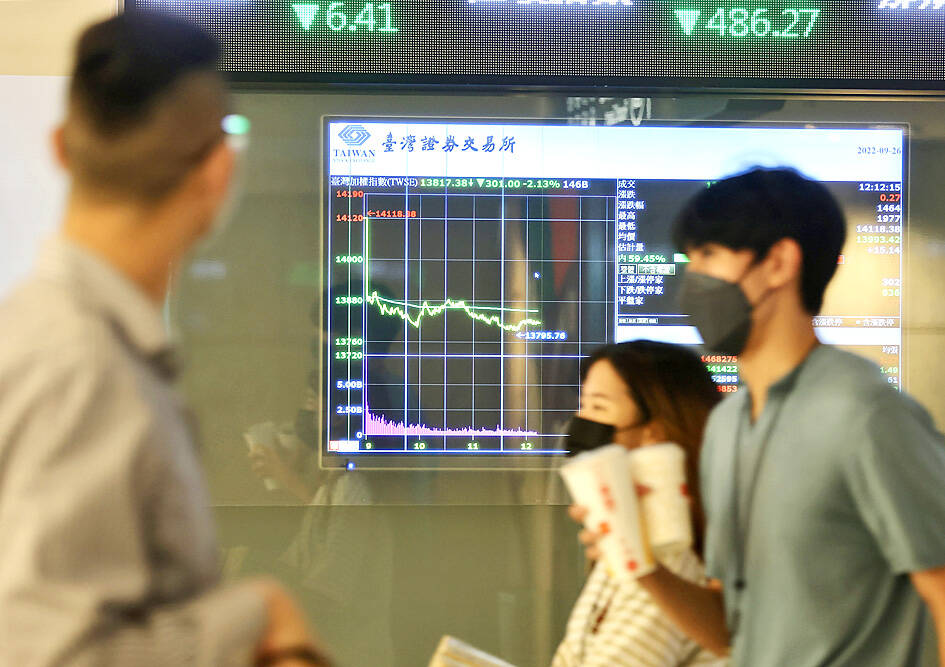 People walk past an electronic stock board at the Taiwan Stock Exchange in Taipei on Monday.
Photo: CNA
The government is cautiously considering a ban on short-selling, Financial Supervisory Commission Chairman Thomas Huang (黃天牧) said.
The remarks followed the New Taiwan dollar's drop on Monday to the weakest since 2017. Pressure on the local currency is rising after global funds sold more than US$43 billion of Taiwanese stocks this year to put the market on course for its biggest ever annual outflow.
The TAIEX has plunged more than 24 percent this year, making it the worst performer in Asia.
The weighted index yesterday closed up 0.35 percent at 13,826.59 points after plunging 2.41 percent the previous day.
After Monday's tumble, Deputy Minister of Finance Frank Juan (阮清華), who serves as executive secretary of the National Stabilization Fund committee, said the fund was determined to work with related agencies to stabilize the local stock market, adding that the fundamentals in Taiwan remain sound.
Adopting foreign-exchange controls "would be a more effective way of supporting the currency," said Stephen Chiu (趙志軒), chief Asia FX and rates strategist at Bloomberg Intelligence in Hong Kong.
Even the major economies might have to take this route if the greenback continues to strengthen, he added.
US dollar strength has roiled global currency markets. The British pound slid to a record low on Monday, while the Bank of Japan last week intervened to support the yen for the first time since 1998 as the currency fell past ¥145 per US dollar. The Chinese yuan is near its lowest level in 14 years.
Foreign outflows so far are under control and Taiwan has more than US$500 billion in foreign exchange reserves, Yang said.
The NT dollar rose 0.12 percent to close at NT$31.78 per US dollar in Taipei trading yesterday.
Additional reporting by CNA
Comments will be moderated. Keep comments relevant to the article. Remarks containing abusive and obscene language, personal attacks of any kind or promotion will be removed and the user banned. Final decision will be at the discretion of the Taipei Times.