Consumer confidence hits 13-year low
WORRIES: More than half of respondents expect a significant rise in consumer prices, and public confidence in the local economy fell to an eight-year low, a survey showed
The consumer confidence index (CCI) this month slid by 0.49 points to 62.59 from a month earlier, the lowest in 13 years, amid concerns that global inflation and a recession would hit Taiwan's export-reliant economy, National Central University said yesterday.
The index gauges the public's confidence toward employment, household finances, consumer prices, the local business climate, stock market and durable goods purchases over the next six months. It is often used to predict consumer spending, which is a major pillar of GDP.
Among the six sub-indices, consumer prices increased 0.4 points to 26.9 last month, according to the university's Research Center for Taiwan Economic Development, which released the results of a survey it conducted from Sept. 18 to Wednesday last week.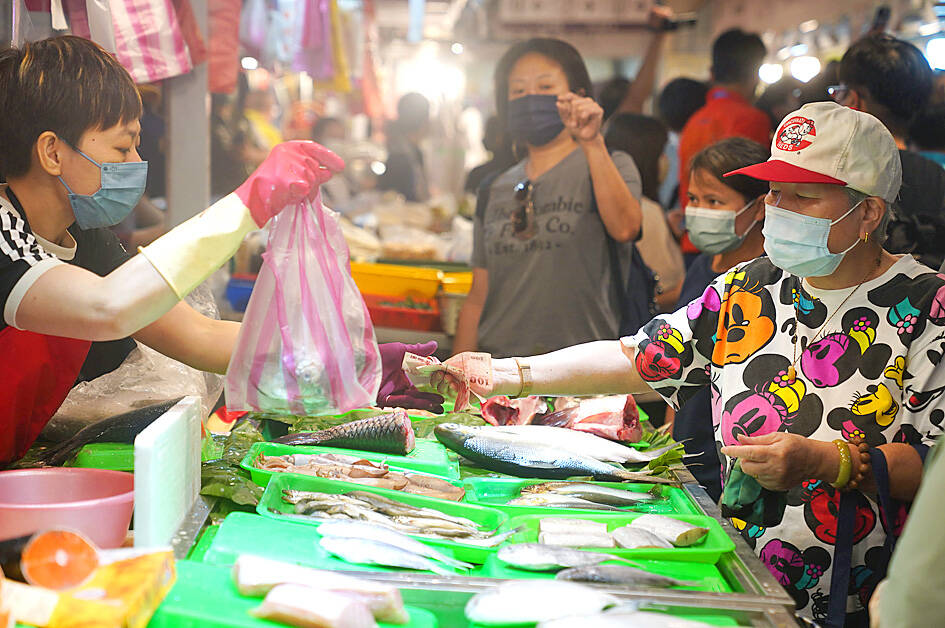 A woman buys fish at a market in Taipei's Daan District yesterday.
Photo: CNA
The survey showed that 50.8 percent of respondents expect consumer prices would increase significantly in the next six months, while 45.6 percent expect a mild increase, center director Dachrahn Wu (吳大任) told a news conference.
The other five sub-indices weakened this month, with durable goods purchases dropping 1.05 points to 108.35, the lowest in 15 months, as consumers delayed making big purchases given inflationary and recession risks, the survey showed.
Public confidence in the local economy slid 0.8 points to 78.9, the lowest in eight years, while household income declined 0.75 points to 73.6, the lowest in 12 years, it said.
About 47 percent of respondents expect household income to remain flat over the next six months, while 45 percent expect it to further deteriorate, the survey showed.
The sub-indices on employment and the stock market moved lower by 0.4 and 0.3 to 63.3 and 24.5 respectively this month.
The stock market reading hit a new low since the university began compiling CCI data in early 2001. As for timing on buying a home, a separate index jointly compiled by the university and Taiwan Realty Co (台灣房屋) dropped by 0.8 points to 102.7 this month.
With the local economy showing signs of a slowdown as interest rates rise, consumer sentiment toward the property market and the possibility of buying durable goods was affected, Wu said.
The CCI is likely to continue retreating in the fourth quarter due to the effects of global inflation and weakening demand on the nation's export-based economy, he said.
"Taiwan's GDP growth would not be able to reach 3 percent this year if exports decline in the fourth quarter," Wu said.
This month's survey collected 2,861 valid questionnaires from consumers in Taiwan aged 20 or older.
Comments will be moderated. Keep comments relevant to the article. Remarks containing abusive and obscene language, personal attacks of any kind or promotion will be removed and the user banned. Final decision will be at the discretion of the Taipei Times.