Agriculture delegation signs letters of intent in US
An agriculture industry delegation from Taiwan has signed letters of intent with US officials to purchase more than US$2.6 billion of corn and soybeans from farmers in Minnesota, Iowa and Illinois.
The Taiwanese Agricultural Trade Goodwill delegation led by Council of Agriculture Deputy Minister Huang Chin-cheng (黃金城) visited the three states from Sept. 15 to Friday to sign the letters of intent, the Taipei Economic and Cultural Office in Chicago said in a statement on Saturday.
Minnesota Governor Tim Walz, Iowa Governor Kim Reynolds, Illinois Governor J.B. Pritzker, US Senator Tammy Duckworth and other state officials were the US signatories.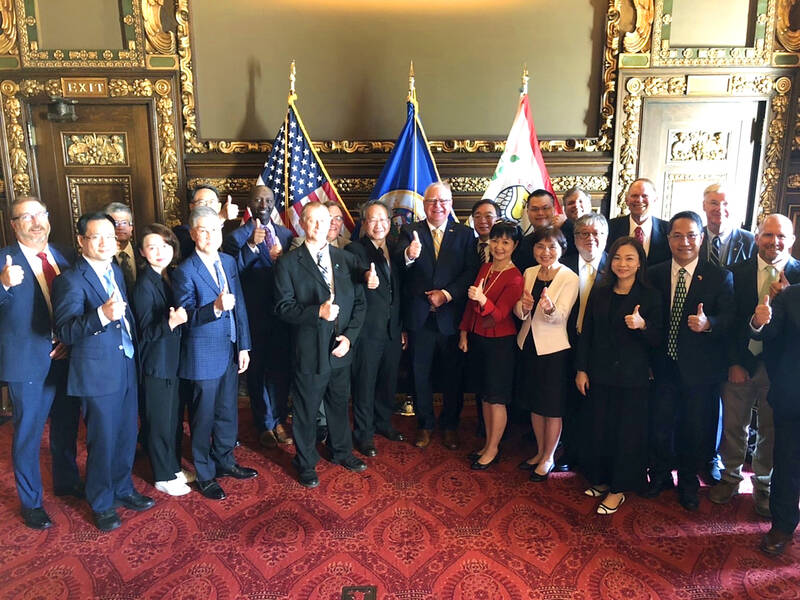 Council of Agriculture Deputy Minister Huang Chin-cheng, Minnesota Governor Tim Walz, Taiwanese officials and US agriculture entrepreneurs pose for a picture at the Minnesota State Capitol in St Paul on Sept. 15.
Photo courtesy of the Taipei Economic and Cultural Office in Chicago
During the respective signing ceremonies, Reynolds and Pritzker expressed sympathy to Taiwan after a series of earthquakes, including a magnitude 6.8 tremor, struck the nation's east on Sept. 17 and 18, the statement said.
During the signing ceremony in Minnesota, Walz said bilateral economic and trade relations between Taiwan and his state are stable and expressed hope that the delegation would further deepen the friendship between the two sides.
Reynolds said bilateral trade between Taiwan and Iowa had grown 7 percent on average over the past five years.
Pritzker said that Taiwan is Illinois' third-largest agricultural trade partner, adding that he hoped for a sustainable reciprocal friendship between the two sides.
Meanwhile, Duckworth, whose constituency is in Illinois, said that while Taiwan was facing threats from its neighbor, presumably referring to China, a Taiwan-US agricultural trade agreement was not only beneficial to food and livestock trade, but also national security.
She said she was pleased to see the deepening friendship between Taiwan and the US.
During their US trip, the delegation also visited agriculture and biotechnology research parks, labs and technology centers at the University of Minnesota, Iowa State University and the University of Illinois at Urbana-Champaign.
Comments will be moderated. Keep comments relevant to the article. Remarks containing abusive and obscene language, personal attacks of any kind or promotion will be removed and the user banned. Final decision will be at the discretion of the Taipei Times.