Unemployment virtually stable in fractional rise
GRADUATION SEASON: The number of unemployed people rose by 1,000 from July to 449,000, while first-time jobseekers rose by 5,000, the statistics agency said
The unemployment rate last month rose 0.01 percentage points to 3.79 percent, as the number of first-time jobseekers rose during the graduation season, while fewer people lost jobs to business downsizing and closures, the Directorate-General of Budget, Accounting and Statistics (DGBAS) said yesterday.
The unfavorable effects of this year's graduation season have been softer than previous years and should disappear this month, the statistics agency said.
The unemployment rate after seasonal adjustments fell 0.01 percentage points to 3.67 percent, affirming a positive turn, DGBAS Census Department Deputy Director Chen Hui-hsin (陳惠欣) said.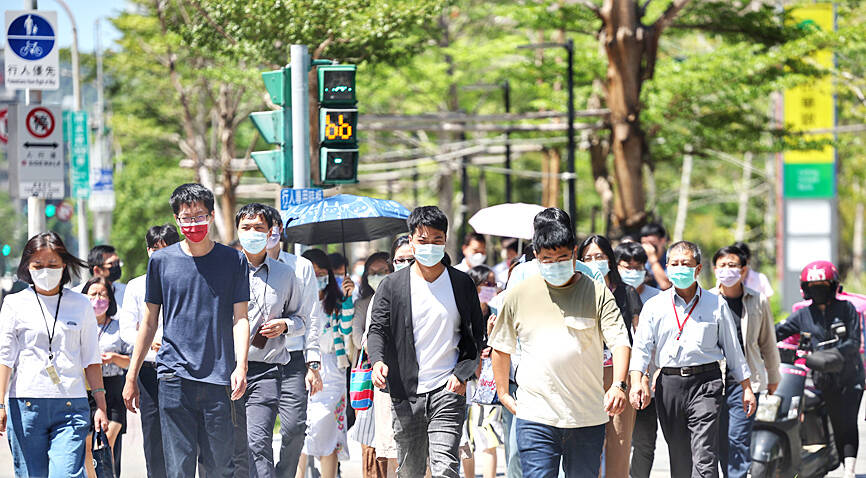 People cross a street in Taipei's Neihu Science Park yesterday.
Photo: CNA
The unemployed population rose by 1,000 from a month earlier to 449,000, the agency's monthly survey showed, while the number of first-time jobseekers rose by 5,000 and people who lost their jobs to business downsizing and closures declined at the same pace.
The unemployment rate rose 0.11 percentage points from May to last month, lower than the average of 0.13 to 0.23 percentage points in the previous five years, Chen said.
The reading tends to drop in September, she added.
The number of people who worked fewer than 35 hours a week was 279,000 last month, noticeably slowing from 290,000 in May and June when virus infections spiked, Chen said.
However, the number was 180,000 to 220,000 prior to the COVID-19 pandemic, suggesting the negative effects of virus outbreaks still linger, she said.
People with college degrees had the highest unemployment rate of 5.5 percent, followed by people with high school education at 3.41 percent, people with graduate diplomas at 2.81 percent and people with junior-high school education at 2.56 percent, the DGBAS found.
People aged 20 to 24 constituted the largest unemployed population at 13.06 percent, followed by the 15-to-19 age bracket at 8.9 percent, the 25-to-29 age group at 6.18 percent and the 30-to-34 age bracket at 3.89 percent, it said.
The unemployment period last month averaged 21 weeks, up 0.6 weeks from a month earlier, it said.
Comments will be moderated. Keep comments relevant to the article. Remarks containing abusive and obscene language, personal attacks of any kind or promotion will be removed and the user banned. Final decision will be at the discretion of the Taipei Times.