Taiwan aims to inspect 202 ships for Tokyo MOU
SAFETY FIRST: This year's campaign is to focus on issues such as whether seafarers are qualified and can present health examination certificates and rest hour records
Taiwan is to inspect 202 foreign ships entering the country's seven large commercial ports between this month and November in accordance with the Memorandum of Understanding on Port State Control in the Asia-Pacific Region, also known as the Tokyo MOU, the Maritime and Port Bureau said yesterday.
For the Tokyo MOU, a port state control organization was established, which is composed of representatives from 21 member authorities, the bureau said.
The organization's main purpose is to establish an effective and consistent port state control regime in the Asia-Pacific region, the bureau said.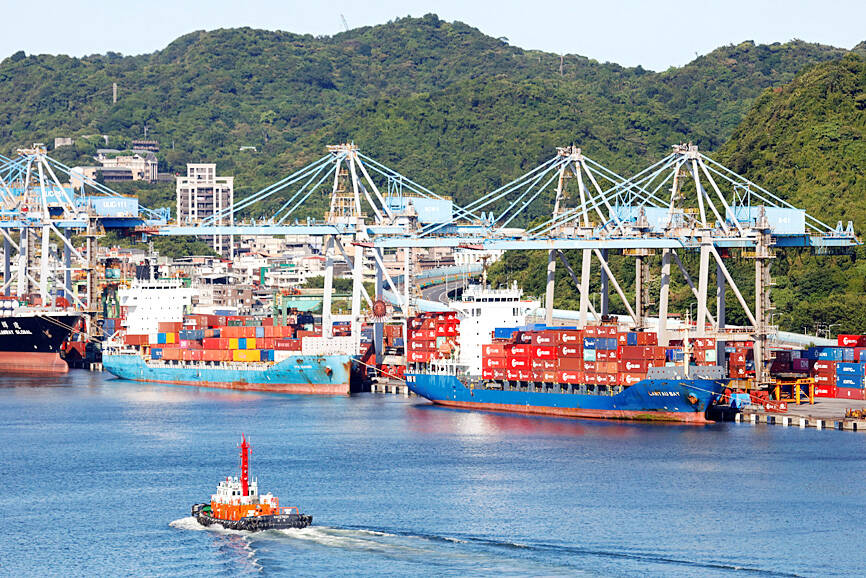 Container ships are docked at the Port of Keelung on Aug. 6.
Photo: Jameson Wu, Reuters
A concentrated inspection campaign (CIC) is also launched annually among member authorities to eliminate substandard shipping, protect the maritime environment and safeguard working and living conditions for seafarers, it said.
Taiwan is not a member of the International Maritime Organization, but nevertheless abides by the maritime safety regulations stipulated by international organizations, the bureau said.
The focus of this year's campaign is to see whether seafarers carry qualification certificates, whether the number of crew members meets the minimum safety quota for onboard seafarers, and whether crew members can present health examination certificates and rest hour records, the bureau said.
The three-month maritime safety campaign would start today at seven international commercial ports across the country, it said.
"Our goal is to conduct random onboard inspections on 202 foreign ships in the next three months," the bureau said, adding that the goal was set based on the number of ships arriving in Taiwan last year.
"We want to remind shipping firms and shipowners that they need to confirm the qualifications of the seafarers they have recruited and ensure that work shift schedules are friendly to seafarers," it said.
During the CIC period, ships found with unqualified seafarers on board would be retained by commercial port authorities until improvements are completed in accordance with Article 60 of the Commercial Port Act (商港法), the bureau said.
Because of the annual inspections, Taiwan has been on the Tokyo MOU's white list for five years in a row, which has greatly enhanced the efficiency of shipping fleets by lowering the frequency of inspections when they arrive in other countries, the bureau said.
"We have worked with CR Classification Society to offer seminars to shipping firms on how they should prepare for the CIC this year," it added.
Comments will be moderated. Keep comments relevant to the article. Remarks containing abusive and obscene language, personal attacks of any kind or promotion will be removed and the user banned. Final decision will be at the discretion of the Taipei Times.