Asia stocks face pressure due to inflation worries
Most Asian stocks fell on Friday, dragged by the technology sector as signs of a firming US economy stoked worries about higher inflation and an earlier withdrawal of US Federal Reserve stimulus.
US Treasury yields remained elevated after jumping overnight, while the US dollar also held its biggest gain since April, after better-than-expected employment data raised expectations for a strong reading for Friday's nonfarm payrolls, while a measure of service sector activity climbed to a record high.
Japan's Nikkei 225 fell 0.4 percent to 28,941.52, dropping 0.71 percent for the week. The broader TOPIX was nearly flat, rising 0.03 percent to 1,959.19, up 0.6 percent from a week earlier, with the services and tech sectors leading laggards.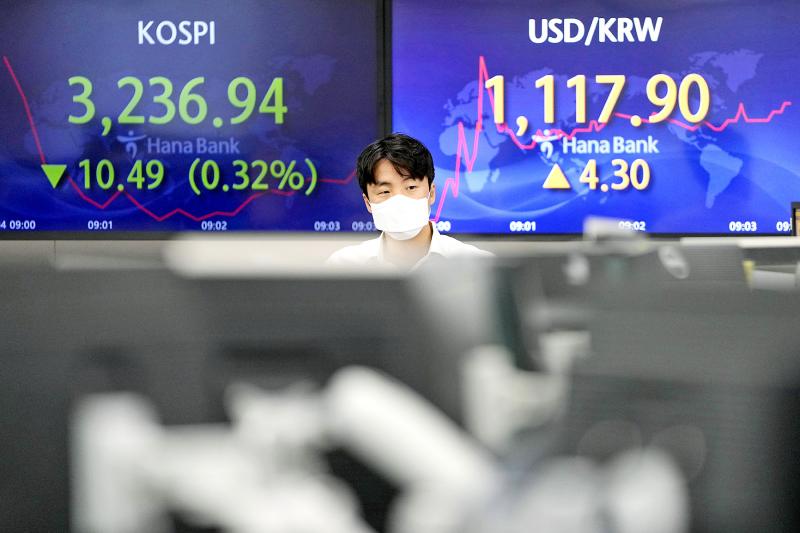 A currency trader walks by screens showing the KOSPI, left, and the exchange rate between the US dollar and South Korean won at the foreign exchange dealing room in Seoul on Friday.
Photo: AP
MSCI's broadest index of Asia-Pacific shares outside Japan was down 0.3 percent.
In Taiwan, the TAIEX ended down 98.75 points, or 0.57 percent, at 17,147.41, after moving between 17,084.49 and 17,225,06. Turnover totaled NT$437.627 billion (US$15.79 billion).
The market opened down 0.12 percent and trended lower in early trading, but once it slipped below 17,100 points, buyers returned to pick up select large-cap tech stocks to help the broader market recover some of its losses, dealers said.
The TAIEX rose 1.64 percent from 16,870.86 a week earlier.
In Seoul, the KOSPI dropped 0.23 percent to 3,240.08, but rose 1.61 percent weekly.
India's SENSEX was down 0.25 percent at 52,100.05, but rose 1.32 percent from a week earlier.
The Hang Seng Index in Hong Kong was down 0.17 percent at 28,918.10, posting a weekly decline of 0.71 percent.
China's Shanghai Composite Index bucked the trend, rising 0.21 percent to 3,591.84, but dropped 0.25 percent from a week earlier.
Australia's benchmark S&P/ASX 200 also rose. It gained 0.49 percent to 7,295.4, posting a weekly increase of 1.61 percent.
"Overall the market is still very, very bullish, and the data we got overnight out of the US was very, very positive," said Kyle Rodda, an analyst at IG Markets in Melbourne. "I think the consensus overall is that there's reasonably limited risk that the Fed is going to pull away the punchbowl."
At the same time, he said that investors were closing tech positions ahead of key US nonfarm payrolls data later in the global day, to shield themselves from potential losses in the event of an upside surprise.
Ultimately, nonfarm payrolls increased by 559,000 jobs last month, which was less than expected.
Additional reporting by staff writer, with CNA
Comments will be moderated. Keep comments relevant to the article. Remarks containing abusive and obscene language, personal attacks of any kind or promotion will be removed and the user banned. Final decision will be at the discretion of the Taipei Times.