Manufacturing sees first rapid growth in a decade
The manufacturing industry saw its growth accelerate in January from a stable state in the previous month, with an index gauging the sector's health at "yellow-red" for the first time since September 2010, the Taiwan Institute of Economic Research (TIER, 台灣經濟研究院) said yesterday.
The think tank attributed the upward trend to a gradual recovery around the world — as an increasing number of countries have launched programs to vaccinate their residents against COVID-19 — and to the booming stay-at-home economy, which has increased demand for electronics.
The manufacturing sector has also benefited as businesses increased inventories prior to the Lunar New Year holiday.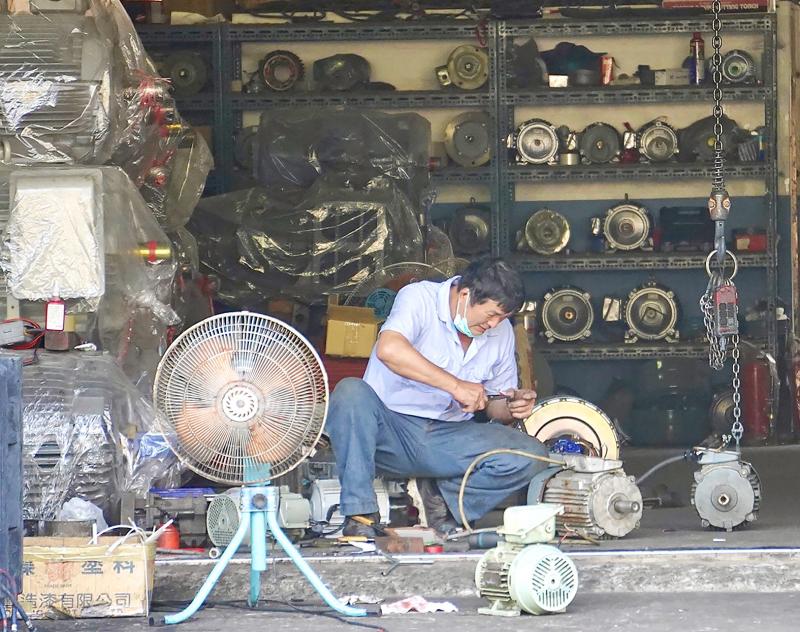 A mechanic works in his shop in Taipei yesterday.
Photo: CNA
Outputs from traditional industries were also robust, thanks to strong consumption and further increasing demand for raw materials, the institution said.
As a result, the composite index for the local manufacturing sector in January rose to 16.79 points — the first "yellow-red" indicator in 10 years — from 13.43 in December last year, TIER data showed.
The institute uses a five-color system to indicate economic activity, with red signaling overheating, yellow-red showing rapid growth, green representing stable growth, yellow-blue sluggish growth and blue reflecting a contraction.
Within manufacturing, economic activity continued strongly — with the indicator at "red" — in the information sector, and the electronic parts and components sector.
"Overall, the domestic manufacturing sector remains set to enjoy optimistic prospects," the institute said in a news release yesterday.
Looking ahead, the institute said that the COVID-19 pandemic and unstable trade relations between the US and China would continue to challenge the global economy.
Nevertheless, continuous expansion in 5G, high-performance computing and artificial intelligence, increasing demand in the stay-at-home economy and advanced production techniques in the semiconductor sector are expected to foster growth of the electronics and information sectors, the institute added.
Comments will be moderated. Keep comments relevant to the article. Remarks containing abusive and obscene language, personal attacks of any kind or promotion will be removed and the user banned. Final decision will be at the discretion of the Taipei Times.