Line planning to launch cryptocurrency exchange
MONETARY REWARDS: CEO Takeshi Idezawa said that linking service growth to compensation for contributors in a token economy would 'unlock' significant new value
Line Corp, Japan's biggest messaging service operator, is opening a cryptocurrency exchange next month, despite a bitcoin sell-off that has fueled pessimism over the future of virtual currencies.
The exchange, called Bitbox, would offer trading in more than 30 virtual tokens, including bitcoin, ethereum, bitcoin cash and litecoin, but not fiat currencies, the Japanese company said at an annual strategy briefing in Tokyo yesterday.
The Web site is to be available in 15 languages to users worldwide, except for those in Japan and the US, Line said, adding that Bitbox would charge a 0.1 percent trading fee on transactions.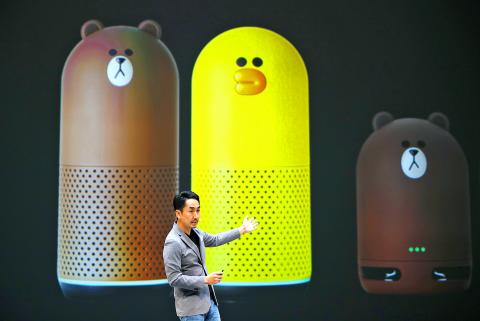 Line Corp CEO Takeshi Idezawa speaks in front of images of smart speaker Clova during a presentation in Urayasu, Japan, yesterday.
Photo: EPA-EFE
Line CEO Takeshi Idezawa laid out a vision of a token-based economy that places blockchain technology at the center of the firm's efforts to tie together its various commerce, entertainment and media offerings.
The move into cryptocurrencies would come at a time when the industry faces increasing regulatory scrutiny and security concerns that have pushed the price of bitcoin about 60 percent lower this year.
"There isn't a system in place right now that can monetarily reward users' contributions to a service," Idezawa said. "Linking service growth to compensation for contributors in a token economy could unlock a great deal of new value."
Line is considering creating its own token, which could be used to pay users for contributions to its various services and third-party providers might also have access to the platform.
Development is already under way, Idezawa said, but did not give a specific timeline.
Line is also working on a stand-alone mobile app for the exchange, which would be separate from its messaging service, a person familiar with the matter said.
Blockchain security firm BitGo Inc is partnering with Line on security for the exchange, the person said.
The company, which established Line Financial Corp in January, has also applied for a license to open a cryptocurrency exchange in Japan.
It has been offering the Line Pay smartphone wallet service since 2014 and has attracted more than 40 million registered users worldwide.
Line is investing ¥30 billion (US$272.1 million) in financial technology and artificial intelligence operations this fiscal year and plans to expand its services to include lending and insurance.
Line last quarter began reporting results for the new strategic segment, which includes Line Pay, smart speaker Clova and e-commerce products.
The businesses recorded ¥6 billion in sales in the three months to March 31, or about 12 percent of the company's total. They posted a ¥7.1 billion loss.
"The potential of these services depends largely on usage trends for Line Pay," JPMorgan Chase & Co analyst Haruka Mori wrote in a report on Thursday last week. "We expect the fintech business to substantially expand its earnings contribution" in fiscal 2022.
Comments will be moderated. Keep comments relevant to the article. Remarks containing abusive and obscene language, personal attacks of any kind or promotion will be removed and the user banned. Final decision will be at the discretion of the Taipei Times.