US stocks mostly climb on rally by energy companies
Oil prices and energy companies on Friday rallied after OPEC said it would produce more oil, but not as much as investors feared. While trade tensions remained in the headlines, US stocks finished slightly higher at the end of a bumpy week.
US crude futures jumped 4.6 percent after OPEC nations agreed to produce about 1 million additional barrels of oil per day.
Investors have expected an increase in production for weeks and many of them thought a bigger boost was coming, which would have sent prices lower.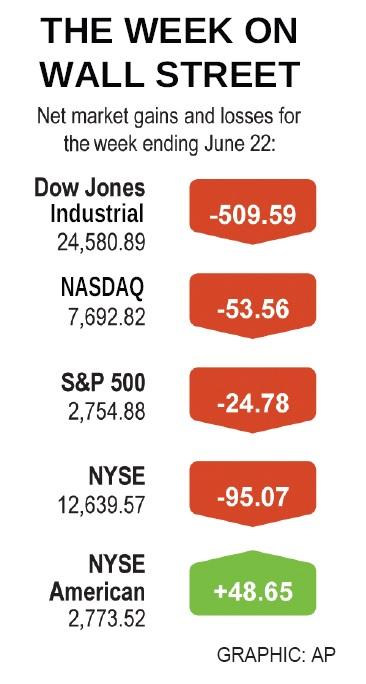 While prices usually go down when oil production rises, investors thought OPEC might take a bigger step based on reports over the past few weeks.
"People were pricing crude in the last couple of weeks [expecting] a bigger increase by OPEC than what they agreed to," Leuthold Group LLC chief investment strategist Jim Paulsen said.
Exxon Mobil Corp picked up 2.1 percent to US$81.38 and Marathon Oil Corp surged 7.8 percent to US$21.48.
Healthcare and household goods companies also rose, while technology companies and banks fell.
The EU followed through on its promise to put import taxes on US$3.4 billion of US goods, including bourbon, peanut butter and orange juice, in response to US tariffs on steel and aluminum.
Automakers were jolted after US President Donald Trump threatened to put a 20 percent tax on cars imported from Europe, although none of them took big losses.
The S&P 500 on Friday added 5.12 points, or 0.2 percent, to 2,754.88, but fell 0.9 percent from 2,779.66 on June 15.
The Dow Jones Industrial Average on Friday broke an eight-day losing streak, gaining 119.19 points, or 0.5 percent, to 24,580.89, but that was still a drop of 2 percent from a close of 25,090.48 on Friday last week.
Among the loss leaders, Boeing Co fell 5.3 percent and Caterpillar dropped 6.7 percent, both companies' biggest losses in three months.
Makers of chemicals and other basic materials like 3M Co also lost ground this week and technology companies slipped.
The NASDAQ Composite on Friday fell 20.13 points, or 0.3 percent, to 7,692.82, shedding 0.7 percent from 7,746.38 a week earlier.
The Russell 2000 index of smaller-company stocks sank 3.37 points, or 0.2 percent, to 1,685.58, edging up 0.1 percent from a close of 1,683.91 on June 15.
The EU is enforcing tariffs on US$3.4 billion of US products in retaliation for duties the administration of US President Donald Trump has put on European steel and aluminum. The taxes are on US products that appear designed to create political pressure on Trump and senior US politicians.
EU authorities had said the move was in response to the US import duties.
On Twitter, Trump threatened to impose a 20 percent tax on cars imported from the EU if barriers to trade are not removed soon.
He had previously ordered the Office of the US Trade Representative to look into possible tariffs or quotas on imported cars and auto parts.
"If you're in the direct line of fire from a tariff, it's hugely important," Paulsen said, but added that investors are very skeptical that a damaging trade war will break out.
"The trade war has heated up over the last couple of months and yet stocks are up over that period of time," he said.
That was also the case on Friday.
Open-source software maker Red Hat Inc dropped 12.4 percent to US$142.14 after it cut its sales forecasts due to the strengthening US dollar. Other technology companies also declined.
The industry has been leading the market for more than a year, but it makes more of its sales outside the US than any other major S&P 500 sector.
Micron Technology Inc fell 3.9 percent to US$57.10 and Nvidia Corp lost 2.4 percent to US$250.95.
Additional reporting by staff writer
Comments will be moderated. Keep comments relevant to the article. Remarks containing abusive and obscene language, personal attacks of any kind or promotion will be removed and the user banned. Final decision will be at the discretion of the Taipei Times.