Local firms to build AI supercomputer
DECEMBER TARGET: The platform is to have 7 petaflops of computing power, as well as a storage capacity of 50 petabytes, which is approximately 50 million gigabytes
Asustek Computer Inc (華碩), Quanta Computer Inc (廣達) and Taiwan Mobile Co (台灣大哥大) yesterday won a NT$1.1 billion (US$36.83 million) government contract to build a cloud-computing platform to boost the development of artificial intelligence (AI).
Organized by the National Center for High-Performance Computing (NCHC), the contract aims to build a national public cloud-computing platform that can deliver supercharged computer power to Taiwanese businesses and academic and research institutions, and incubate homegrown AI applications through improved deep learning and big data analysis capabilities.
The firms won the contract over a rival partnership between Acer Inc (宏碁), Chunghwa Telecom Co (中華電信) and a Japanese partner proposing to use hardware supplied by Hon Hai Precision Industry Co (鴻海精密).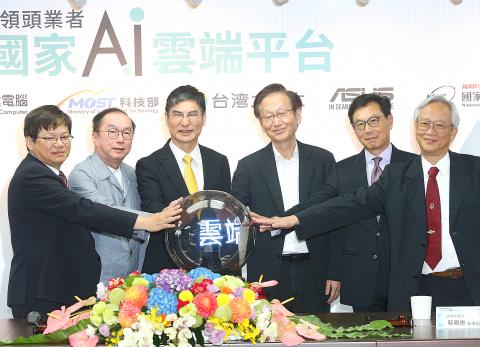 Quanta Computer Inc chairman Barry Lam, second left, Minister of Science and Technology Chen Liang-gee, third left, Taiwan Mobile Co chairman Daniel Tsai, second right, and Asustek Computer Inc chairman Jonney Shih, third right, pose for a photograph at a ceremony to announce the launch of a national public cloud-computing platform in Taipei yesterday.
Photo: CNA
As AI becomes increasingly ubiquitous in industrial applications and everyday life, the technology could be the next boom industry in Taiwan, just as PCs were in the past, and neglecting the technology could spell doom for the nation's economic competitiveness, Minister of Science and Technology Chen Liang-gee (陳良基) said in an address at a ceremony in Taipei.
The government's Forward-looking Infrastructure Development Program has earmarked a further NT$5 billion for efforts on AI in the next four years, Chen said.
The platform is to use 2,000 Nvidia Corp graphics processing units and its processing power is expected to rank in the top 30 of the world's fastest supercomputers, Chen said, adding that it is also designed to accommodate continued upgrades to keep up with technological advancements.
Although the contract would not significantly affect the bottom line of the three companies, the platform represents the nation's first landmark investment in AI, he said.
The three companies, each a leader in their respective fields in the information and communications technology industry, are expected to pool their expertise to build a platform that would have computing power of 7 petaflops, which translates to one quadrillion floating-point operations per second, as well as a storage capacity of 50 petabytes, or approximately 50 million gigabytes.
Quanta would be responsible for the platform's AI computing and data storage capabilities, while Asustek would be in charge of integrating cloud-based AI services, with Taiwan Mobile to be tasked with building networking infrastructure and security features, the ministry said.
Construction of telecommunications equipment rooms for the AI platform is scheduled to be completed in August, and the cloud host and software are to be installed in September and October respectively, the NCHC said.
The platform could be up and running as early as December and become the nation's biggest cloud-based hub for AI and deep learning, Chen said.
Many Taiwanese high-tech giants are investing in AI amid fears that any delay could leave them behind the global innovation curve.
Earlier this week, HTC Corp's (宏達電) healthcare division DeepQ unveiled the DeepQAI platform at Nvidia's GPU Technology Conference in Taipei, aiming to facilitate the creation of AI healthcare technology.
Some multinational technology firms are also participating in the nation's AI development, with Google in March unveiling a "Smart Taiwan" program in cooperation with the government, schools and businesses to foster AI talent in the nation.
Additional reporting by CNA
Comments will be moderated. Keep comments relevant to the article. Remarks containing abusive and obscene language, personal attacks of any kind or promotion will be removed and the user banned. Final decision will be at the discretion of the Taipei Times.