Facebook rolls out privacy choices under EU rules
Facebook Inc yesterday announced it would begin rolling out changes to how it handles private data this week to comply with forthcoming EU rules, with European residents seeing the measures first.
The social network, which has been rocked by disclosures about the hijacking of personal data on tens of millions of its users, said it will start implementing "new privacy experiences" to comply with the EU's General Data Protection Regulation, which becomes effective on May 25.
The EU law promises the biggest shakeup in online privacy since the birth of the Internet. Companies face fines if they collect or use personal information without permission.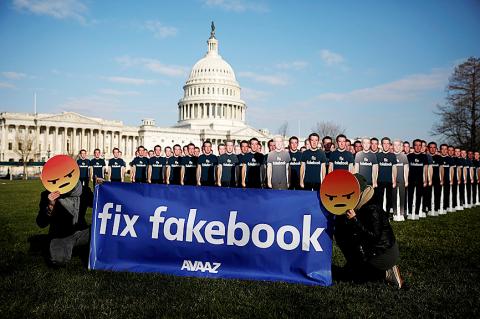 Dozens of cardboard cutouts of Facebook chief executive Mark Zuckerberg are seen during an Avaaz.org protest outside the US Capitol in Washington on Tuesday last week.
Photo: Reuters
"Everyone — no matter where they live — will be asked to review important information about how Facebook uses data and make choices about their privacy on Facebook," chief privacy officer Erin Egan and deputy general counsel Ashlie Beringer said in a statement yesterday.
Under the new policy, Facebook users will be asked to review and make choices about ads they receive, including whether they want Facebook to use data from third parties.
Users will also be asked to review and choose what to share about the political, religious and relationship information on their profiles, and they will be allowed to opt in or out of use of facial recognition technology.
Facebook deputy chief privacy officer Rob Sherman on Tuesday said that that opting out of targeted marketing altogether would not be possible.
"Facebook is an advertising supported service," Sherman told reporters at a briefing at Facebook's headquarters in Menlo Park.
Users would be able to limit the kinds of data that advertisers use to target their pitches, he added, but "all ads on Facebook are targeted to some extent, and that's true for offline advertising, as well," he said.
Facebook is going to use what are known as "permission screens" — pages filled with text that require pressing a button to advance — to notify and obtain approval.
The screens will not give Facebook users the option to hit "decline."
Instead, they will guide users to either "accept and continue" or "manage data setting," according to copies the company showed reporters on Tuesday.
Regulators, investors and privacy advocates are closely watching how Facebook plans to comply with the EU law, not only because Facebook has been embroiled in a privacy scandal, but also because other firms might follow its lead in trying to limit the impact of opt-outs.
Last month, Facebook disclosed that the personal information of millions of users, mostly in the US, had wrongly ended up in the hands of political consultancy Cambridge Analytica.
Comments will be moderated. Keep comments relevant to the article. Remarks containing abusive and obscene language, personal attacks of any kind or promotion will be removed and the user banned. Final decision will be at the discretion of the Taipei Times.