Seoul creates budget, tax breaks to spur job growth
The South Korean government has drawn up another supplementary budget and tax breaks aimed at creating as many as 220,000 jobs for young people to address stubbornly high youth unemployment.
The 3.9 trillion won (US$3.67 billion) extra budget, to be submitted to the South Korean National Assembly today, would be the second since South Korean President Moon Jae-in took office last year with a vow to create jobs and increase wages.
This time, the spending would be directed primarily at youth unemployment, which the government sees as a developing crisis, and regional economies hit by corporate restructuring.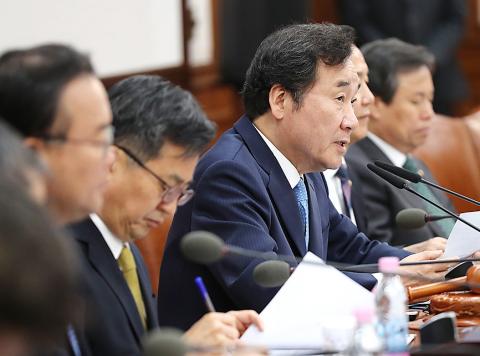 South Korean Prime Minister Lee Nak-yon speaks at a Cabinet meeting in Seoul yesterday.
Photo: EPA-EFE
Of the total, 2.9 trillion won would be used to support small and mid-size companies that hire full-time employees and to subsidize the wages of new hires.
The remaining 1 trillion won would be earmarked for domestic automakers and shipbuilders and their employees, the South Korean Ministry of Strategy and Finance said in a statement.
Unless the problem is addressed, the country might soon face a "catastrophic job crisis," South Korean Minister of Strategy and Finance Kim Dong-yeon said during a briefing on Tuesday.
The supplementary budget is to come from surplus tax revenue and would not require issuing new government bonds, Kim said.
The youth unemployment rate was 9.8 percent in February, the highest in eight months.
The legislature approved an 11 trillion won supplementary budget in July last year that was aimed at creating tens of thousands of new jobs.
The new extra budget, combined with tax breaks that were to be proposed yesterday, is expected to create about 180,000 to 220,000 new jobs and lower the youth unemployment rate to less than 8 percent by 2021, the ministry said.
The tax breaks would be offered to new hires, low-income youth, start-ups and companies that hire.
Moon's party is expected to struggle to pass the budget. It took more than a month for the previous extra budget to pass.
Comments will be moderated. Keep comments relevant to the article. Remarks containing abusive and obscene language, personal attacks of any kind or promotion will be removed and the user banned. Final decision will be at the discretion of the Taipei Times.