INTERVIEW: KYMCO takes on Gogoro in electric scooter market
After dominating the nation's gas-fueled scooter market under the KYMCO brand, Kwang Yang Motor Co last month unveiled its first electric scooter and battery charging network at the Tokyo Motor Show, taking on local rival Gogoro Inc. Kwang Yang chairman Allen Ko discussed the company's outlook and vision in an interview with 'Taipei Times' staff reporter Lisa Wang in Taipei on Thursday last week
Taipei Times (TT): What inspired Kwang Yang Motor Co (光陽工業) to enter the electric scooter market and why did the company decide on a battery charging system rather than a battery swap solution?
Allen Ko (柯勝峰): We started a project called "Electric New Experience" in 2015 in search of an optimal solution for consumers. We were inspired by the 15-year evolution of mobile phones and users' experiences of Tesla Inc's electric vehicles.
A survey found that what car owners like about Tesla vehicles the most is that they do not have to go to a gas station to refuel. All they have to do is charge their electric vehicle at home.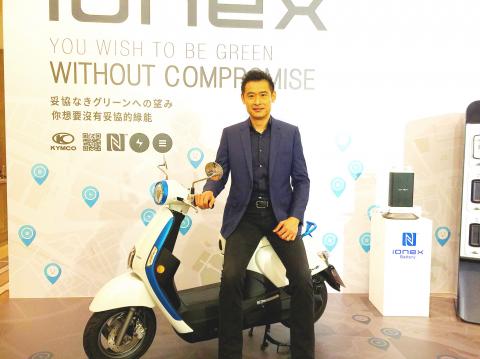 Kwang Yang Motor Co chairman Allen Ko poses for a photograph during a demonstration of the company's new electric scooter and Ionex battery charging system in Taipei on Thursday last week.
Photo: Lisa Wang, Taipei Times
Mobile phone technology has also proved that recharging batteries every day is workable.
As such, we were pondering whether we could apply a home charging solution to electric scooters, rather than searching for a powerful battery with long endurance — a myth most manufacturers follow when developing electric scooters.
After years of hard work, we finally unveiled our electric charging solution, Ionex, in Tokyo last month.
Home charging is the core concept of the Ionex system, as KYMCO scooter riders can get enough power for daily use by plugging their vehicles into an electric socket at home.
With one charge, KYMCO scooters can travel 35km at a speed of 50kph. That is much farther than local riders' daily average of 13km based on a survey conducted by the Ministry of Transportation and Communications last year.
With two portable batteries installed, KYMCO scooters can travel at least 60km.
TT: Applying a home charging solution to electric scooters is a different concept from what Gogoro Inc (睿能創意) has been doing. Gogoro asserts that battery swapping is the most suitable approach to address power outage concerns. Kwang Yang has also talked about alternative options such as battery leasing and a network of battery charging stations. Can you give us more details about that?
Ko: Battery leasing and a network of battery charging stations will be complementary to home charging, but it will not be the main way to charge the vast majority of KYMCO electric scooters.
Deploying battery stations is a must-have for some local competitors to attract consumers to switch to electric scooters, but not for Kwang Yang.
Without the help of a battery charging station network, KYMCO scooter riders can still travel 25km as our scooters are also powered by an embedded battery.
We do not plan to deploy such expensive battery charging stations on our own. We will do it in collaborations with other interested parties.
Convenience store chains, shopping malls, gas stations and parking lots are all potential partners. CPC Corp, Taiwan (中油) has shown strong interest in leasing charged batteries for recharging batteries. It would take an hour or so to have a battery fully charged at a gas station.
We are also seeking partners to offer electric sockets for KYMCO riders to recharge. A mobile charging device will be available when our scooters hit the market.
TT: When will KYMCO electric scooters hit the market and how much will they cost?
Ko: We are set to hold a news conference in June. All the details, including prices, specifications and battery leasing packages, will be disclosed at that time.
We are aiming to address the mass market, rather than aiming for a niche market like Tesla. As such, our scooters will carry an affordable price tag.
The prices for our electric models would be lower than their gas-fueled counterparts after taking into account government subsidies.
The electric model unveiled in Tokyo is priced between NT$70,000 and NT$80,000. It will be the first model available in Taiwan in the second half of this year.
Besides Japan, Europe, Southeast Asia and China will also be target markets.
TT: Kwang Yang has set a goal to sell half a million electric scooters by 2021. How will you achieve this goal?
Ko: We are riding a growing electric scooter trend worldwide. Governments and consumers are both looking for electric scooter solutions.
In Taiwan, the government is set to ban the sale of gas-fueled scooters in 2035.
As a global brand, we have the advantage of having a worldwide distribution network. We operate sales networks in more than 100 nations that can be utilized to sell electric models as well.
Besides, we have received good feedback about our first model.
A top-tier company has approached about cooperating, but we cannot name it.
China is a huge potential market. We see growth opportunities there. We entered the market three or four years ago by offering entry-level electric scooters with smaller motors.
Unit sales in China climbed to 60,000 units last year, compared with 10,000 units three years ago. Sales figures have been rising rapidly.
We are also considering working with partners to help build an electric scooter sharing system. We are open-minded about working with different partners in different markets.
TT: When will Kwang Yang's electric scooters outsell its gas-powered models?
Ko: By the end of 2021, we expect sales of electric scooters to make up 30 percent of our total annual sales.
A scooter is a price-sensitive product. A faster price decline would propel sales and help us hit that target earlier.
Last year, we sold between 300,000 and 400,000 scooters overseas. At home, we sold about 400,000 scooters.
TT: How much has the company invested in developing electric scooters?
Ko: We have been investing in developing electric scooters for a long time.
We launched the first electric mobility scooter 20 years ago.
We have spent a high percentage, between 6 and 7 percent [of the company's annual revenue] on research and development for electric scooters.
TT: Is Kwang Yang planning an initial public offering to fund its global expansion?
Ko: The company was founded by several local families 50 years ago. Our shareholders are looking for stable, long-term growth.
Instability would be a concern.
To fund the development of electric scooters, we have set up a venture capital fund, KYMCO Capital (金庫資本), which has raised NT$10 billion (US$343.15 million) and the fundraising is still ongoing.
Over the past two decades, the fund has helped finance the company's strategic partnerships in the electric scooter segment and will play even a bigger role in the future.
TT: Has the company made any progress on a national electric battery standard?
Ko: We have submitted an application to the government [the Ministry of Economic Affairs].
The government did not say there would only be one national battery standard when it started looking for a standard model to promote sustainable energy.
Based on our understanding, the government would be more than happy to see the emergence of two battery standards.
Comments will be moderated. Keep comments relevant to the article. Remarks containing abusive and obscene language, personal attacks of any kind or promotion will be removed and the user banned. Final decision will be at the discretion of the Taipei Times.